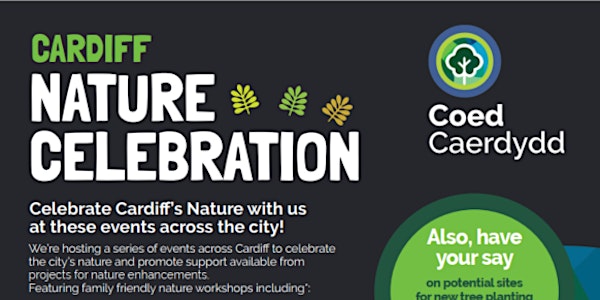 Cardiff Nature Celebration Event (Llanishen Hub)
Celebrate Cardiff's Nature with us at these events across the city! // Dathlwch Fyd Natur Caerdydd gyda ni yn y digwyddiadau hyn!
When and where
Location
Llanishen Library Hub 11 Station Road Llanishen CF14 5LS United Kingdom
About this event
We're hosting a series of events across Cardiff to celebrate the city's nature and promote support available from projects for nature enhancements.
Featuring family friendly nature workshops including*:
Tree identification
Bughunts
Litter picks
*workshops may vary
Find out about support on offer, including free trees for households, nature enhancing resources for community groups (e.g. ponds, birdboxes, pollinator friendly plants), and conservation volunteering opportunities.
Also, have your say on potential sites for new tree planting next season (Oct-Mar) and how to get involved with Coed Caerdydd.
Please get in touch if you have any queries: coedcaerdyddproject@cardiff.gov.uk
🌳🌲🌳🌲🌳🌲🌳🌲🌳🌲🌳🌲🌳🌲🌳🌲🌳🌲🌳🌲🌳🌲🌳🌲🌳🌲
Rydym yn cynnal cyfres o ddigwyddiadau ledled Caerdydd i ddathlu byd natur y ddinas a hyrwyddo'r gefnogaeth sydd ar gael gan brosiectau sy'n cyfoethogi byd natur.
Yn cynnwys gweithdai byd natur sy'n addas i deuluoedd gan gynnwys*:
Adnabod coed
Bughunts
Codi sbwriel
*gall gweithdai amrywio
Dysgwch am y cymorth sydd ar gael, gan gynnwys coed am ddim i aelwydydd, adnoddau cyfoethogi byd natur ar gyfer grwpiau cymunedol (e.e. pyllau, blychau adar, planhigion sy'n dda i bryfed peillio), a chyfleoedd gwirfoddoli i warchod byd natur.
Hefyd, cyfle i ddweud eich dweud ar safleoedd posibl ar gyfer plannu coed newydd y tymor nesaf (Hydref-Mawrth) a sut i gymryd rhan yng ngwaith Coed Caerdydd.
Cysylltwch â ni: coedcaerdyddprosiect@caerdydd.gov.uk