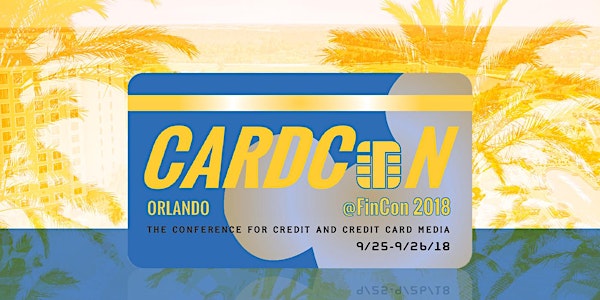 CardCon @ FinCon 2018: The Conference For Credit And Credit Card Media
When and where
Location
Rosen Shingle Creek Hotel and Conference Center 9939 Universal Blvd. Orlando, FL 32819
Description
Freelancers can now attend CardCon for free, sponsored by Capital One.
Come to CardCon @ FinCon, The Conference for Credit and Credit Card Media
CardCon is a jam-packed day and a half, taking place just before FinCon begins at the same location. The presentations, panel discussions, and networking events are meant for the community of writers and bloggers who cover the credit card and consumer credit industries. Network with affiliates, media, card issuers and industry representatives.
Visit CardConExpo.com for more information.
New for CardCon 2018
This year, CardCon expands to a day and a half and will also be more interactive, with the chance to meet the speakers, participate in roundtable discussions and connect through an organized networking event.
Breakfast, lunch and an evening reception are included on Tuesday, as well as breakfast on Wednesday.
---
AGENDA
Tuesday, September 25th:
7:30 - 8:30 am Networking Breakfast
8:30 - 9:15 am Keynote address: Clark Howard, Clark.com
9:15 -10:00 am Discussion Panel I: How Credit Card Deals are Made, Moderator: Gary Leff - Author, View From the Wing
10:00 - 10:30 am Morning Networking Break sponsored by Bulldog Media and Meet the Speakers: Sponsored by iComissions
10:30 - 11:15 am Discussion Panel II: Credit Card Affiliate Marketing for the Influencer Era - Trends, Shifts and Compliance
Description: Our panel of industry veterans and experts discuss the newest trends and shifts in credit card affiliate marketing. Stephanie Harris, CEO and Owner of PartnerCentric, moderates the discussion on topics that include innovation, compliance and unique approaches.
Moderator: Stephanie Harris - CEO, Partner Centric
11:15 - 11:30 am Meet the Speakers: Sponsored by iComissions
11:30 - 1:30 pm Lunch - Sponsored by Barclays
1:30 - 2:15 pm Discussion Panel III: The Credit Crystal Ball: What does creditworthy look like in the future?
Description - Technology has disrupted everything from our home thermostats to taxi cabs. But what's on the horizon when it comes to credit reporting and credit scoring? Look into the crystal ball with a panel of experts on the front lines to learn what technologies and influences are shaping how we determine a borrower's creditworthiness.
Moderator: Jeff Richardson, VantageScore Vice President and Group Head – Marketing & Communications.
Panelist: Jesse Leimgruber, Co-founder Bloom Protocol
Panelist: Rod Griffin, Director, Consumer Education and Awareness, Experian
2:15 - 2:30 pm Meet the Speakers: Sponsored by iComissions
2:00 - 3:00 pm - Round Table Discussions sessions 1-3 and Expo Hall
3:00 - 3:30 pm - Networking Break - Sponsored by PartnerCentric
3:30 - 4:30 pm - Round Table Discussions sessions 3-6 and Expo Hall
About Roundtable Discussions: Sit down at one of 6 large table of specialists as they lead interactive and dynamic discussions. There's no need to register in advance for the ones you want to attend. During this time, you'll also have the chance to visit the CardCon Expo Hall.
Discussion Leaders:
Miranda Marquit – Student Loan Hero
Topic: How to write credit card reviews that aren't boring: Tips for injecting interesting details into your reviews so that they aren't just templated and dull.
Farnoosh Torabi – Farnoosh.tv
Topic: Is the New Generation Saying "Yay" or "Nay" to Credit?
Tim Devaney – Personal Finance Writer at Credit Karma.

Topic: Creating valuations for credit card points and miles.
Ben Luthi – Writer, Student Loan Hero.

Topic: Writing about credit and credit score without confusing everybody.
Jeanine Crooks – Client Services Manager at Awin Global

Topic: Managing Merchant Relationships
Darin Namken – Founder and President of Bulldog Media.

Topic: The Challenges and Benefits of Partnering with Subprime Issuers
Louis DeNicola – Freelance writer and credit expert.

Topic: A recap of NCAP (The National Consumer Assistance Plan) how credit reports changed and why it matters.
Jeanine Cillo – ConsumerTrak

Words Matter, The language card issuers don't want you to use, and why
Gerri Detweiler – Education Director, NAV.com
Topic: Business Credit Cards: The Real Story
4:40 – 5:30 pm Closing Keynote, To Be Announced
7:00 – 10:00 pm Evening Reception
---
Wednesday, September 26:
7:30 – 8:30 am Networking breakfast
8:30 – 9:00 am Keynote - John Ulzheimer
Topic: How New Regulations Are Forever Changing the Face of Credit Reporting

Description: Earlier this year, President Trump signed the Economic Growth, Regulatory Relief, and Consumer Protection Act, the largest change to the Fair Credit Reporting Act in 15 years. Ulzheimer will discuss the FCRA's new rights to consumers including those designed to protect you from fraud, avoid medical collections, and open up mortgage lending to newer and more consumer-friendly scoring systems.
9:00 - 11:30 am Facilitated networking sponsored by Webpals
---