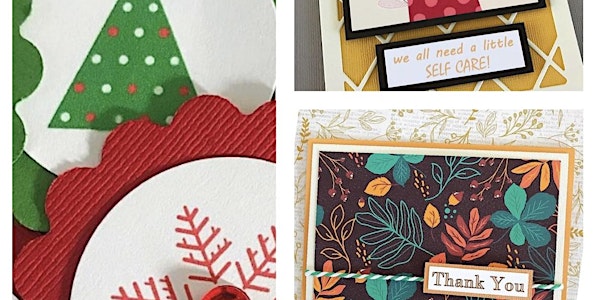 Card Making Workshop
Card Making with Metchie Trujillo
About this event
Workforce Opportunity Services (WOS), a leading non-profit organization connecting individuals from underserved populations with transformative career opportunities, is hosting another free series - Card Making with Metchie Trujillo. Each session is designed for individuals of ALL AGES and is aimed at expanding their horizon in the arts.
Have you ever had a big event in your life – a birthday, wedding, baby shower, or maybe you lost a loved one or needed to recover from surgery, and you received a thoughtful card in the mail? Not just any card, but a beautiful handmade card with a heartfelt message written intently for you. There is no denying that greeting cards bring lots of joy, but the idea that someone took the time to make you a handmade card is very heartwarming. When you send one of these cards, you send an emotional piece of yourself and the value of connection becomes far more valuable than a store-bought card.
In this Card Making Workshop series, we will explore and learn the basics of simple cardmaking. Metchie will talk to us about card sizes, different types of paper, essential tools for beginners, stamping, die cutting, and embellishment techniques. During a step-by-step tutorial you will be able to make three handmade holiday-themed cards. This experience is designed to stimulate creativity.
Tuesday, November 1: Intro To Card Making - Make a Simple Thanksgiving Card
YOU WILL NEED:
Orange, green, brown or red cardstock base, size 8.5" x 11" (will be cut in half)
White cardstock
Scraps of fall colored paper/cardstock
Any fall design wooden stamp or stencil, another option is to print out a colored picture online (please check for copyright restrictions). The image should not be bigger than 4.5" x 3.5"
Ink pads (1 or 2 colors will suffice, but more is great also)
Pencil
Ruler
Scissors
Double-sided tape
Glue stick
Optional: Paper trimmer. You can start by using a ruler and scissors to cut your paper but if you get into card making, you will want the convenience of a trimmer.
Optional: Embellishments: any fall colored ribbons and sticker gems/rhinestones (sold at most craft stores or online)
November 15, 2022: Intro To Card Making - Adding Ribbon and Embellishments to a Winter Card.
December 6, 2022 (originally scheduled November 29,2022): Intro To Card Making - Die Cutting Techniques & Making a Festive New Year Card.
Each session is free and is provided by Workforce Opportunity Services.
Series Dates and Times:
Dates Session Time Theme
November 1, 2022 5:00-6:00 pm EDT Simple Thanksgiving Cards
November 15, 2022 5:00-6:00 pm EST Ribbon and Embellishments
December 6, 2022 5:00-6:00 pm EST Die Cutting / Festive New Years Card