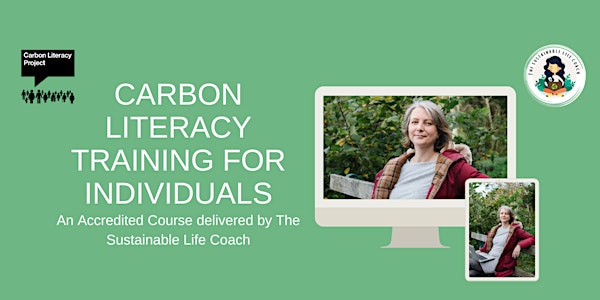 Carbon Literacy for Individuals 13th, 14th & 15th of December
Learn how to be climate friendly with an accredited Carbon Literacy course. Delivered by Annie The Sustainable Life Coach.
Refund Policy
Refunds up to 7 days before event
Eventbrite's fee is nonrefundable.
About this event
Do you want to do something to reduce your impact on the planet, protect the Earth for future generations and find a new way of improving your life?
Join me, Annie The Sustainable Life Coach, on a Carbon Literacy Training course designed for everyday people who want to make a positive change and take action on climate change.
Carbon Literacy is "An awareness of the carbon costs and impacts of everyday activities and the ability and motivation to reduce emissions on an individual, community and organisational basis."
You will uncover:
the basics of climate change science
what's already happening globally & locally
how your actions affect climate change
the tools & knowledge to reduce your impact
how to build your own climate action plan
how to begin creating your own Carbon Literacy course*
What will the course consist of?
Training will consist of a presentation along with group discussion, videos, quizzes and games. In addition, 2 hours of home-based activity is required to complete the course. At the end of the course, you will be able to create your own Carbon Literacy course for your organisation or audience.
When & Where is the course taking place?
There are three sessions: From 10 am - 12 pm on December 13th, 14th and 15th via Zoom.
To receive the Carbon Literacy certification, you will need to submit an assessment form at the end of the course, which will be checked by the Carbon Literacy Project**. More information can be found here: https://carbonliteracy.com
Who is Annie The Sustainable Life Coach?
Annie is passionate about nature, sustainability solutions and making better choices. She has a BSc in Environmental Science from the University of Leeds, an MSc in Conservation Biology from Manchester Metropolitan University and a diploma in Life Coaching. She has worked for the Zoological Society of London, the World Bank and for non-governmental organisations in East Africa. She also won two awards in the Climate Co-Lab competition at MIT University, Boston.
**You must attend all three sessions and complete the homework plus the assessment form to the satisfaction of the Carbon Literacy Trust to receive your accreditation
*Subject to criteria checking by the Carbon Literacy Project.
For any questions about the course or to discuss in-house training contact Annie by visiting www.thesustainablelifecoach.com
Terms & Conditions apply, please see www.thesustainablelifecoach.com for more details.