Carbon Leaf returns to maymont for another amazing performance and night of music!
About this event
CARBON LEAF
I.
A touring mainstay and an indie folk rock staple, this Virginiaquintet's well-hewn live show and musical style drift in and out ofAmericana, bluegrass, rock, folk, Celtic and pop traditions withease, using an arsenal of instruments - acoustic & electric guitars,mandolin, fiddle, banjo, cello, bass, drums, accordion, pennywhistle and rich vocal harmonies – to define the band's lively stagepresence and sonic landscape.
"We call it ether-electrified porch music," says frontman BarryPrivett, using a phrase nicked from an earlier album of the samename when describing the band's expansive sound."It's the sweet spot between the earnest roots music we grew up onand the textured electric rock side that gives us different places togo musically during the course of an evening.Whether they are plugged in to amplifiers or huddled around asingle 'Grand Ole Opry' style microphone, Carbon Leaf radiates awarm, magnetic onstage presence that pulls the audiencecloser. Lyrically poetic with a wide range of musical styles, theband's live charm is its ability to make the concert feel as much ofan electrifying event as it would be an intimate gathering of justfamily and friends."Being both a folk band and rock band allows each song to breathea little differently and creates an arc that keeps things interestingfor the band and the fans." Privett said. Performing live truly is asymbiotic relationship between the 5 band members and theaudience."With a history spanning 27 years, 20 albums and 3,000 live shows,Carbon Leaf's independent music and spirit continue to resonatewith its fans.
II.
Carbon Leaf debuted as an independent college band in 1993,gaining a strong regional following playing small clubs andcampuses in surrounding Virginia.The band spent 5 years establishing their roots in the mid-Atlanticregion, picking up weekend shows where they could and puttingthe funds into four self-released albums between 1995-2000.In 2001 the band received national attention with their song "TheBoxer" which gained key support at a handful of AAA radiostations across the country, a unique accomplishment consideringthe group was still an unsigned band at the time with no formalrepresentation.
Carbon Leaf's momentum continued into 2002, becoming the firstunsigned act to ever win an American Music Award in the show's46-year history, and the first to perform live at the AMAs to aglobally televised audience as an independent artist.
"It was an intense, surreal couple of years," Privett said. "We wereready for a break, but then things started catching fire. It was agood jolt at the right time."
Carbon Leaf spent 2003 in the studio writing and recording theirseminal album, Indian Summer, the group's 5th independentlyproduced record.
This series of breakouts gained the band some buzz, attracting theattention of Vanguard Records, who expressed interest in licensingthe new album. In 2004, the band signed a 3-album recordingcontract with the venerable label, ending their 11-year run as afully autonomous act, and laying the foundation for Carbon Leaf'snext chapter.
The band's new single, "Life Less Ordinary", receivedconsiderable airplay and reached a broader audience nationwide,peaking at #5 on AAA radio and #28 at Hot AC. The increasedexposure put the band on the road for 250+ days a year supportingIndian Summer throughout 2004 and 2005.Two subsequent albums, Love Loss Hope Repeat (2006) andNothing Rhymes With Woman (2009), were released throughVanguard while the band focused heavily on touring in support ofthe albums' singles "Learn To Fly" and "Miss Hollywood"respectively.
"We survived those early days as an independent band and gaineda healthy perspective on how to adapt between the highs and lowsthat define a career artist's path. Learning to manage betweenthose wide frequencies is the difference between resilience andcollapsing. What has befallen many an artist is becoming too topheavy in those dips. You have to see it coming."Missing the autonomous flexibility of those earlier years, the banddecided not to extend its contract for a 4th release under the label,and as 2009 came to a close, Carbon Leaf once again embraced it'sindependent roots.
Between 2007-2009, the band collected a series of songwritingawards, including the International Songwriting Competition's firstprize honor for 'The War Was In Color". In 2010, UniversalStudios tapped the band to write the soundtrack for the animatedfilm, Curious George 2: Follow That Monkey.
Energized by the renewed freedom, Carbon Leaf built it's ownrecording space, Two-Car Studio, and began writing and releasingon their own again. The band's creativity accelerated in this newenvironment and 6 independent projects were released between2010-2013, including two EPs (How The West Was vol. One andChristmas Child); a live album and acoustic concert film (Live,Acoustic…and in Cinemascope!); two full-length albums (GhostDragon Attacks Castle and Constellation Prize) and the soundtrackfor Universal's Curious George 2.
From 2014-2016 the band focused their efforts on re-recording thethree albums released through Vanguard, which hold the rights tothose master recordings, but not to the songs themselves. Fanseagerly supported the three re-recordings, and with the newlycompleted versions (Indian Summer Revisited, Love Loss HopeRepeat Reneaux and Nothing Rhymes With Woman 16), CarbonLeaf regained the publishing rights to 100% its song catalogue.After taking a much-needed break from touring in 2016 to focus onthings back home and in the studio, the band returned to the roadheavily in 2017 behind Gathering Vol. 1, the first of four acousticEPs released under the 'Gathering' banner.In 2018, the band celebrated its 25th Anniversary with extensiveU.S. touring.
2019 was spent writing and recording songs for a new EP(Gathering 2: The Hunting Ground) and a 27-song video projectfilmed on location at a beach house on the Atlantic Ocean (CarbonLeaf Cottage: Songs By The Sea).
In 2020, Carbon Leaf announced they have begun writing songsfor a planned full-length album set for a 2021-22 release."We've been gifted an opportunity to write and perform in front ofa live audience," said Barry Privett, while reflecting on the band's27 years. "We are lucky to have fans on the other end of that longroad, receiving what we create. Our audience has been whatsustains us. And what compels us forward. It's not something wetake for granted."
Carbon Leaf is Barry Privett (lyrics, vocals), Terry Clark (guitars,vocals), Carter Gravatt (guitars, strings, vocals), Jon Markel (bass,vocals) and Jesse Humphrey (drums, vocals).
Links: Official Webpage | Facebook | Instagram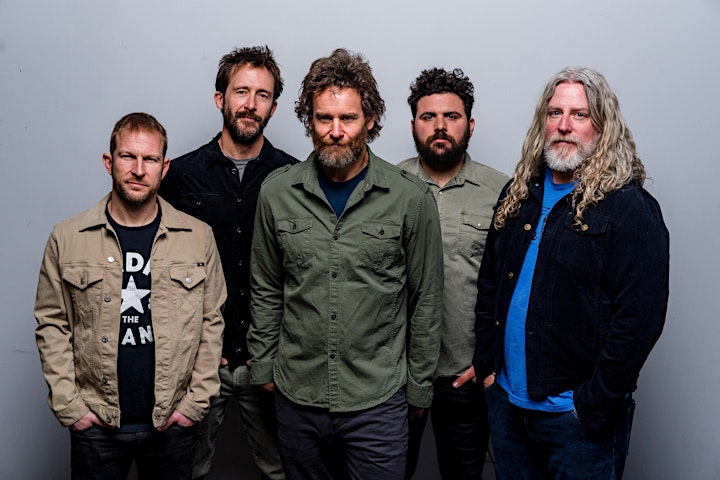 Performers
Date and time
Location
Refund policy