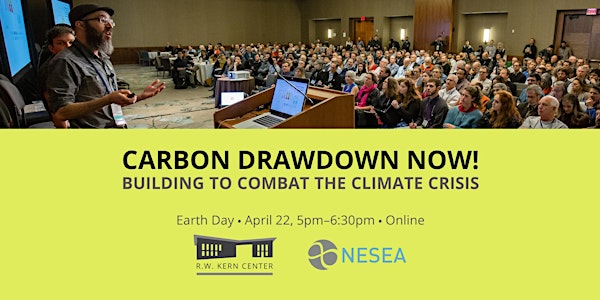 Carbon Drawdown Now! Building to Combat the Climate Crisis
WEBINAR. Celebrate Earth Day from home! We'll talk embodied carbon and how we can make better buildings for the climate. AIA 1.5 LU/HSW
About this event
Access this webinar via Zoom here. You'll need to enter your name and email, then receive a link and passoword for the webinar.
Come together and celebrate Earth Day from home with an interactive webinar presented by the R.W. Kern Center and NESEA! Join us to talk embodied carbon, systems thinking, and climate justice with Ace McArleton and Jacob Deva Racusin of New Frameworks Design & Build, a worker-owned natural building cooperative located in Burlington, Vermont.
The energy we spend constructing and operating buildings makes up a big portion of global carbon emissions. But buildings can become part of the climate crisis solution! We'll cover the major carbon emissions associated with building, how we can use systems thinking and creative material solutions to lower these emissions (or even take them negative!), and how carbon-smart building can advance climate justice. Bring your curiosity and questions to find out how you can be part of this climate solution.
This webinar is for anyone interested in how buildings can become part of positive climate action. Jacob and Ace are experts at making complex content accessible to everyone, and we hope to see folks of all kinds participating from home: high school and college students, parents and their children, climate activists (and their roommates!). This topic may be of particular professional interest to designers, builders, policymakers, and others who have great power to help make better buildings for the climate. Everyone will log off with a concrete action they can take to reduce embodied carbon emissions in their buildings and lives.
Leading up to the event, we'll also be featuring local products and organizations that help support lower-carbon living and building. Follow along on our social media to get connected to these great resources.
** This webinar is approved for AIA continuing education credit (AIA 1.5 LU/HSW). Please include your AIA number during registration if you would like to report these credits.