Carbon Dioxide Removal: An Essential Element to Meet Global Climate Goals
When and where
Location
Bosch Conference Room, 5201 Scott Hall Carnegie Mellon University 5000 Forbes Ave. Pittsburgh, PA 15213
Description
Join the Wilton E. Scott Institute for Energy Innovation at Carnegie Mellon University for a Distinguished Lecture featuring Scott Institute Professor of the Practice and Energy Futures Initiative Principal Joseph Hezir. The Carnegie Mellon Heinz College and Chemical Engineering alumnus will discuss carbon dioxide removal's role in climate change mitigation.
Abstract
As the scientific evidence for climate change mounts, scientists are increasingly pointing to the need to limit the rise in global average surface temperature to no more than 1.5 degrees Celsius. To do so will require more aggressive decarbonization policies aimed at carbon neutrality (net-zero emissions) by mid-century and carbon dioxide removal (CDR) at a scale of hundreds of gigatons by 2100.
The development and deployment of methods for removal of CO2 from the environment (also called negative emissions technologies) complement mitigation efforts, expanding the suite of options for policymakers to address climate change. Natural CDR methods (e.g., reforestation, coastal ecosystem restoration) and bioenergy with carbon capture (BECCS) are proven techniques with relatively low costs but may not be sufficient to address the problem. New technological approaches (e.g., direct air capture, carbon utilization) and technologically-enhanced natural processes (e.g., carbon mineralization, new crop cultivars and ocean capture) require additional research, development, and demonstration (RD&D). No single CDR method is likely to achieve the level of removal needed to meet climate goals in a sustainable manner.
A new study by the Energy Futures Initiative, drawing on previous scientific reports on CDR technological pathways, provides a detailed framework for a major 10-year federal CDR RD&D initiative (on the scale of hundreds of millions of dollars per year) and management plan to further develop CDR technologies so they can be deployed within the mid-century timeframe. The presentation will focus on the RD&D portfolio framework, funding allocation, and organizational and management arrangements needed for a whole-of-government initiative to bring a portfolio of gigaton-scale CDR methods to commercial readiness.
Biography
Joe Hezir joined Carnegie Mellon University's Wilton E. Scott Institute for Energy Innovation as its Professor of the Practice on Aug. 1, 2017. Hezir, who earned degrees in chemical engineering and public policy from Carnegie Mellon, advises on various energy policy issues, including the development of policies for energy-efficient advanced manufacturing.
He is also a Managing Principal of the Energy Futures Initiative, Inc. a non-profit energy policy think tank founded by former Secretary of Energy Ernest J. Moniz. Hezir is responsible for leading studies and analyses of energy finance and technology issues. He is the co-author of reports on the National Security imperative for commercial nuclear energy, application of the DOE Loan Guarantee Programs to finance innovative energy infrastructures, assessment of the Section 45Q tax credit in advancing carbon capture and storage, and the potential of Blockchain for energy market applications.

Hezir served as Chief Financial Officer and Senior Advisor to the Secretary of Energy from 2013 through January 2017. As CFO, Mr. Hezir led a 200-person organization responsible for the $30+ billion Department of Energy budget, including strategic planning, programming, budget formulation and budget execution.
Directions
The Sherman and Joyce Bowie Scott Hall is located on the west side of Carnegie Mellon's Pittsburgh campus between Hamerschlag Hall and the FMS building, and adjacent to the west wall of Wean Hall. We recommend you park at the East Campus Garage on Forbes Avenue and walk to Scott Hall following the directions below. View parking rates.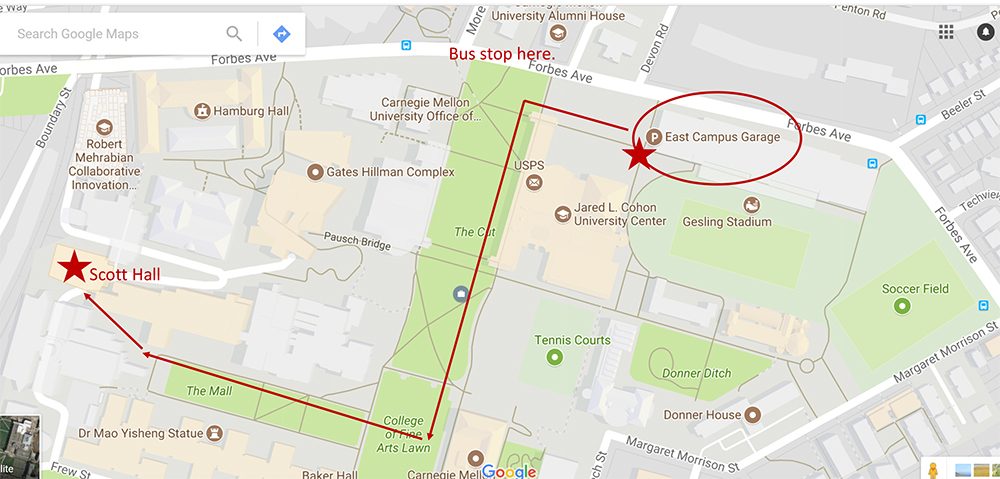 ---
If you need to cancel your order, log into your Eventbrite account, click on your name, then tickets. Next, click on the event and choose "Cancel Order."