Massachusetts climate groups and key legislators share successful climate actions and discuss how to advance critical climate legislation.
About this Event
Hear from Massachusetts leaders, Senator Mike Barrett and Rep. Tami Gouveia, about the status and future of climate legislation.
Learn about local initiatives to combat climate change as revealed by the 2021 community climate action survey.
Share in discussions about powerful local solutions and successes during the breakout sessions (see below).
Please check back to this site for updates, including breakout session details.
All are welcome. The event is FREE. Please register. Zoom link will be sent to all registrants close to the event.
THANK YOU to MassEnergize for hosting us on Zoom for this event.
"Special interests will try to swamp the State House if they think they can get away with it. Let's not let them, especially on matters of life or death for the planet. The best antidote is citizen activism at the grassroots level. This meeting aims to get people involved in climate work at the local, state, and national level." —Sen. Mike Barrett
"I am excited to convene with residents throughout our region to discuss successes and opportunities for climate policy in our state. We are at a turning point when it comes to climate – we need aggressive action now if we are to preserve our planet for future generations. This event will help us build power, knowledge, and relationships that will allow us to be successful in passing and enacting critical legislation." —Tami Gouveia
CO-SPONSORS:
350 MetroNorth
350 MA
Acton Climate Coalition
Belmont High School Climate Action Club
Citizens Climate Lobby Boston Metrowest
Cool Winchester
Elders Climate Action
Energize Framingham
Energize Wayland
Energy and Sustainability Committee, Bedford
Environmental League of Massachusetts
Gas Leaks Allies
Green Newton
HEET
Interfaith Power and Light
JCAN
Lexington Green Network
Lexington GWAC (LexGWAC)
Lexington HS Conservation Club
Lexington HS Make Lex Green
Mass Climate Action Network
MassEnergize
Mothers Out Front
Mothers Out Front Arlington
Mothers Out Front Bedford
Mothers Out Front Brookline
Mothers Out Front Concord
Mothers Out Front Lexington
Reading Climate Advisory Committee
Sierra Club Massachusetts
SUNRISE Lexington
Sustainable Arlington
Sustainable Belmont
Sustainable Framingham
Sustainable Lexington
Sustainable Wellesley
Sustainable Winchester
Winchester Climate Action Advisory Committee
Winchester Farmers Market Community Hub
Winchester HS Environmental Club
Winchester PS Connect & Commit Community Service Foundation
Winchester Unitarian Society's Green Sanctuary Team
SUSTAINABLE MIDDLESEX
Creating Sustainable Solutions Together
Sustainable Middlesex is a network of grassroots climate action groups that are focused on public awareness of, and advocacy for, policies that support climate sustainability, mitigation and adaptation. While centered in Middlesex County and surrounding areas, we include towns from all over Massachusetts.
Our goals include:
• Initiating collaborative effort
• Sharing tested ideas and actions
• Coordinating calendars of events and actions
• Pooling materials and resources for broad use
• Bringing activists together for networking and inspiration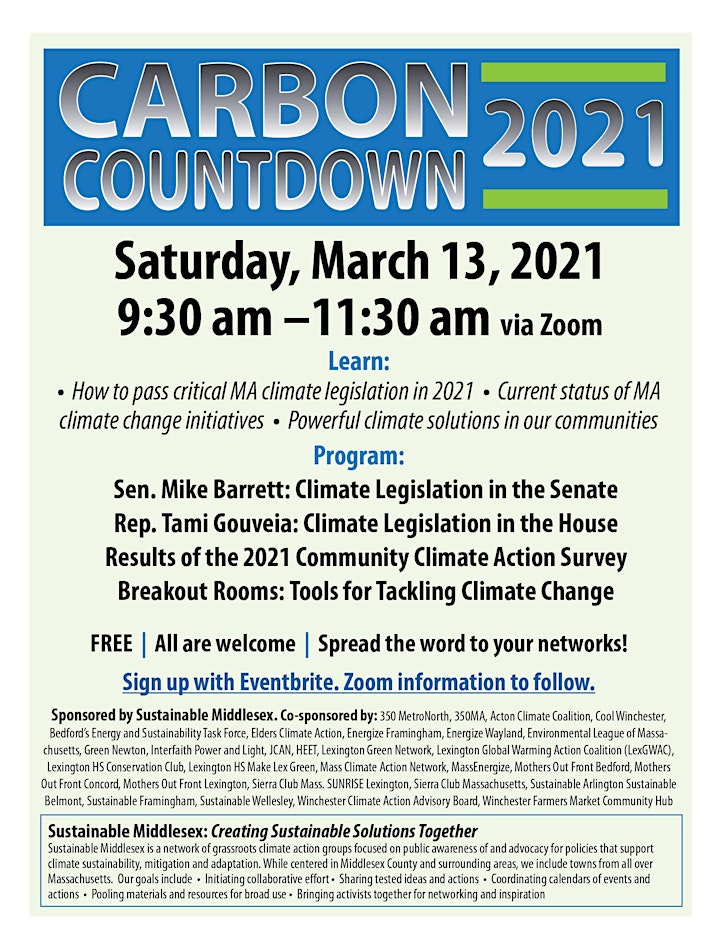 If you would like a pdf of the flyer with an active sign up link, please email sustainablemiddlesex@gmail.com.
The Sustainable Middlesex Team:
Alex Ordentlich
Brucie Moulton
Charlie Moore
Debra Packard
Frances Bigda-Peyton
Fred Yen
Kaat Vander Straeten
Lisbeth Bornnhofft
Marcia Gens
Mary Hutton
Mary Yardley
Phil Thayer
Ricki Pappo