Please join us for a conversation about the opioid crisis and how you can help!
About this event
We will discuss the current state of the opioid crisis in our communities as well as real-world ways that you can help support loved ones and get the support that you need.
Tickets are free for Carbon County, Utah community members 18 years and older and include dinner. Space is limited so register now!
Although the events are virtual, in order to receive the take-out dinner and event materials, attendees need to register for the event in their area.
Event Details:
Dinner will be provided by Juniper Pizza Cafe (40 W Main St., Price, UT). You'll be able to pick up your dinner and event materials on Thursday, May 13th from 4:45 pm - 5:45 pm. You'll be provided with an electronic ticket to print or show on your phone as your meal voucher, after you register.
The event will begin promptly at 6:00 pm and end at 7:30 pm.
After you register, you will receive instructions for accessing the Zoom meeting from your computer, smartphone, iPad, or phone line. Please make sure to join 5-10 minutes early so that you can download/update the program (if needed) or solve any other technical issues before the event begins.
Complete our post-event survey to receive a $10 gift card and be entered into an opportunity drawing for a $50 gift card!
*Surveys will be provided at the event for you to complete about the learning objectives and your experience. Your feedback will help us evaluate community attitudes toward substance use disorder. USU IRB protocol #11504. Contact the faculty investigator, Dr. Shane Bench, with questions or concerns: shane.bench@usu.edu.
This event is intended for people living in Carbon County. If you're from Emery or Weber County and are interested in this event, please go to extension.usu.edu/heart/community-education-dinner to find a dinner near you!
Presented by Utah State University, USU Extension HEART, and Carbon & Emery Opioid & Substance Use Coalition.
Free Dinner
This event comes with a free dinner from Juniper Pizza Cafe (40 W Main St., Price, UT). When you register for the event you will select your meal choice (one meal per ticket; vegetarian, vegan, and gluten-free options available). On the day of the event, you'll be able to pick up your meal from the restaurant and take it home. At the restaurant, you will show your ticket for this event (print-out or on your phone) as your meal voucher.
Swag Bags
When you pick up your meal, you'll also receive a swag bag with event materials and a resource book packed with helpful substance use and mental health resources in your area.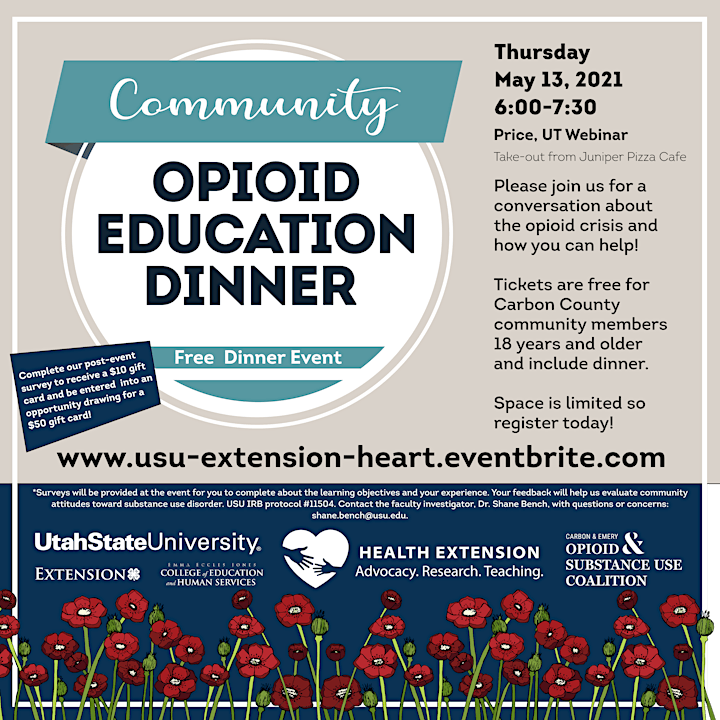 FAQ:
1. How do I find out more?
Feel free to email Chapel Taylor-Olsen at chapel.taylor-olsen@usu.edu with any questions you may have.
2. How do I attend this event?
This is a virtual event held over the platform Zoom. After you complete your registration for the event, you will be emailed directions for how to log on to the Zoom meeting. Please make sure you provide us with your preferred email address when you register so that we can get the instructions to you.
3. Do I need a high-speed internet connection to attend this event?
It is recommended that you have a steady internet connection to get the most out of this event. However, there are ways to enable you to see our presentation, even if your internet connection is not high-speed. If you turn off your own video and microphone on Zoom, close any other apps you have open, limit the number of other devices using your internet while you're attending the webinar, and/or turn off the HD video option in Zoom you should find that you can see and hear our presentation well. If you need help with any of these issues or have questions, feel free to contact us.
4. How will I get the dinner that comes with this event?
The dinners will be provided by a local area restaurant. After you register, you'll be provided with an electronic ticket that will act as your meal voucher at the restaurant. You'll be able to either print the ticket out or show it on your phone to pick up your meal and take it home on the designated day and time. More information will be sent to you after registration.
5. What happens if the event is sold out?
We do have a limited number of seats at each event and these events can fill quickly. We have a wait list for each event and encourage people who weren't able to get a ticket to sign up for the wait list. We also encourage registered attendees who find that they are no longer able to attend the event to cancel their registration promptly so that their spot can be opened up to someone on the wait list. There are more Community Opioid Education Dinners coming up throughout the next year. Sign up for the next one in your area so you don't miss out! Information on our future events can be found at our website: extension.usu.edu/heart/community-education-dinner
6. When are the next HEART events?
Please visit our website for more information on upcoming events: