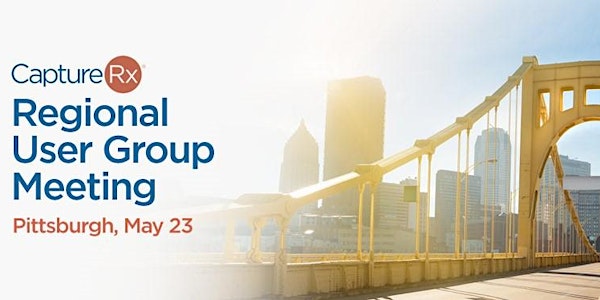 CaptureRx Pittsburgh Regional User Group
When and where
Location
Embassy Suites Pittsburgh - Downtown 535 Smithfield St. Pittsburgh, PA 15222
Description
Join us on May 23 for the CaptureRx Pittsburgh Regional User Group!
This user-led forum is your opportunity to network with your peers, exchange best practices and discuss strategies for optimizing your 340B program. In addition, representatives from CaptureRx will be on hand to answer your questions about our new Cumulus 4 platform, discuss industry topics and trends, and hear your suggestions regarding ways we can continue to improve our products and services.


CaptureRx Pittsburgh Regional User Group
May 23, 2019
8:00 AM to 4:30 PM (continental breakfast 7:30 AM to 8:30 AM and lunch provided)

Embassy Suites Pittsburgh - Downtown
Oliver Ballroom
535 Smithfield St
Pittsburgh, PA 15222
412.338.2200



Use the green "Register" button on this page to submit your registration information.

---

Session topics and agenda (subject to change)
8:00 a.m.
Welcome and introductions
8:10 a.m.
Operational updates: Hear from the CaptureRx client services leadership team about changes we're making at CaptureRx to improve your overall 340B experience.
8:30 a.m.
Capture Cares Grant Program: Learn about a new grant program dedicated to fund the personal or organizational missions of 340B safety net providers and their patients in need.
8:45 a.m.
Leveraging Data Analytics for Program Success: Find out how to spot trends and discover opportunities through data analytics to improve your 340B program and savings.
9:30 a.m.
Specialty Programs and Capturing Referrals: Learn how to take advantage of referral prescriptions for increased 340B savings and how a specialty pharmacy analysis can help you uncover ways for expansion.
10:15
Break
10:30 a.m.
Cumulus 4.0 Demo: Director of Product Management, Alan Glazer, will take you walk you through the new C4 platform and explain new features and functionality.
11:45 a.m.
Lunch
12:45 p.m.
Audits: Learn best practices in audit preparation, policies and procedures and self-auditing from Holly Russo, RN, MSN, MSECS, President and CEO of our consulting partner, PatientCraft.
1:45 p.m.
Medicaid Compliance: CaptureRx Compliance Manager, Julie Rickman, will discuss how to meet the specific requirements for your state, as well as your responsibilities and how CaptureRx can help.
2:15 p.m.
Break
2:30 p.m.
CaptureCard program: Learn how our cash card program enables you to share 340B savings with your community:
• How to get started
• Feasibility analysis
• Sliding fee program
• Best practices
3:15 p.m.
Best practices panel with Q&A: Get advice from our expert panel of CaptureRx customers from health centers and hospitals in your region.
4:00 p.m.
Closing remarks
---

Join us Wednesday, May 22 for a Policies and Procedures Workshop*
In town early? Meet with us Weds, May 22, 5 to 7 PM in the Grant Ballroom for a workshop and networking event. Enjoy cocktails and light hors d'oeuvres while networking with your peers and the CaptureRx team. Make sure to bring a copy of your policies and procedures so that we can better assist you!
Policies & Procedures: Are your 340B policy and procedures - or lack thereof - making you crazy? Come join us for a workshop hosted by Holly Russo, President & CEO, PatientCraft, which will provide you with resources to create or improve your 340B P&Ps that you can take home to discuss and implement with your team.
*Once you have registered, we will email you a P&P pre-workshop toolkit to fill out and send back to
us prior to the workshop. Instructions will be included in the email.
Can't make it to this user group meeting?
You can also join us for one of our future 2019 user group meetings.
August - San Francisco
November - New Orleans
Details to follow later this year.
---
Questions? Please contact your CaptureRx customer relationship manager or Karen Walker at karen.walker@capturerx.com.