Event Information
Location
Saint Vitus
1120 Manhattan Avenue
Brooklyn, NY 11222
About this Event
TONIGHT! WED 10/9. Bar opens at 6. Doors at 7. Tickets available at doors. Set times: 8 Behold... The Arctopus 9 Dysrhythmia 10 Captured! By Robots
Captured! By Robots
2 kick ass robots, 1 stupid human. Brutal pummeling music. End of story.
But you wanna read more stupid crap? Ok, idiot human.
C!BR has been touring the world since 1997, playing thousands of dive bars for millions of drunk humans.
In 1996, Jay Vance made the robots because he was extremely unlikeable, and wanted to play in a band after all his past human bands hated him. He got to work. Shortly after, GTRBOT666 and DRMBOT 0110 were born. After a horrible accident involving many drugs and a chemical spill, the Bots became self aware and captured the human, now renamed JBOT. It was decided that they would travel the country, rocking out while bent on world domination and humiliating the masked and chained idiotic human in front of his human peers.
In 2013, a critical point was achieved in robotic/human symbiosis. The Bots over went their sixth upgrade, developing human faces in an attempt to fool the pathetic humans into lowering their guard, not unlike decoys in duck hunting.
Humans are now the hunted! Hahaha!
As well, JBOT's chains and mask were removed, after 15 years of captivity the chains were no longer needed as they were now chains of the mind, and removal of the mask serves to show how ugly and disgusting the human JBOT really is.
The Bots and JBOT's relationship has changed, now they are much more united in hating humanity. Stockholm syndrome? Maybe… Or maybe you all just suck really really bad.
C!BR's newly found united aggression towards humanity has been channeled into fast n loud music, designed to deafen and destroy, to pound and pummel, breaking your bones with brutal tones.
So that's it. End of story for reals.
But one more thing…
Fuck you, human!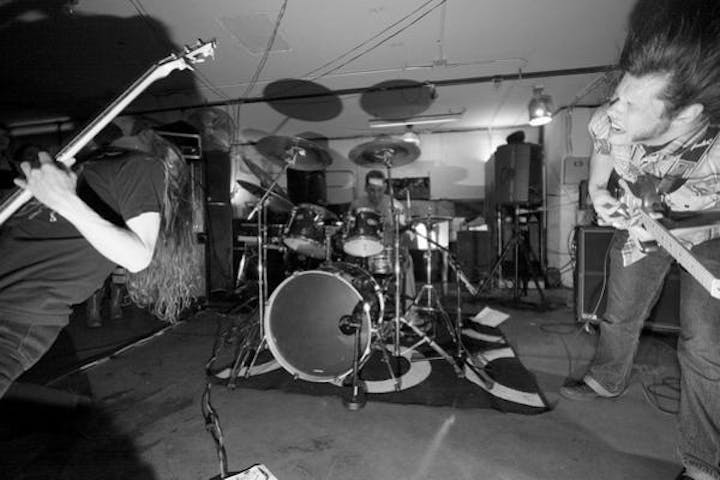 Dysrhythmia (Record Release)
Instrumental Rock/Metal group from Philadelphia, PA, USA.
Current line-up: Kevin Hufnagel - Guitar, Colin Marston - Bass, Jeff Eber - Drums
Ex-member: Clayton Ingerson - Bass
1998 - Kevin Hufnagel calls Clayton Ingerson...says he has some riffs he wants to show him. A few riffs turn into 5 or 6 songs. We begin auditioning drummers to no success.
1999 - Dysrhythmia is born. Drummer Jeff Eber is found through a psychic dream. We play our first show ever, in Philadelphia, PA, at the legendary Stalag 13 with Discordance Axis, and Ruins. Purchase a used van for $1,000 and begin to think about touring.
2000 - Our first record Contradiction is released. Recorded on 16 track analog reel-to-reel in a basement in South Jersey over two weekends. Embark on our first DIY tour. Continue playing to the same 5 people in Philadelphia.
2001- Record album number two, No Interference. Tour with the infamous Overlords of the Underworld. Release a split 10" with misunderstood musical outcasts, xthoughtstreamsx. Continue playing to the same 5 people in Philadelphia.
2002 - Record a split 7" with Technician, complete with a sheet lead cover and rubber gloves stuffed inside for the consumer's protection. Tour our asses off. Attract the attention of Relapse Records. Sign to Relapse.
2003 - Record album number three, Pretest, with Steve Albini at Electrical Audio Studio B in Chicago, IL. Tour, tour, tour. This time with the likes of labelmates Mastodon, Cephalic Carnage, Burnt by the Sun, and more.
2004 - Continue touring in support of Pretest, doing dates with Clutch, Mastodon, High on Fire, Zeke and others along the way. New material begins to develop yet bassist Clayton Ingerson eventually leaves the band. Colin Marston enters. Dysrhythmia continue on, writing and now rehearsing in Brooklyn at Colin's studio while Kevin makes trips up from Philadelphia and Jeff down from Boston. All for the love of the instrumental rock. Live from the Relapse Contamination Festival 2003 CD is release in a limited edition of 1, 000 copies.
2005 - Writing for record number four continues. New van is purchased. Spring tour with Jucifer. Spend summer demoing the next record. Band relocates to Brooklyn permanently. Translation Loss Records re-issues No Interference with additional bonus tracks. Fall tour. Record our fourth studio album Barriers and Passages with Martin Bisi at BC Studios, set for a Spring '06 release.
2006 - Barriers and Passages is released in May. Tour throughout the Summer with bands: Behold... the Arctopus, Yakuza, and The Dillinger Escape Plan. Begin writing new material.
2007 - Spring tour with Pysopus, and Behold... the Arctopus. Spend the summer writing for the next record. Release a split EP called Fractures with UK-based ambient/drone sculptors Rothko in late August.
2008 - Summer tour and completion of writing for 'Psychic Maps'
2009 - 'Psychic Maps' is released, a Fall tour follows. The band is now on their third van.
Date and Time
Location
Saint Vitus
1120 Manhattan Avenue
Brooklyn, NY 11222
Refund Policy