Description
When you see another woman with a brand that magnetizes you, what stands out the most?
Is it the way her photographs capture her essence in a way that sticks with you because they're so vividly genuine? Maybe it's how she always seems to show up with a message that's exactly what you needed to hear at the right time (how does she get into my head)?!
Could it be that the look and feel of her website and social media profiles are seamlessly aligned with the narrative of her brand story?
When it comes to creating a magnetic brand that attracts your ideal clients on repeat; it doesn't matter how big of an ad budget you have nor how awesome your sales strategy and funnels are. It's the energy of CONFIDENCE and CHARISMA that you must embody that will CALL your PEOPLE in.
On October 24th, join Branding Photographer Marcy Browe and Copywriter Keasha Lee Ince for the Capture Your Charisma and Scale Your Income workshop.
At this ½ day workshop, these two creative and savvy branding professonals will dissect the reasons why stepping into your next level of service requires a new way of using visual branding and copy to communicate with your audience. When you evolve as an entrepreneur, so does your IDEAL CLIENT.
Here's what you'll learn:
How to get clear on YOUR brand.

Why photos that exude your personality are KEY to upleveling your brand.

How to connect your voice and your visuals to captivate and attract your NEXT LEVEL CLIENTS.

How to develop copy that creates ENGAGEMENT on demand.

Why using your story is a powerful way to establish CONNECTION and grow your AUDIENCE.
YOUR HOSTS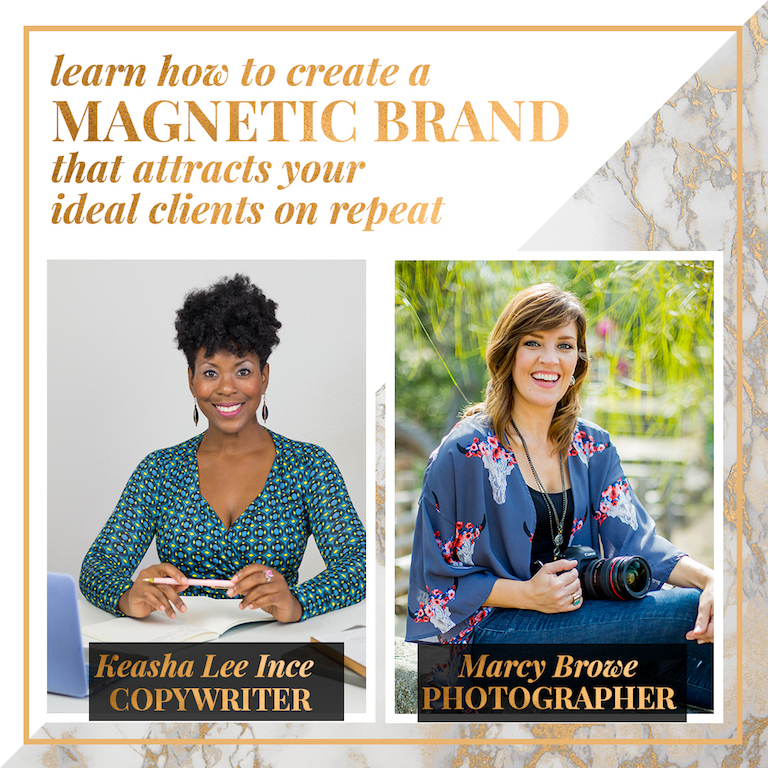 KEASHA LEE INCE [EN-JE] is a Copywriter, Messaging Mentor and Founder of Striking Statements.
Her passion is in helping brilliant entrepreneurs and organizations STEP UP their content to SCALE their impact through copy that's aligned with who they are NOW.
For 6+ years, Keasha has written copy for entrepreneurs, creatives and organizations around the world that exudes clarity, truth and connection. Copy that has helped her clients confidently make a bigger impact and attract more of their ideal audiences quicker.
Keasha uses a relatable, high-energy and intuitive approach to copywriting and believes the best way to make a Striking Statement is to get clear on what you stand for. Keasha also enjoys practicing yoga, cooking or exploring the best spots for yummy plant-based food, and spending time with her husband and daughter. Learn more at: www.strikingstatements.com

MARCY BROWE is a Contemporary Portrait Photographer specializing in personal branding portraits.
Marcy helps women entrepreneurs up-level their image by using her expertise behind the lens to help them connect with and reveal the best version of themselves. Marcy consistently shows women how to own their worth and magnetism by blending her extensive business and marketing experience with her creative side... resulting in images that are stunning, tell their story and attract their ideal clients.
Marcy takes pride in running an environmentally conscious business. When she's not photographing, she can be found surfing, biking, hiking, camping or practicing yoga. Learn more at www.marcybrowe.com