Description
36 Instructional Hours
Course Description
Your career depends on your ability to demonstrate Industry Best Practices in project management.
CAPM® certification is a highly valuable entry-level certification designed for those new to the field of project managment. PMP® certification is the industry standard for project managers to validate and certify that you understand and can manage projects to Industry Best Practices. For more information on these two exams CLICK HERE.
This course prepares you to take and pass the PMP® or CAPM® certification exams from the PMI, by offering an in-depth examination of the required study areas. The experienced Advisicon instructors know the exams inside and out, and share their valuable tips and tricks for mastering the PMBOK concepts and passing the exams.
Included Materials
The Project Management Body of Knowledge (PMBOK®), 5th Edition is the global standard for project management and is provided to course participants. It outlines the PMI framework of 9 Knowledge areas, 5 Process Groups, and the 47 Processes contained in the PMP exam.
Advisicon provides students with a copy of Kim Heldman's comprehensive PMP Study Guide. This comprehensive exam study guide includes a CD with practice exams, exam prep software, electronic flashcards, and over two hours of additional audio review. All exam objectives, as well as essential PMP topics, concepts, and key terms are covered. This is an essential tool for passing the PMP exam.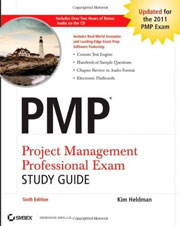 Who should take this course?
Anyone preparing to take and PASS the the Project Management Institute's PMP exam.
Course Instructors & Accreditation
Advisicon is a PMI REP and an accredited Microsoft Gold Certified Partner. This course will be taught by an experienced Advisicon instructor, all of whom are industry experts in the field of project management Read more about the Advisicon instructors.



Course Outline
The 5 major project management processes, including inputs, outputs, tools, techniques, and terminology
How each process relates to the 9 project management knowledge areas
The project management framework and how processes flow within it
The professional responsibility subject matter PMI has added to the exam
The PMI formulas related to cost, time, quality, and risk, and the ability to apply them in real scenarios
How to produce network diagrams, calculate critical path, float, and lag, and the terms, tools, and techniques that apply to them
Test taking strategies to help you understand and decode PMI's test questions and avoid common traps and pitfalls
A working knowledge of PMI's vocabulary and terms.
Organizer of CAPM® / PMP® Exam Preparation – 5th Edition PMBOK®
Who We Are
Advisicon is a Project, Program & Portfolio Management Company. We transform your organization's project management with a mix of methodology and technology that delivers results. Our team specializes in technology implementations, application and workflow development, training and consulting.
We are authors, teachers, consultants and technologists who are passionate about helping your organization learn, scale and grow.
As a Gold Microsoft PPM partner and certified by PMI, we take pride in our accomplishments and customer relationships. We work hard to deliver an experience you won't have anywhere else. We are invested in your success and are here to support you before, during, and after the job is done.
We understand your time is valuable and strive to keep each training dynamic, relevant and interactive. We offer three consumable avenues for our trainings:
In person at our local Training Center
Visit our website to view our case studies and learn more about how we can assist you at www.advisicon.com.