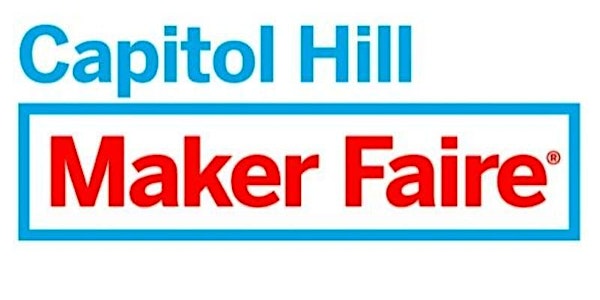 Capitol Hill Maker Faire 2020
The fifth annual Capitol Hill Maker Faire. An online series of panels and exhibits of makers from around the nation.
About this event
The Nation of Makers, along with the Institute of Museum and Library Services and the Congressional Maker Caucus, will host the 2020 Capitol Hill Maker Faire on Thursday and Friday, July 23rd and 24th. This year, for the first time since the Capitol Hill Maker Faire began in 2016, the Faire will be held virtually.
This dynamic event will celebrate trends and drivers of the popular Maker Movement. Making embraces innovation, creativity, and learning to improve communities and create a better future. The movement draws together tech enthusiasts, crafters, families, educators, tinkerers, hobbyists, engineers, science clubs, authors, artists, students, and commercial exhibitors to explore invention, creativity and resourcefulness. This year's theme, "Making in the Time of Covid-19", will explore the impact of the ingenuity of makers to provide solutions and supplies in reply to the pandemic, in communities around the U.S.A.
The first day's panel series will feature leaders in making from libraries, museums, academic institutions, the federal government, and the private sector, who will discuss the ecosystem of support - government, corporate, and private citizen - for the tremendous efforts by makers across the U.S. in addressing the global COVID-19 pandemic. Panels will also address the critical role of the maker movement in ensuring equity in education, and the pro of the movement in creating equitable and responsive communities grounded in social justice and impact of the movement on education, economic and workforce development, entrepreneurship and the development of vibrant, innovative communities across the United States.
"The breadth and impact of the maker movement on sectors of the U.S. such as education, manufacturing, economic development and innovation are simply remarkable," said Executive Director of Nation of Makers, Dorothy Jones-Davis. "The Capitol Hill Maker Faire is an amazing opportunity to share the enormous impact of makers on cities throughout our great country with policymakers and families alike on an online platform that will be able to reach makers and citizens from across the country."
The next day's online Faire, free and open to children, families, and people of all ages, will welcome dozens of exhibitors representative of the breadth of the American maker movement. Interactive displays featuring everything from 3D printed objects, defense technologies, art and robots, to crafts and artisanal handmade goods, will be available to explore.
For a schedule of events, see http://chmf2020.sched.com
The Capitol Hill Maker Faire is hosted by:
We are grateful for the generous support of our sponsors, who are helping us grow the Capitol Hill Maker Faire.