Description
In December 2017, we dusted off the infamous Capitol Bus Crawl concept and we are doing it AGAIN!
DC Eagle --> Baltimore Eagle --> Eagle NYC --> DC Eagle
ALL in ONE night!
EAGLES UNITED!!
Details:
5:00p - 6:30p Check-in at the DC Eagle and let the merriment begin!
6:30p Leave DC Eagle PROMPTLY!
7:45p - 9:00p Arrive at Baltimore Eagle; Continue the merriment up 295 to Baltimore where we will be hosted by C.O.M.M.A.N.D.
9:15p Leave Baltimore Eagle PROMPTLY!
12:30a - 4:00a Arrive in New York to hit up the Eagle NYC and let the shenanigans carry on!! We are being hosted by Joseph Maccia, Mr. Eagle NYC 2018.

4:30a - 8:30a Arrive back at DC Eagle... 12+ hours after we started this EPIC night!
BALTIMORE Q&A:
1. People have asked if they can be picked up from the Baltimore Eagle? YES!
2. There will ALSO be a stop in Baltimore at WHITE MARSH MALL on the return trip.
COST:
$65 Online with discount code;use DCEAGLE, BEAGLE, or NYEAGLE
$90 online and at the door
Sponsors:
DC Eagle
Baltimore Eagle
The Eagle NYC
American Brotherhood Weekend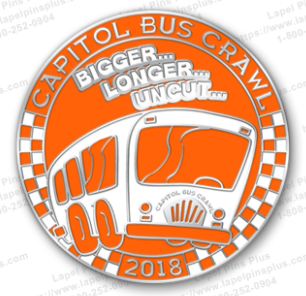 TICKETS AVAILABLE HERE!!! Buy them NOW as this event WILL sell out!!
https://www.eventbrite.com/e/capitol-bus-crawl-tickets-39098451521
Online ticket sales END midnight on April 13th!


Benefitting:

50% Carter/Johnson Leather Library
50% American Leatherwoman 2017 Travel Fund