Description
TEN+ years after the beginning of the infamous Capitol Bus Crawl, we are doing it AGAIN!
DC Eagle --> Baltimore Eagle --> Bike Stop (PA)
ALL in ONE night!
Details:
5:00p - 6:30p Check-in at the DC Eagle and let the merriment begin! BHT will be hosting us at the club bar!
6:30p Leave DC Eagle PROMPTLY!
7:45p - 9:00p Arrive at Baltimore Eagle; Continue the merriment up 295 to Baltimore where we will be hosted by C.O.M.M.A.N.D.
9:15p Leave Baltimore Eagle PROMPTLY!
11:30p - 2:00a Arrive in Philly to hit up the Bike Stop and let the shenanigans carry on!! We are being hosted by Zero Onyx, Philadelphia Fetish 2017.

2:45a - 6:30a Arrive back at DC Eagle... 12+ hours after we started this EPIC night!
COST:
$50 Online with discount code;use DCEAGLE or BEAGLE
$75 online and at the door
Sponsors:
DC Eagle
Baltimore Eagle
Bike Stop
American Brotherhood Weekend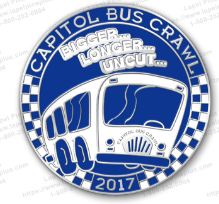 Benefitting:
50% Leather Heart Foundation
50% American Leatherwoman 2017 Travel Fund
Online ticket sales END midnight on December 1st!