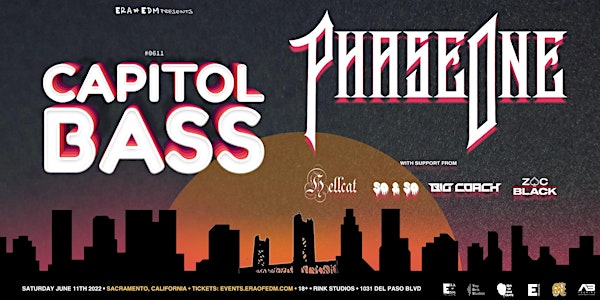 Location
The Rink Studios
1031 Del Paso Blvd
Sacramento, CA 95815
Era Of EDM Presents the biggest EDM event of Sacramento in 2022 thus far! The team that brought you Sacramento's Covid drive-ins are back!
About this event
Era Of EDM Presents Capitol Bass w/ international headliner PhaseOne who has played back to back Lost Lands in 2019 & 2021 & a stunning opening lineup of your favorite local DJ & producers including: Hellcat (first appearance of 2022), SO & SO, Big Coach and Zac Black!
We're bringing the EDM events back to Sacramento! Your favorite headlining acts with immaculate visuals inside a state-of-the-art venue! This lineup is seriously heavy hitting and sure to sell out! Grab your squad, secure your tickets and get ready to headbang to the heaviest lineup of 2022 at Capitol Bass!
We're conveniently located just 10 minutes north of Sacramento at an exclusive venue that boasts a 20x10 LED wall, amazing sound, visuals plus amenities and extras to make it an amazing night.
Get ready for the event we've all been waiting for! A night of bass music with friends.
We are ecstatic to share our lineup for Capitol Bass on Saturday June 11th:
DOORS: 8PM
Zac Black: 8-9PM
Big Coach: 9-10PM
SO & SO: 10PM-11PM
Hellcat: 11PM-12AM
PhaseOne: 12AM-1AM
Follow us @eraofedm_events for updates prior to the event and to stay in the loop on everything we have planned! We can't wait to see you at Capitol Bass!
This event welcomes everyone 18+ with a valid ID such as drivers license, passport or birth certificate, no exceptions. Although our venue is full size, we are limiting the bags allowed inside. Clear bags only (no bigger than 10"x10"), fanny packs or cross-body bags preferred. No camelback or other water filled bags (FREE water is available at the event). Each patron subject to search via metal detector before entry. *This event abides by all local, state & federal guidelines.