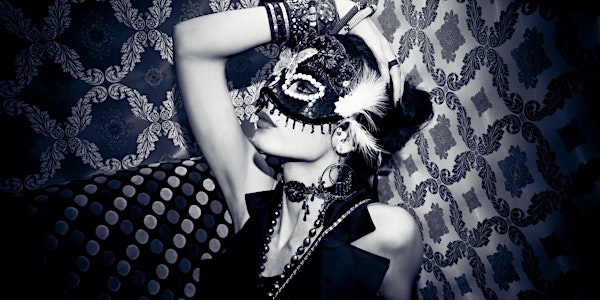 Capital Gatsby New Year's Eve Gala - DC Black Tie NYE 2022 - 2023
The legendary returns in full force this NYE! Join us for The Capital Gatsby Gala at a brand new state of the art location in Navy Yard.
When and where
Location
HQO Events 1385 Canal Street Southeast Washington, DC 20003
About this event
Capital Gatsby New Year's Eve DC Gala 
A Black Tie NYE 2023 Washington DC Affair
Official Website: https://www.dcnewyears.net
This New Year's Eve, join us as we bring you the Capital Gatsby Gala - Washington DC's ORIGINAL roaring twenties celebration. This event has become one of the most anticipated NYE galas in the nation's capital. We listened to our attendees from years past and are adding additional decor, and entertainment to bring 2023 in with grand fashion and flare. Make no mistake, this has become the #1 New Year's Eve event in the Nation's Capital with guests attending from across the country, selling out in advance every year - and soon will be celebrated in multiple cities around the world.
HQO boasts multiple levels and we will occupy the 1st floor lobby, 1st floor massive patio (overlooking the river), 2nd floor, and 2nd floor VIP board room.
IMPORTANT ANNOUNCEMENT: WE WILL BE OPENING THE MASSIVE HQO ROOFTOP WITH VIP TICKET HOLDERS HAVING EXCLUSIVE ACCESS UP TO 11 PM WITH ALL TICKET HOLDERS HAVING ACCESS THEREAFTER. HQO ROOFTOP HAS AMAZING VIEWS OF THE CITY.
Put on your best Great Gatsby themed attire as we celebrate 2023 with the decadence of the 1920s just a full CENTURY later! Women are encouraged to wear gowns or flapper (sequin, fringe or beaded) dresses, tiaras/headbands, silk shawls, feather fans, long pearl necklaces, and gold arm bangles -- to name just a few options. Men are encouraged to dress in Gatsby theme, which can include: dinner jackets (tuxedos), striped suits, flashy neckties, homburg hats, and gold-capped walking sticks. Imagination and creativity are key here!
The Capital Gatsby Gala, is the ultimate New Year's Eve, Washington DC Black Tie affair, featuring a 5-hour premium open bar, midnight champagne toast, midnight NYE countdown, multiple food stations, a dessert bar, Music by DC's Top DJ Vicious, roaring 20's dancers & entertainment, photographers & videographers, 1920's inspired party favors and so much more. This all takes place at the brand new luxurious venue - HQO - located in the heart of booming Navy Yard. HQO is DC Water's brand new headquarters spanning 150,000 Square Feet, multiple floors + patio, floor to ceiling undulating glass windows with panoramic views of Anacostia River, LEED certified, and can accommodate well over 700 guests. We will be transforming it into a New Year's Eve ballroom worthy of The Great Gatsby himself. Don't miss Washington DC's ultimate celebration as event tickets will sell out and increase closer to the date.
DC New Years Eve 2023 at HQO - Capital Gatsby Gala
Tickets Include:
5 Hour Premium Open Bar (9 PM - 2 AM)
Multiple Food Stations (9 PM - 11:30 PM)
Desert Station (Midnight - 1 AM)
Midnight Champagne Toast
Midnight Countdown
1920 Style Party Favors
Multiple Professional Photographers & Videographers
Music by DC's Top Nightclub DJ - DJ Vicious
Roaring Twenties Inspired Dancers & Entertainment
More amenities to be announced....
Ticket prices will increase closer to the date. For best prices, act fast!
Group Rates: If you have a party of 10 or more, contact us (contact@360nightlife.com) for discounted rates.
Entertainment:
Miami's DJ Damion Daniel
Washington DC's #1 Nightclub DJ - DJ VICIOUS
The International DJ LS
Gatsby Inspired Dancers and entertainment by Dystruxtion Dancers
DJ's will take you on an open-format NYE musical journey that will keep the floor packed well past midnight! Music includes Top 40, House, Dance, Hip Hop, Reggae, Club Anthems, 90's Throwbacks, International, Electro Swing, and more!
360NIGHTLIFE.COM OFFICIAL HOTEL PARTNER - HAMPTON INN SUITES BY HILTON AT NAVY YARD.
OUR EXCLUSIVE ROOM BLOCK OFFERS $159 RATES WITH COMPLIMENTARY BREAKFAST, WIFI AND KING-SIZE BEDS. MINUTES AWAY FROM CAPITAL GATSBY GALA.
NYE 2022-2023 Food Stations:
Action Station (Main food 9 - 11:30 PM):
Carved Steak & Mashed Potato Bar
Buttery mashed potatoes and sweet potatoes (your choice!) with an assortment of toppings!
- Sour Cream
- Chives
- Cheese
- Chopped Bacon
- Whipped Butter
- Basil Pesto (no nuts)
- Crispy Onions
- Brown Sugar
Static Buffet Station
- Fried Chicken & Waffle
- Shrimp & Grits
- Chickpea Salad Slider (v)
Fresh Fruit Presentation
- Varied Fruit artfully displayed
Charcuterier Station
- Smoked/Cured Meats
- Artisanal Cheeses
- Nuts
- Dried Fruits
- Jams / Jellies
- Crackers / Bread
Dessert Display (12 - 1AM)
- Miniature Cupcake Assortments
- Varied Fresh Cookies
NYE FAQ:
(Q) Where is HQO?
(A) 1385 Canal St SE, Washington, DC 20003, United States
(Q) Are there age restrictions?
(A) Must be 21+ Years of Age or Older with Valid ID
(Q) Is there a dress code?
(A) Yes, we will enforce a black-tie optional dress code. This means men are encouraged to wear Gatsby inspired tuxedos and suits, while women are encouraged to wear flapper dresses or gowns. Remember, the '20s were all about the accessories so think tiaras, headbands, beaded necklaces, gold armbands and more. We will enforce a strict no athletic wear policy (this includes jeans). It's New Year's Eve, so dress up and prepare to have an amazing time!
(Q) How long is the Open Bar?
(A) The open bar will start at 9 PM and end at 2 AM. The last call will begin at 1:30 AM but bars will keep serving alcohol until approximately 1:45 AM (15 minutes prior to closing). After this, the bars will stop serving alcohol. However, you are free to keep and consume any drinks you have inside the venue until 2 AM.
**Please note, we reserve the right to stop serving any attendee who displays noticeable intoxication for your own safety and the safety of those around you. We encourage our patrons to drink responsibly and enjoy the night! We reserve the right to stop serving at alcohol earlier than 1:45 AM if crowd control warrants it. Please note, we always attempt to serve until the latest possible time but for your own safety we may restrict serving earlier if deemed appropriate.
(Q) How many bars will there be?
(A) There will be multiple bars and wait staff. We have contracted the high rated professionals at Please Bring Chips bartending services.
(Q) Are the ticket prices going to change?
(A) YES, ticket prices will increase as we get closer to the date. For the best value, you should buy sooner than later. Please note: ticket prices may increase more than what is scheduled depending on ticket demand.
(Q) What type of music will be played?
(A) Our DJ's are awesome. You will hear a mix of all types of music from hip hop, top 40, dance, house, international, Latin, and even some electro swing.
(Q) Will you have a coat check?
(A) Yes, we will have a coat check but please note that the coat check will be a minor extra fee in cash. Coat check will be no more than $5, so if you plan on checking your coat, please be sure to bring cash.
(Q) How is parking?
(A) Street parking around HQO is available but we do not recommend patrons drive on New Year's Eve. We will have discounted promo codes with our partner LYFT. We highly recommend using a ride-sharing service or Metro.
(Q) Is there Public Transportation/Metro?
(A) Yes, HQO is conveniently located in the heart of Navy Yard, right across the street from Nats Park.
(Q) Do I need to print my ticket?
(A) No, bring your e-ticket.
(Q) Are tickets refundable?
(A) No. Similar to concerts or sporting events, all ticket sales are final. There will be absolutely no refunds unless the event is canceled. If the event is canceled, you will receive a refund. Tickets can be transferred to another party if you cannot attend but you must follow Eventbrite instructions and have the name changed to the new person.
Please note: we will follow Washington, DC health event mandates. If the event is cancelled due to DC health mandate then you will receive a full refund.
(Q) Can I sponsor this New Year's Eve event?
(A) Yes! We are looking for some awesome sponsors who are interested in marketing to an international professional crowd. We host multiple NYE events throughout the city and have many opportunities. At the Capital Gatsby NYE Gala 2023, you will have access to 850 professionals who are active. If you have a product, startup, real estate service, gym, etc and are interested in learning about sponsorship opportunities e-mail us at contact@360nightlife.com
* ALL TICKET SALES ARE FINAL.
* FOOD MENU & ENTERTAINMENT OPTIONS MAY CHANGE AT ANY TIME WITH COMPARABLE ITEMS.
* BY PURCHASING YOUR TICKET YOU UNDERSTAND THERE ARE NO REFUNDS WHATSOEVER UNLESS THE EVENT IS CANCELLED.
For more information or questions:
https://www.dcnewyears.net | contact@360nightlife.com | 202.670.3557