Location
EvilOlive Pizza Bar
198 Union Ave
New York, NY 11206
Description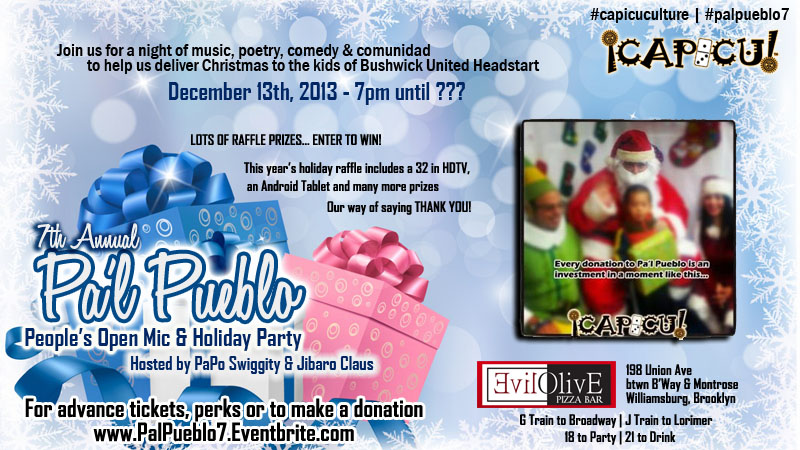 Mi gente! So much has happened. NSA Surveillance. A devastating typhoon in the Philippines. Stop & Frisk. The Zimmerman Verdict. This was an absolutely big year for our community, and the world abroad... so we had to remain focused at the neighborhood level to make sure the kids were not forgotten. At Capicu, for the last 7 years we have historically committed ourselves to delivering toys to the children of Bushwick United Headstart Schools during the Christmas season... schools started by local Latino community activists in the late 1970's that provides low-income kids with instruction for the basic beginnings of their education and include programs for children with special needs such as physical disabilities, mental health deficiencies and speech impediments.

This year has absolutely been tough, no question about it! But, we think about how tough it can actually be for our most sensitive and defenseless community members... the children... and knowing what it is to have grown up poor ourselves, we are dedicated to bringing smiles to their faces and a little bit of Christmas to their lives.

★★SPECIAL FEATURE ANNOUNCEMENTS★★!
Brio Award Winner / Bronx Net Host Rhina Valentin known cariñosamente in our community as La Reina has decided to lend her talent on our stage to help us raise money to deliver Christmas smiles to over 500 kids in the Bushwick United Headstart.
As a multiple award winning comedic actress, Television personality, producer, MC, dancer, and writer, "La Reina" Rhina Valentin is truly one of the performing arts' most versatile women. She has been featured on HBO and in nationally syndicated commercials, written, choreographed and performed critically acclaimed pieces for dance, theater, and currently serves as the beauty, brains and the bronze behind her rapidly growing production company La Reina Del Barrio, Inc.
----------
Fresh off the release of his brand new book, Tony award winning Brooklyn poet & playwright (and former Capicu feature!) Lemon Andersen will be reading from his new book and adding 10 copies of#StraightRazor to the raffle!!
Much respect to Lemon for always supporting our PaL Pueblo cause for the little ones, his last book COUNTY OF KINGS got the grand prize at the New York Book Festival

Amongst the raffle prizes available that night will be a 32 inch Screen TV. and know that every single dollar spent at the door and raffles will go toward making 500 little ones smile this holiday season.

Capicu presents:
The 7th Annual Pa'L Pueblo Holiday Party
EvilolivE Pizza Bar
198 Union Ave., (between B'way and Montrose),
Williamsburg Brooklyn, NY, 11211

G Train to Broadway, J train to Hewes St.

$15 suggested donation (you can give more) includes a Hot Latino Buffet

Open Mic sign-up at 7pm, list closes at 8pm!