Description
Mi gente! So much has happened. Crisis and Revolution in the Middle East. The Olympics. A devastating storm on the East Coast. A Presidential Reelection. This was an absolutely big year for our community, and the world abroad... so we had to remain focused at the neighborhood level to make sure the kids were not forgotten. At Capicu, for the last 6 years we have historically committed ourselves to delivering toys to the children of Bushwick United Headstart Schools during the Christmas season... schools started by local Latino community activists in the late 1970's that provides low-income kids with instruction for the basic beginnings of their education and include programs for children with special needs such as physical disabilities, mental health deficiencies and speech impediments.

With your compassion and donations, we went from delivering toys to 100 kids in one school in 2007, to delivering toys to 500 kids in all 5 schools in 2011!

This year has absolutely been tough, no question about it! But, we think about how tough it can actually be for our most sensitive and defenseless community members... the children... and knowing what it is to have grown up poor ourselves, we are dedicated to bringing smiles to their faces and a little bit of Christmas to their lives.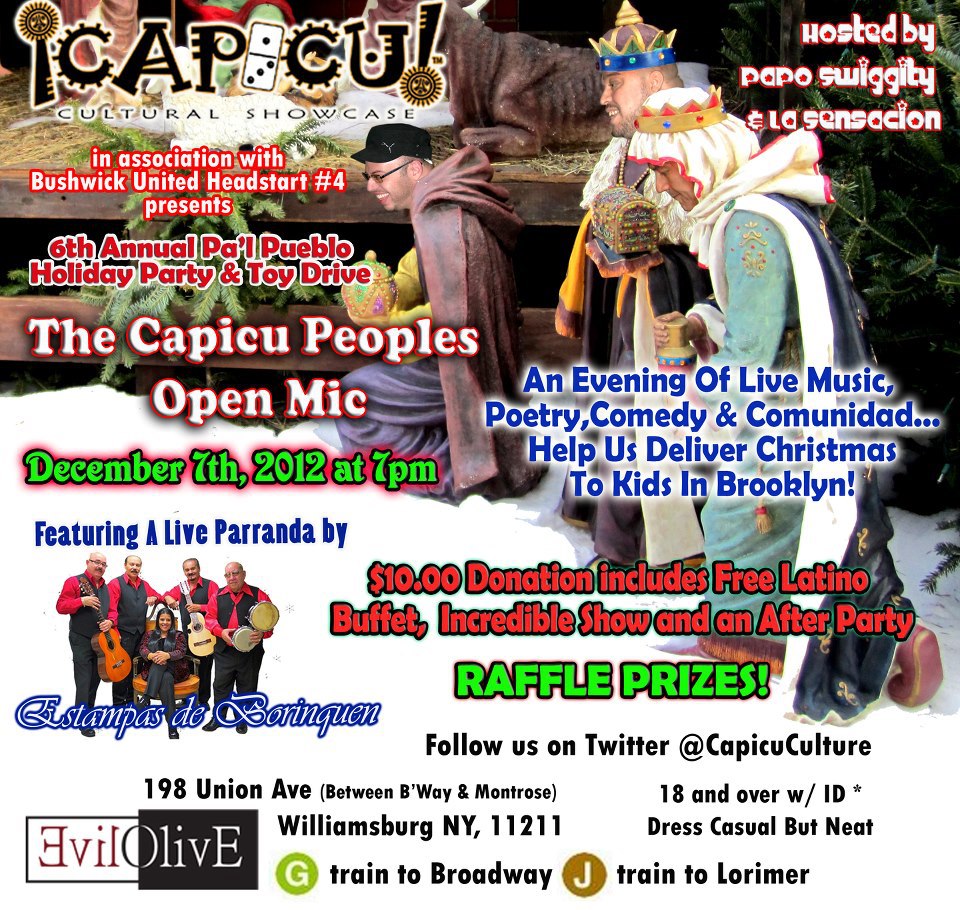 How can you help?? It's simple! Share this event with your friends and family, and join us on Friday, December 7th at EvilolivE Pizza Bar in Williamsburg, featuring the Peoples Open Mic and live Parranda Navideña music by Estampas De Borinquen!

Amongst the raffle prizes available that night will be a choice of an official Domino table or a 24 inch Screen TV. and know that every single dollar spent at the door and raffles will go toward making a little one smile!

Capicu presents:
The 6th Annual Pa'L Pueblo Holiday Party
EvilolivE Pizza Bar
198 Union Ave., (between B'way and Montrose),
Williamsburg Brooklyn, NY, 11211

G Train to Broadway, J train to Hewes St.

$10 suggested donation (you can give more) includes a Hot Latino Buffet

Open Mic sign-up at 7pm, list closes at 8pm!
Organizer of Capicu Presents 6th Annual Pa'l Pueblo Charity Event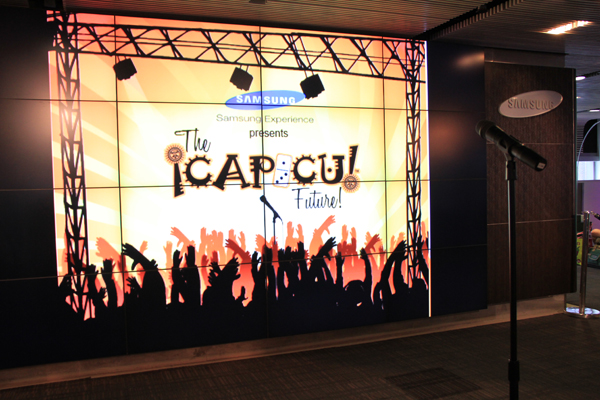 We are a producer of diverse poetry and performing arts events in New York City, formed using the philosophies of the most progressive intellectual and artistic movements of the last century (i.e. The Harlem Renaissance, the Beat Poets & most notably the Nuyorican Movement). We were founded in Brooklyn in March 2007 as an Open Mic & made our presence felt immediately by featuring both veterans as well as up-and-coming performers of spoken word, prominent visual artists, comedians, and select musical guests covering the genres of salsa, bomba y plena, progressive hip hop, and more. We have taken our brand to major academic institutions like New York University, Hunter College and Long Island University, and we have also taken our brand to major international corporations like National Grid Energy and Pepsi.
For more information:

http://www.capicupoetry.com/ or follow us on Twitter: @CapicuCulture

_
_