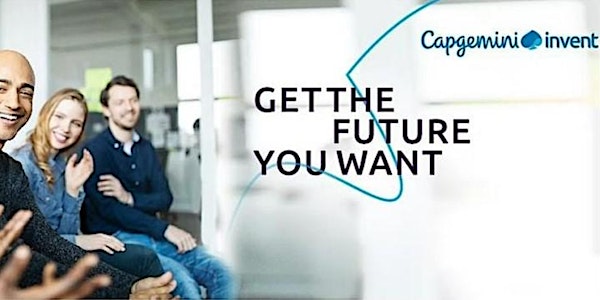 Capgemini Invent: Accelerate Programme (Social Sciences + Humanities)
Presenting Capgemini's Social Sciences & Humanities Accelerate Insight Event; an opportunity to learn more about our entry level programme.
About this event
Accelerate Programme Social Sciences & Humanities Eventbrite
We are pleased to present Capgemini Invent's Accelerate Programme Social Sciences & Humanities Insight Event; an outstanding opportunity to learn more about our renowned entry-level programme.
What can I expect?
This event will introduce two of our capabilities that work across a wide range of sectors and are most suited to graduates with a Social Sciences & Humanities background. Our Workforce & Organisation capability helps organisations with their employee experience, workforce, and change programmes, transitioning to a new digital world. Our Enterprise Model & Strategy capability focuses on helping organisations determine their strategic ambitions and develop operating models to execute their vision. Throughout the session, you will be hosted by consultants from all levels of the business who have chosen to make both Capgemini Invent and consulting their careers. You will learn about what to expect from a career at Capgemini Invent, the kind of skills required, and find out more about the consulting journey on the Accelerate programme!
You will hear first-hand accounts of some of our past projects, hear from members of the Accelerate community and senior colleagues about their journeys through Capgemini Invent, and get tips about what makes a successful application which may help you in your search for a new role.
What can I expect from the Accelerate programme?
Over the duration of the programme you will develop skills and gain the experience needed to become a well-rounded and entrepreneurial consultant with an inventive mindset that helps to drive change.
The programme is designed for talented final year students, master's students, and recent graduates who are looking for a role where they can combine technology, analytics, and creative design to help clients solve complex business and technology challenges.
In the first 3 months you will become a member of The Institute, a feedback-rich environment that allows you to contribute to client work while being coached by senior colleagues. This will give you time to begin building a robust network in the areas you are interested in and help you to refine your core consulting skills.
Following this, you will enter your respective Capability or Sector Unit academy and begin your journey with your first client project, using all the skills and attributes you have developed during your time in the Institute. This is a great opportunity to dive headfirst into solving some of the challenging problems our clients are facing and perfect your skills, obtain vital qualifications and learn about the multitude of roles and opportunities that are available to you.
When?
This event will take place on Monday 28th of November at 18:00 and will last for 1.5 hours. This is currently the only planned event that's specific for individuals studying towards of having a Social Sciences & Humanities related degree, but we are holding events for STEM courses, as well as Business & Related courses over the coming weeks to give you an idea of what to expect on the programme.
Where?
This will be a virtual event; a link will be sent out prior to the event.
How can I attend?
If you are a recent graduate, in your final year of university, a master's student or looking to start your career in consulting, sign-up for this event ensuring you leave your email address to receive confirmation of your place and further information.
All attendees will need to sign in upon joining to confirm they are over 18 years old.
We look forward to connecting with you soon!