Description
The Capella Music Festival fuses legendary artists and today's hit-makers together to create a spectacular experience & holiday destination for travelers across the globe. The Capella Music Festival will incorporate local flavor with international panache, both in terms of its level of musical excellence, acoustics and haute style.
2 Day Event
Capella Welcome Experience | Thursday - 7:00 - Midnight
---
A world class Capella weekend deserves a world class welcome event. Let's welcome the world's top talent Cayman Style!
–
7:00-9:00 PM
A&R Music Summit | Fireside Chat featuring
Island Records A&R - Jermi Thomas
Youtube Music Executive - Michael Akiko
MOGUL ENTERTAINMENT IS BRINGING TOP MUSIC EXECUTIVES TO CAYMAN
An event designed to expose the incredible local talent that Cayman Islands has to offer. Music Executives will talk about their experiences in the business, lend advice to local talent & speak about what it took for them to get to executive level.
---
9:30 - 11:00 PM
Comedy Central | Lets kickoff Capella Weekend with some laughter with American Comedian Red Grant.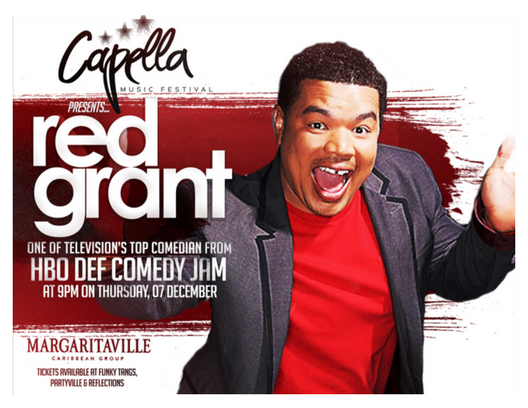 –
11:00 - 12:00
Celebrity Guest DJ
---

Headliners:
Beres Hammond
Jeremih
R City
A Surprise Pop Act.
Gates Open at 6pm | Arrive Early