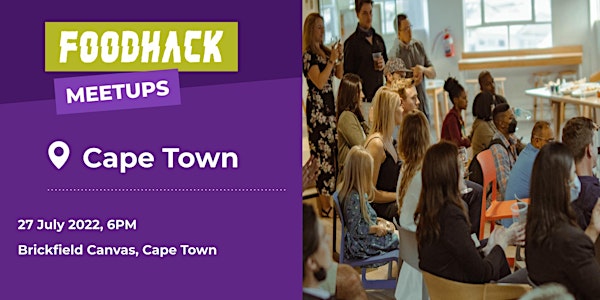 Cape Town FoodHack Meetup - 27 July 2022
Tell someone who cares - You're invited to an event about Seafood, Innovation and Food Tech. Join us for Cape Town FoodHack - 27 July 2022
When and where
Location
Brickfield Canvas 35 Brickfield Road Cape Town, WC 7925 South Africa
About this event
An evening of talks, chows and ocean banter. We're taking a deep dive into how we can use innovation to solve the real challenges facing our oceans.
Join The FoodHack Cape Town Ambassadors, De Novo Dairy & Mzansi Meat Co. for a networking meetup with a glorious lineup of speakers, along with good chow and even better company. FoodHack is the place for foodies, startups and food tech enthusiasts to meet up to talk about ideas that matter.
Currently South Africans consume over 312 million kilograms of seafood each year, a number that's increasing rapidly. If we want to sustain our oceans and avoid the overexploitation of our precious local species, we need to explore ideas beyond conventional fishing and fish farming. While alternative seafood is a relatively new concept, it has the potential to help address this challenge in our oceans.
Here's what you can expect from the upcoming Cape Town FoodHack Event:
Jasper Eales, Sealand - Speaker
Meet Jasper Eales - A creative problem solver, with a love for people and the planet. He is a true adventurer at heart and uses his travels to inspire his vision of a better future. Jasper is one of the original founders of Sealand and his focus on product design and using sustainable materials led him to create environmentally smart high-end accessories and appeal.
Cerin Maduray, WWF - Speaker
Meet Cerin Maduray – he's an investment analyst for WWF and his current focus is on green financial solutions which are designed to attract more investment into the green economy for long term growth. In addition to being part of the WWF Sustainable Finance sector, Cerin also manages relationships with policy makers that advocate for the inclusion of environmental and social risk management within the industry.
Our guest speakers will be focusing on how innovation can help lead us to real solutions and a brighter future for our oceans.
We'll also have breakout sessions where you'll get the chance to interact, discuss and meet other like-minded people, such as the ocean-lovers team, Oceaneers. They are a community-driven initiative created by two ocean lovers who want to inspire others to see that the biggest positive impact they could make to ocean sustainability is to change their food choices.
But wait, there's more... there will be free drinks and delicious plant-based sushi from our friends at Cocktails by Chris and Plushi! FoodHack will be hosted at Brickfield Canvas in Woodstock. Brickfield is a creative & innovative campus, home to industry leaders in Fintech, BioTech and EdTech.
So whether you're just starting out in foodtech, looking to connect with startups to invest in or you just want to network with other like-minded people - this event is for you.
Date & Location:
27th of July, 6pm @ Brickfield Canvas, 35 Brickfield Road, Cape Town
Agenda:
18:00 - Arrival, grab a drink and snack
18:30 - Introduction
18:35 - Jasper & Cerin
19:05 - Panel: Jasper, Cerin, Maddie (Oceaneers) - moderated by Tas (Mzansi Meat Co.)
19:35 - Breakout session followed by networking
How?
It's free! Just make sure you register for tickets on Eventbrite. See you there!
Learn from our speakers during the panel discussion and then engage with fellow ocean-interested folks. You will also have a chance to pitch your idea to the FoodHack CPT community during the rapid intro session!