Location
Farm Fresh To You / Capay Organic
23808 State Hwy 16
Capay, CA 95607
Description
ONLINE SALES HAVE CLOSED
YOU CAN STILL PURCHASE TICKETS AT THE EVENT!
See you there!
When:
Saturday, July 16th, 2016
3:00 p.m. to 11:00 p.m.
Where:
Our Farm in Capay
23808 State Highway 16, Capay, California 95607
Admission:
Advance Tickets by July 14th: $20 per Adult or $70 per group of 4 / $35 per campsite

Day-of-Event Tickets purchase at the farm: $25 per Adult / $40 per campsite

FREE for children 12 and under!
Activities:
- Organic Heirloom & Cherry Tomato Tasting
- Tractor-Tram Rides
- Harvest Activity: harvest cherry tomatoes!
- Live Music and Dancing
4:30 p.m. Million Dollar Giveaway
6:30 p.m. Dirty Cello
9:00 p.m. The Golden Cadillacs
- Best Guest Picnic Contest
- Self-Guided Farm Tour
- Kids' Activities and Arts & Crafts
- Pick-up Soccer Games for Kids & Adults
- Sprinkler Fun & Water Games
- 4-H Petting Zoo
- Make Your Own Herb Salts to Take Home
- Local Honey & Olive Oil Tastings

Additional Event Activities Available for Purchase*
- Face Painting
- Camping

- Delicious Local Food*
Freshly Made Pizzas & Salads from Dancing Tomato Caffe
Hand-made Tacos & Burritos from Taco's 911
New American street food with the freshest ingredients from Cali Love Food Truck
Artisan Gelatos and Iced Coffee Drinks from Luciano's Scoop
Organic sustainable Ice pops from Fairyella Ice Pops
Iced coffee's provided by Pachamama
- Local Beer & Wine*
- Non-Alcoholic Beverages*
- Market Stand with fresh produce from the farm
Camping in the Fruit Orchards
Sleep under the stars and among the fruit trees. Reserve a camp site in our orchards.
$35 Advance Campsite Reservations (admission not included)
$40 Day-of-Event Campsite - Available First-Come / First-Serve Basis
- Each site is 15' wide and extends the length of the orchard row
- One car allowed per site, parked at site.
- Stay until 10:00 a.m. on Sunday, July 17th
- Restrooms and sinks available
- Sorry, no pets allowed!!
- Coffee items will be available for purchase from Pachamam from 7:30am to 10:00am on Sunday for campers.
What To Bring:
Guests are encouraged to bring picnicking essentials, blankets, fold-out chairs, tablecloths, water, sunblock/sunhat and dress for the farm with shoes suitable for the field and dirt paths. Don't forget your camera! The farm and Capay hills make a lovely backdrop for photos. Sorry no pets allowed.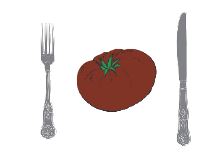 Follow us on Facebook for Event Updates www.facebook/farmfreshtoyou
Capay Orgainc and Farm Fresh To You are not responsible for lost or stolen personal articles.