#CAP Cycle 3 Student Recruitment and Informational Session
Free College Admissions Process Webinar for High School juniors, seniors, and parents to learn more about #CAP℠ and register for 2020-2021.
About this event
Register now for Free! Join us for the College Admissions Process (#CAP℠) Student Recruitment and Informational Webinar Session hosted by the Mu Kappa Omega Chapter of Alpha Kappa Alpha Sorority, Inc. This Webinar is for High School Juniors, Seniors and Parents. You are invited to learn more about the #CAP℠ program, our FREE signature enrichment program focusing on a STEP-by-STEP approach to the College Admission Process. This will be a Fun and Energetic session that will include a brief highlight of our Award Winning College Admissions Process, our step-by-step approach to completing college applications, preparing for the ACT and SAT, writing compelling personal statements, identifying scholarships and other financial aid, and compiling a portfolio to track college admissions results.
During the webinar, you will be provided with information on how to register for our upcoming 2020-2021 Cycle 3 of the #CAP℠ program.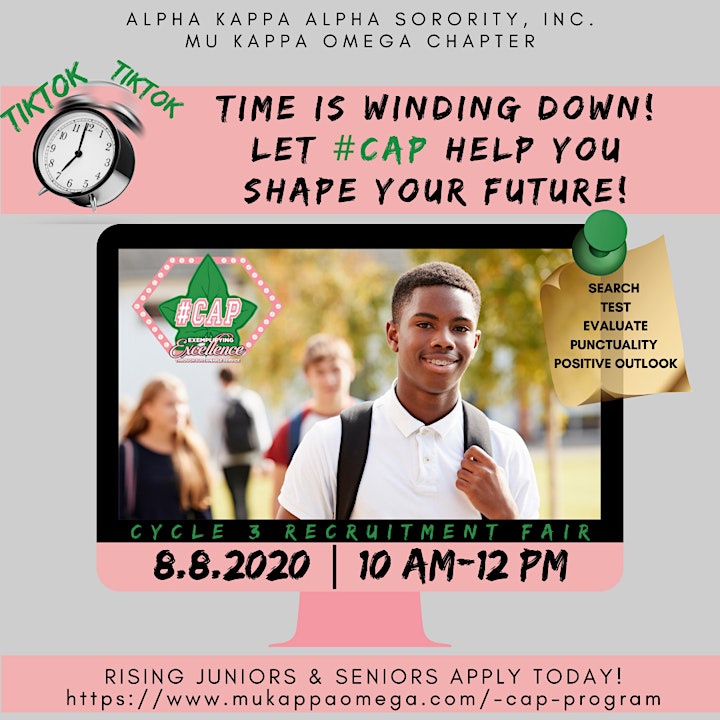 Organizer of #CAP Cycle 3 Student Recruitment and Informational Session