Canyon High Class of 1976 40th Reunion
Description
Canyon High School Class of 1976 40th Reunion
Ticket Sales have now concluded. We had to make a cutoff date to give our caterer an accurate headcount. Don't despair, we may be able to squeeze you in, but you'll need to send us an email at 76canyonreunion@gmail.com. For those who've purchased tickets, we can't wait to see you and are looking forward to an awesome evening!!

Classmates! Please join us in celebrating our 40th class reunion. This is a rare opportunity to reconnect with friends whose influence helped make us who we are today. Our generation was lucky enough to grow up in a time where you had direct interaction, no cellphones, no social media and our televisions had only 13 channels. We hung out during and after school, on weekends and holidays. We hope to see all of our classmates. Dress is casual. We want everyone to be comfortable and have a great time!
---
 Class of '76 Friends Who've Left Us Too Soon
We're almost certain we have missed some. If you know of any others please let us know so we may honor those we've lost.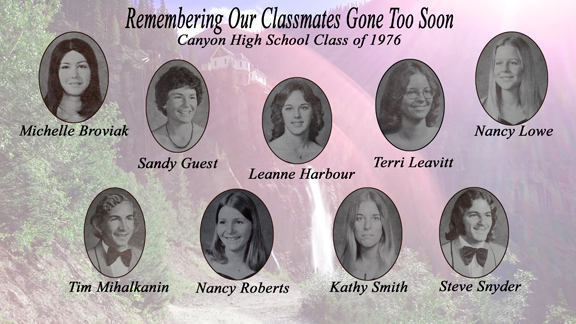 ---
FAQs
---
What can/can't I bring to the event?
You cannot bring outside alcohol to the reunion. You will be able to purchase alcohol from the Elks Lodge. Alcohol may not be consumed outside except in the Garden Lounge. If we are caught drinking outside the Elks will shut down the reunion and ask all guests to leave.


---
What's on the menu?
Here is the dinner menu from our friends at the Acton Market!
• Tri-Tip
• Chicken
• Pulled Pork
• Potatoes
• Green Salad/Chopped Salad
• Baked Beans
• Garlic bread/rolls
* Desserts
* We will have a vegitarian main course too


---
I haven't been back to town in forever, do you have suggestions for where to stay?
Here is a link for local area lodging: 
http://arestravel.com/3914_hotel-list_m2142_r359512.html


---
It's been so long since I've been back, is there anything to do? Where are some places to eat or grab a drink?
The valley has grown by leaps and bounds over the years. If you haven't been back in a while you may not recognize it, but there are many places you can go to eat, drink and enjoy some leisure time. Google and Yelp could be your new friends! Of course there are still some of the old favorites, like Chi Chi's Pizza, The Original Saugus Cafe, Backwoods Inn and Tiny's Submarine Sandwiches. You could also make a side trip to Magic Mountain!
Here are 2 links for things to do and places to eat.
Things to do!  http://visitsantaclarita.com/things-to-do/
Places to eat! http://visitsantaclarita.com/dining/


---
Email us if you have any questions!

---