Canvas & Cocktails for Guatemala
Description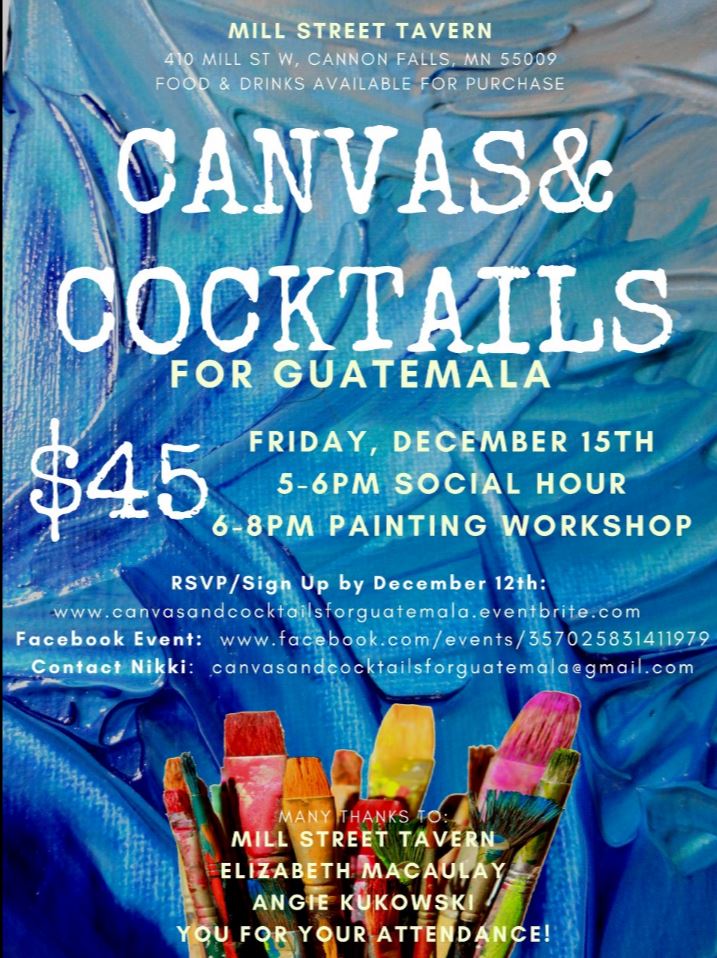 Get creative for a cause at Canvas & Cocktails for Guatemala! Friday, December 15th at Mill Street Tavern (410 Mill Street West, Cannon Falls, MN 55009) in the event room. 5-6pm is social hour, 6-8pm is painting workshop time! See Mill Street Tavern's website at: www.millstreettavern.com. Note that cocktails and food will be available for purchase so come thirsty and hungry!

Your $45 entry cost through Eventbrite will get you a white 12" x 12" canvas and access to a full painting workshop. Including: brushes, paint pallet, acrylic paints, stencils, decals, examples you can follow to complete your piece of artwork, and some instruction if needed. We'll create some awesome festive masterpieces. Perfect for a Christmas gift to someone or YOUR DANG SELF! The upside to this canvas party? We don't all have to do the same thing—you'll get to let your creativity run wild and customize your piece exactly how you like. You'll go home with something you'll actually want to display! I can't wait to see what you come up with!


What does the $45 support, you ask? In February 2018, a team of medical professionals and volunteers will make their way to Guatemala to provide direct health care as well as sustainable training to rural people of Guatemala who may otherwise never see a medical professional in their lives. These people are in great need, and we are happy to serve! Each missioner commits to about $1,900 per mission trip. Your entry fee will help with these costs—and you take home a painting at the end of it all.
RSVP/Sign Up on Eventbrite by Tuesday, December 12th. If you are interested in attending and have missed the deadline, not to worry! Contact Nikki at canvasandcocktailsforguatemala@gmail.com, though there is a chance the price may increase beyond the December 12th deadline.
Follow along and share our Facebook event page: www.facebook.com/events/357025831411979
Let's get creative for a cause! See you there!