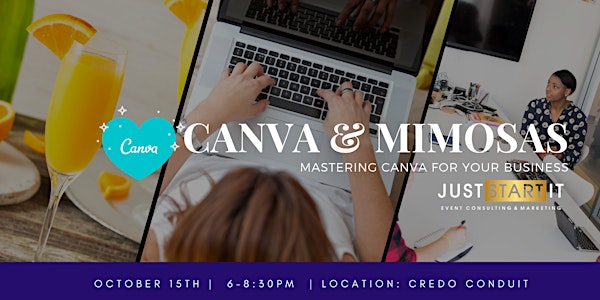 Canva & Mimosas
Mastering Canva for Your Business
When and where
Location
CREDO Conduit 1001 North Orange Avenue Orlando, FL 32801
About this event
Use Canva the right way to grow and monetize your business!
Join me in person or online on October 15th for this AMAZING opportunity!
Are you an ambitious business owner who's ready to take their branding to the next level (and make more money!)? Come and sip on mimosas and I'll show you exactly:
How to design high level branded content consistently
How to market your business online and attract ideal clients
How to save yourself a ton of time and money by using Canva
How to rocket launch the next phase in your business
And how to make your brand and business look AMAZING without spending a cent!
Ready To Jump In And Say Yes To Yourself, Your Business And The Life You Want To Create?
Option #1
If you live in the Orlando, FL area then you have no excuse but to come and hang out with me (and other fabulous female business owners) and learn how to harness the power of Canva - all while sipping on a mimosa! I'll share with you exactly how to make your business stand out from the competition and look a million dollars! And no, you won't ever have to hire a designer. You'll learn how to efficiently do this yourself, from your very own iphone or laptop!
Option #2
If it's not possible for you to join us in person - no problem! I've opened up 15 online seats so that you can still walk away with all the knowledge, benefits, clarity and design inspiration! My online class will show you exactly how to create your branded social media covers, posts, e-books and more. You will also be provided with templates to launch your next event and/or phase in your business.
Do Your Graphics Look Less Chanel And More 99 Cents Store?
Do you look around you at other brand's social media pages, ebooks, flyers and graphics and wonder how on earth do they make it look so daggone good?
Do you feel like you have two options?
#1 - Carry on getting frustrated and banging your head on the desk.
#2 - Hire an expensive graphic designer.
I'd love to present you with an option 3.
When you need to create consistent content, it is so much more productive (and profitable) to design flyers and graphics yourself. So, in this masterclass I will show you how you can consistently do this AND make them look high end.
Who Is Arlene Blake?
I am an entrepreneurial event coach, event consultant, acclaimed keynote speaker, and the Founder and Director of Business Development and Corporate Events for Women On The Rise International, Inc. with over 13 years of experience as an event planner for corporate and special events.
But just in case you're wondering what makes me an expert on canva and personal branding…
Almost every day, somebody asks me how I make my graphics look so good. Well, it's always been all me. I have a very successful nonprofit organization that I built from the ground up. And I know that all my graphic designs and branding have played a huge part in this.
But when I began, that certainly was not my area of expertise. Becoming an expert Canva wizard was all born out of necessity. As a non-profit, we simply didn't have the funds to spend on outsourcing to designers. So, I had to put my big girl panties on and figure it all out on my own.
But instead of you spending hours upon hours struggling on your own with this, I'll show you all my top tips and tricks so that branding becomes a total breeze for you!
Ready to make your brand look friggin amazing, straight out the gate?