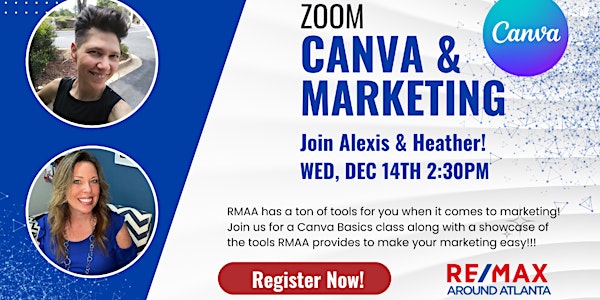 Canva & Marketing with Alexis & Heather
Join us on zoom for a canva basics class!
About this event
Wednesday 12/14/2022 | 2:30 PM to 3:30 PM
CANVA & MARKETING WITH ALEXIS & HEATHER
Presented by Alexis La Salle & Heather Holiday | Join us on ZOOM
Join us on Wednesday Dec. 14th for an overview of Canva, an amazing online tool that you can use to make your own marketing materials!
In addition, we'll be spotlighting some of the tools RMAA has for you when it comes to marketing! Join us for a canva basics class along with a showcase of the tools that RMAA provides to make your marketing easy!
RSVP here and join us in online on ZOOM
Wednesday December 14th!