It's the combination of professional, personal & company growth that makes a career at Canva so special.
About this event
To achieve Canva's mission of empowering the world to design, we need to scale our platform, and our engineers, to have the tools and resources they need to make a global impact - and that all starts in our Infrastructure Group. Infrastructure engineering at Canva aims at making complex technology simple by building reliable foundational products that will seamlessly propel Canva to the next level of growth.
Join us to hear from infrastructure leaders at Canva about their unique journeys and how they're growing Canva to be a celebration of diversity to enable everyone to do the best work of their lives.
You'll also have the opportunity to get technical through one of four breakout sessions focusing on one of the different infrastructure pillars at Canva across Cloud, Data, Reliability and Developer efficiency.
This webinar is suitable for: Those interested in pursuing (or growing) their career in Infrastructure engineering.
Event Agenda
Keynote by
Fawaz Ahmed - Head of Infrastructure Group at Canva, Keynote speaker
Fawaz will discuss Engineering practices that empower everyone & how that results in an infrastructure group that helps Canva scale.
Canva Stories
Phoebe Zhou, Software Engineer : Phoebe will share her career journey from Intern to becoming an Engineering in the Observability team
Belen Garcia Fava, Developer Platform Group Lead : The journey from individual contributor to leading a team of 20+ Canvanauts.
Pranavi Chandramohan, Engineering Manager: How Pranavi, Manager in Core Platform, found her interest in Infrastructure space and moved from Product Software Engineer to one of the high impact teams in Core platform.
Greg Roodt, Group Data Engineering Lead : Greg will share his learnings from a year of hyper growth as Canva becomes a $40 billion company.
Technical Discussion & Breakout Rooms
An opportunity for you to select one of the following topics, get on the tools and dive into some technical discussions focusing on four infrastructure pillars at Canva:
1. Site Reliability Engineering: What are SLOs and how do they work in practice? Canva's journey with SLOs so far, and what lies ahead.
- Workshop Facilitator : Joanne Huang, Core Platform Group Engineering Lead
2. Developer Platform: What is developer platform? Canva's CI/CD implementation with a monorepo, pitfalls or learnings throughout the journey.
Workshop Facilitator - Lucy Jiang, Continuous Integration Software Engineering
3. Lessons learn scaling Canva: Infrastructure as Code @ Scale, Security in "The Cloud", AWS - The good, the back, and the ugly.
Workshop Facilitator - Michael Foley, Cloud Platform Software Engineer
4. Data Engineering at Canva: Overview of Canva Data Stack, dbt for data modelling.
Workshop Facilitator - Greg Roodt, Group Data Engineering Lead - Canva Story & Technical Discussion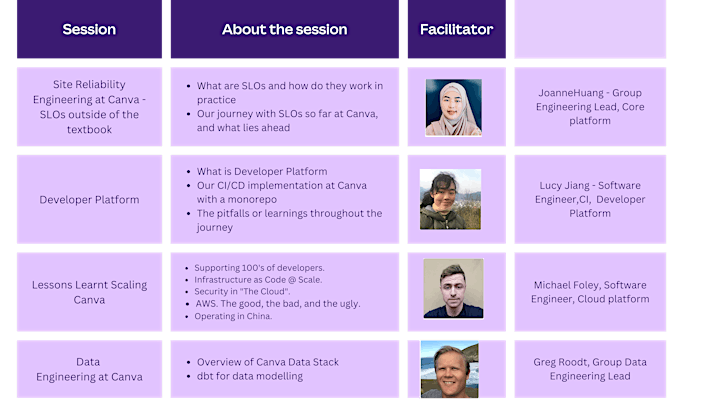 This session will be recorded. Register to receive an email link after the event to access the recording. Please check your spam folder as your confirmation email may be hiding.