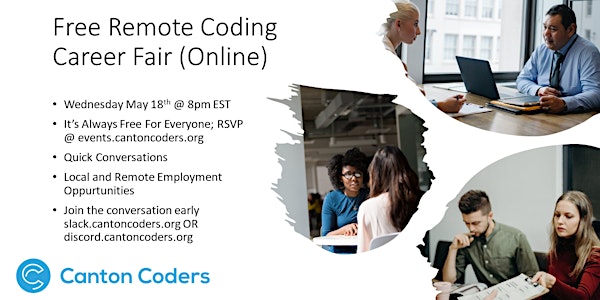 Canton Coders Coding Career Fair (Free & Online)
Come for the pageantry, maybe leave with a job, or realize your job is okay.
About this event
At Canton Coders, we're about the coder, not the employer - but we all got bills! And of course, this is free for everyone including employers.
As covid has unlocked new ways of working, we are unlocking new ways of finding those new places to work. We're going to attempt to do online speed dating, but for candidates & employers, on zoom.
An active list of employers is listed on cantoncoders.org
Join us for the pageantry, and the surprises that we'll uncover as we attempt to uplift our community through some rapid corporate networking.
Keep in mind, finding a new role can be stressful, especially if your current employer finds out! As much as we wish that wasn't the danger, we have to accept that risk. All interested parties will be asked to keep their cameras off, and use a fake name on zoom. The interested party can reveal their identity as they see fit.
Before the event, the employers will list their open roles either by person/location or actual job descriptions. When the interested parties join in the zoom names they will list their location/persona details and the hosts will attempt to make the best match.
Role Persona : New & Growing, Seasoned, Leaders, Other
Location : Remote/Location
Employment Type : Contract, Placement, Contract to Hire, Corp to Corp, Full Time, Part-time, Internship
Speed Dating Format:
A pair of company reps
Interested Party
5 minutes per intro conversation in private zoom
Interested Party may or may not reveal their identity, and that's okay
The goal is to learn enough to take the conversation to the next level outside of canton coders
Disclaimer: By participating you accept our terms and conditions of our privacy policy and terms of use. Trademarks are property of their respective owners, used by permission. Participation by employers or candidates is not an endorsement by Community of Coders Inc. dba Canton Coders. All parties should do their due diligence on their own.