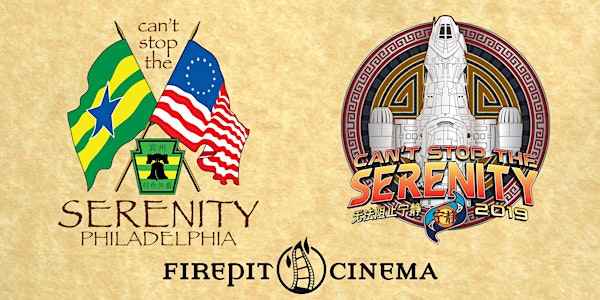 Can't Stop The Serenity Philadelphia Charity Screening 2019
When and where
Location
Firepit Cinema c/o Chris Allan 2715 Line Lexington Road Hatfield, PA 19440
Description
The Delaware Valley Brigade of the Pennsylvania Browncoats proudly presents a Philadelphia area Can't Stop The Serenity (CSTS) 2019 event in support of Equality Now -- a charity screening of Joss Whedon's space western movie Serenity. The flm is a follow-up to the critically acclaimed TV series Firefly. The CSTS Philly shindig will also include the music of Sean Faust, games, raffles*, an auction*, and other ways we aim to misbehave, while happily doing good works. *All proceeds of the event go to Equality Now. (Remember to bring cashy money to participate.) This is an OUTDOOR event. Please bring your own lawn chair. Raindate is one week later -- Saturday, June 29, 2019.

About Can't Stop The Serenity
Can't Stop the Serenity (CSTS) is a unique opportunity to indulge your geeky side while doing some good! Since 2006, fans have organized screenings of Joss Whedon's Serenity to raise funds and awareness to support Equality Now in their work for the protection and promotion of the human rights of women around the world. Join us as we aim to misbehave for a good cause!

About Equality Now
Equality Now is dedicated to creating a more just world where women and girls have the same rights as men and boys. Their international network of lawyers, activists,and supporters hold governments responsible for ending female genital mutilation (FGM), legal inequality, sexual traffcking, and sexual violence. Award-winning writer, director, and producer Joss Whedon is an Advisory Board Member of Equality Now. Since 2006, fans of Joss Whedon's Firefly and Serenity, Browncoats, have raised over one million dollars in Joss Whedon's name for Equality Now through the worldwide Can't Stop The Serenity charity events.

About Pennsylvania Browncoats
The Pennsylvania Browncoats is a group of more than 600 Firefly/Serenity fans located in or near the Commonwealth of Pennsylvania. We organize social events, such as billiards, bowling, camping, and movie nights, as well as charitable activities, such as the Can't Stop the Serenity screenings of the Serenity movie, benefting charities such as Equality Now. There are no membership fees, guidelines, rules, regulations, orelections. We are a loosely organized, grassroots movement that plans shindigs and events at various times across the Commonwealth of Pennsylvania.You join by joining the Facebook Group and/or Yahoo!Group.

About Firepit Cinema
In its fifth season now, Firepit Cinema is the brainchild of talented artist, illustrator, designer, Browncoat, sci-fi fan, and all-around great guy Chris Allan. The idea was simple, the results have been amazing. Chris decided to start screening grindhouse, cult, and modern classic films in his backyard like an old fashioned drive-in (bring your own lawn chairs!) There are always light refreshments and a roaring fire in the firepit. Some come for the movies, some come to hang out by the fire – but a good time is had by all! Chris is excited to host Can't Stop The Serenity Philadelphia.

About Sean Faust
"Influenced and inspired by does not equal SOUNDS LIKE!" – Sean Faust
Alterna-Prog!
Sean Faust [ is the real deal. Transcending genre, Sean Faust walks his own path. Refusing to surrender to the restrictions of musical genre, Sean combines his passion for all things music into a distinct sound that is unmistakably his own. If you were to combine the essence 90's alternative rock and the progressive rock of the 70's you would then begin to understand the sounds created by songwriter Sean Faust.
Alternative. Diverse. Consistent. You know you're listening to Sean Faust.
And he's a Firefly/Serenity fan! A true Browncoat!