Can't Stop Hip Hop!: The Education Movement is the 3rd Annual Hip Hop Education Conference at the Harvard Graduate School of Education
About this event
The HipHopEX Lab presents the 3rd Annual Hip Hop Education Conference at the Harvard Graduate School of Education (HGSE).
HipHopEX (HHEX), based out of HGSE, is a new lab EXperience that brings together high school and graduate students to EXplore and EXperiment with Hip Hop as a powerful culture and educational tool.
HGSE's 2019 conference, "Can't Stop Hip Hop! The Education Movement," aims to bring Hip Hop educators, artists, and enthusiasts of ALL ages together in a day of collaboration, learning, and fun!
WHAT SHOULD I EXPECT?
This is a conference that will feel like a day-long jam! Participants will get to explore music, dancing, graffiti, cyphers, and knowledge-building. You will also get to meet artists, educators, and innovators from across the local Boston area and nationwide.
The day features:
Arts Workshops
Live Performances
Interactive Presentations
Cyphers
Open Mic
Based on the four principles of Hip Hop -- peace, love, unity, and having fun -- there will be rich, artful opportunities to envision future possibilities in Hip Hop education.
WHEN AND WHERE IS IT?
Saturday, April 6, 2019
9:00 am - 5:30 pm
Harvard Graduate School of Education (13 Appian Way, Cambridge, MA)
WHO ARE THE FEATURED PRESENTERS & PERFORMERS?
We are so pleased to announce the incredible line-up of presenters and performers for this year's conference!!
PRESENTERS:
Derek Baylor - "Hip Hop Based Practices and Principles (HHPP) – Codification of Hip Hop Based Educational Practices and Principles as a Paradigmatic Exemplar of Inclusion in Educational Spaces"
Corey Depina - MC and Teaching artist; Youth Development and Performance Manager at Zumix
Rixy Fernandez - "Choose Your Character" (a cartoon workshop)
Lithera Forbes - "The Mis-Education of Women in Hip Hop"
Leida "Lady Sol" Garcia - "Afro-Diaspora Connections: Dancehall Meets Hip-Hop"
Carlton Gill - "Hip Hop Then. Teenagers Now". A rap session and debate"
Nicole Hudnell - "Loaded Learning: When Lux meets Literacy #HipHopEd"
Lybroan James - "Ethnomathematics: Teaching Math through Hip Hop. Math is Universal. How you learn it is Cultural"
Myke Johnson - "Resonate: Acceptance, Authenticity, Trust and Understanding"
Keith Jones - co-founder of Kriphop Nation
Lauryn Jones - "'My Mind Playing Tricks On Me': A Discussion On Hip Hop and Mental Health"
Maiko Le Lay - "Moving Through the Lesson: Cypher, Body Awareness, and Motion in Hip Hop Ed Classrooms"
Dawn Marie Luna - "The Break: Technology x Mental Health"
Austin Martin - Founder of Rhymes with Reason
Maxwell Melvins - "Changing the prison narrative through the power of hip-hop"
Ryan Parker - "THE OPEN MIC MOVEMENT IN EDUCATION: Amplifying and Empowering the Marginalized"
Christian Perticone - "Why Hip Hop for ELLs?
SaulPaul - "Improvisational Freestyles: Creating Real Music in Real Time"
PERFORMERS:
Kadahj Bennett - Teaching Artist, Performer and Hip Hop Producer
Randy Mason - R.H.Y.M.E (Raps Help Young Minds Excel)
Curley Middle School - Middle School Hip Hop Dance Class at the Curley K-8 Boston Public School
Floor Lords Crew - Boston's own and oldest breaking and hip hop dance crew
Boston Pulse Poetry - youth spoken word organization
Project Method - a hip-hop collective comprised of teens from ZUMIX
Stay tuned for more details on schedule and additional confirmed performers.
HOW MUCH DOES IT COST?
This event is absolutely FREE! Simply register here to let us know you're coming!
WHO SHOULD ATTEND?
This event is open to the public -- students, educators, artists, and those both curious about and experienced with Hip Hop are encouraged to attend.
FOLLOW US!!
Check back often and follow us on social media to get updates on the schedule, as well as presenters and performers.
@hiphopexlab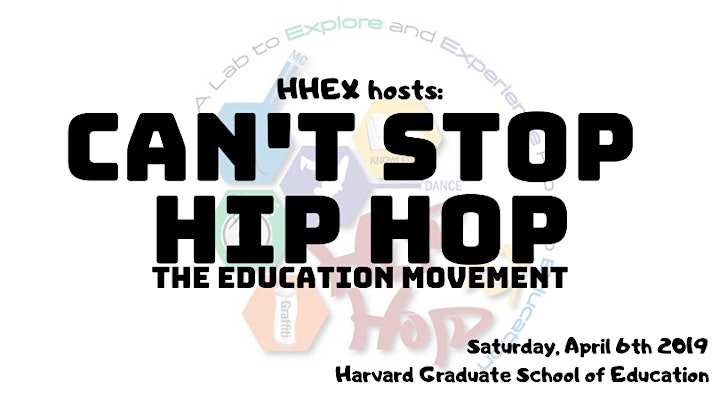 Organizer of Can't Stop Hip Hop: The Education Movement
HipHopEX (HHEX) is a classroom-lab that creates intergenerational programming that invites students, educators, artists, scholars, and enthusiasts to EXperience, EXplore, and EXperiment with the power and genius of Hip Hop in diverse educational settings.
HipHopEX is funded through the Dean's Office at the Harvard Graduate School of Education (HGSE) and is founded and directed by Aysha Upchurch.