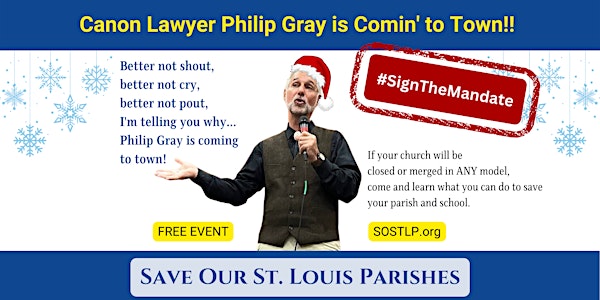 Canon Lawyer Philip Gray is Comin' To Town!!
The best Christmas gift you can get your parish or school is learning your canon law rights.
When and where
Location
Royale Orleans 2801 Telegraph Road St. Louis, MO 63125
About this event
'Twas a few weeks before Christmas and all through St. Lou,
Not a Catholic was sleeping or knew what to do!
The Listening Sessions had been attended with care,
In hopes that more clarity soon would be there.
Instead there was confusion and loss of what to do,
Because nobody understood Model 1, 4 or 2.
The parents were planning the following school year,
When suddenly which school became totally unclear.
When what to my wandering eyes should appear,
But an invitation to hear what should have been made clear.
Canon Lawyer Philip Gray with his bolo and boots,
Was arriving in town to horns, tweets and toots!
Come one, come all and learn your Canon Law rights,
Then you'll enjoy your Christmas and have less sleepless nights!