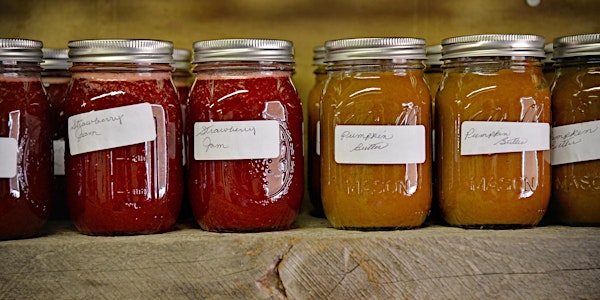 Canning 101 - Home Food Preservation Series - Evening Session
Come Learn about the basics, the food safety, and the hands-on experience of canning foods on Thursdays in September!
When and where
Location
N.C. Cooperative Extension | Union County Center 3230 Presson Road Monroe, NC 28112
About this event
Date & Time of Sessions:
Introduction to Canning - September 8th
Water Bath Canning - September 15th
Pressure Canning - September 22nd
Each Session is from 4:00PM - 7:00PM
Cost
$23 (covers canning resources and supplies for hands-on experience)
Cash, Check, and Credit Card are accepted.
Upon registration, please contact our office at (704) 283-3720, to notify us of a CASH or CHECK payment.
CASH and CHECK payments are DUE by the first class, September 8th, to keep class seat.
Make Checks payable to:
Union County Cooperative Extension
You may mail CASH or CHECK payments to:
NC Cooperative Extension - Union County
c/o: FCS Programs
3230-D Presson Road
Monroe, NC 28112
For questions, more information, or request for accommodations related to disability, contact Marcus McFarland, Family and Consumer Sciences Extension Agent,
Phone: (704) 283-3830
Email: marcus_mcfarland@ncsu.edu
"All Union County Extension & Community Association Volunteers may receive a fee waiver for the sessions, contact liaison agent, Marcus McFarland for more information."
"Accommodation requests related to a disability should be made by August 24th, 2022"
"NC State University and N.C. A&T State University are collectively committed to positive action to secure equal opportunity and prohibit discrimination and harassment regardless of age, color, disability, family and marital status, gender identity, genetic information, national origin, political beliefs, race, religion, sex (including pregnancy), sexual orientation and veteran status. NC State, N.C. A&T, U.S. Department of Agriculture, and local governments cooperating."