Event Information
Refund Policy
Contact the organizer to request a refund.
Eventbrite's fee is nonrefundable.
About this Event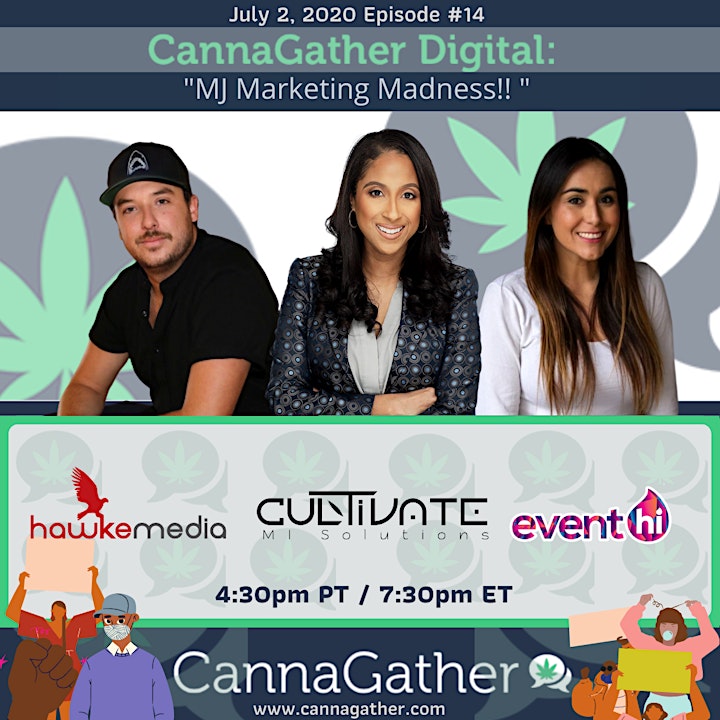 CannaGather Digital holds the best weekly cannabis industry community events!
Every Thursday at 7:30 PM EST/4:30 PST, The Cannabis Industry's largest, most-diverse monthly networking event series- CannaGather takes to the digital realm to 'Gather the best of the best from the global industry. Thought-provoking dialogue, live interviews, interactive conversations, and more are the norm.
Come network, learn, market, and grow your movement with us!
Staying creative during a pandemic has challenged most of us! Ad a bit of racial tension and economic chaos, and you've got a truly unpredictable environment!
These three premier cannabis marketing professionals; also from three VERY different regions and how they've had to pivot to help their clients stay top of mind: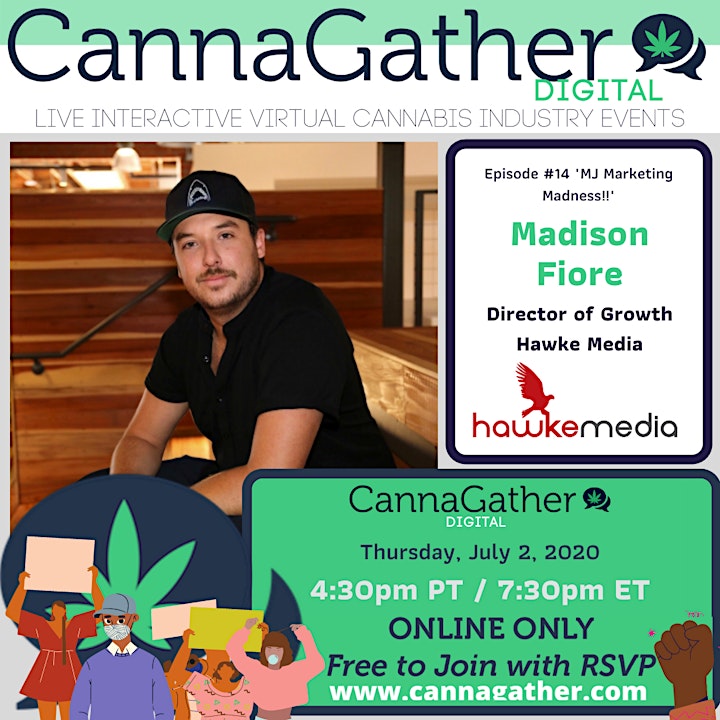 Madison Fiore, Director of Growth at Hawke Media
-Over the last 10 years he has worked with and professionally consulted over 200 brands.
-Contributed to remarkable revenue growth from $5M in 2017 to $20M+ in 2019.
-Primarily focused on the cannabis industry, he has worked with more than 30 of the most prestigious brands in the space
-Council for Weedweek, a cannabis publication based in Los Angeles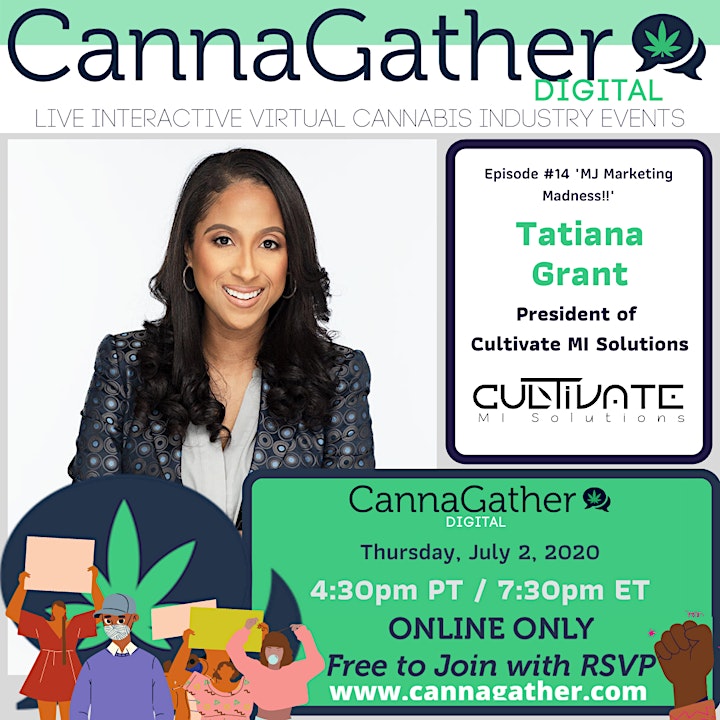 Tatiana Grant, President of Cultivate MI Solutions
-Michigan's only licensed marketing agency
-Offers premier public relations and event planning services to celebrities, small businesses, non-profits and corporations and now licensees and providers in the cannabis industry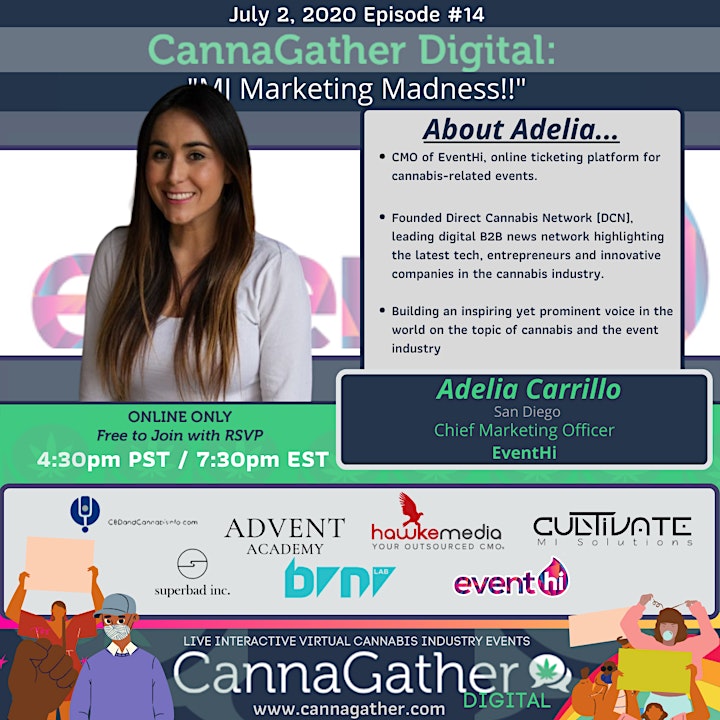 Adelia Carrillo, CMO of Eventhi
Eventhi is an online ticketing platform for cannabis-related events
Adelia is building an inspiring yet prominent voice in the cannabis world and the event industry
HUGE Thank you to all our supporting sponsors!
Supporting Sponsors:
ADVENT Academy - ADVENT Academy offers the first and only interactive education program in cannabis, cannabinoid medicine, and endocannabinology developed by cannabis clinicians. ADVENT students can expect a world-class education from global leaders in cannabis science and clinical care that will expand and deepen their knowledge about cannabis and the endocannabinoid system, including:
-Education grounded in the latest evidence-based cannabinoid research and pharmacology
-Instruction presented in methods and styles preferred by healthcare professionals
-Training synthesized from scientific evidence and up to 5 AMA PRA Category 1 Credits™ available
-Cannabis Grand Rounds™ offering the best analysis and response to real-world challenges
cbdandcannabisinfo.com - Are you ready to start CBD or cannabis, but you want to talk with a doctor who understands the medications and how to use them? While 80% of doctors think cannabis and cbd will help their patients, only 30% feel comfortable recommending the medications and far fewer actually know how to use the medications.
Dr. Clifton provides concise, complete consultation in an urgent care setting regarding your cannabis and CBD questions. Consultations are available for $60 for an average 15 minute consult. Get your questions answered quickly and conveniently whenever and wherever you like, and start healing and feeling better now.
Originals Nation Presents byeCOVID - byeCOVID is a cultural response protocol to ensure the well-being of disenfranchised communities exposed to coronavirus. Originals Nation in partnership with Trap Heals is providing COVID-19 rapid testing coupled with healthy preventive care packages delivered straight to your block. byeCOVID removes barriers to care while offering solutions to protect immune systems from coronavirus.
superbad inc. - Known for industry prize strains while simultaneously sourcing incredibly rare strains, superbad inc. has built a reputation around its relentless pursuit of high-quality flower.
Date and Time
Location
Refund Policy
Contact the organizer to request a refund.
Eventbrite's fee is nonrefundable.