Description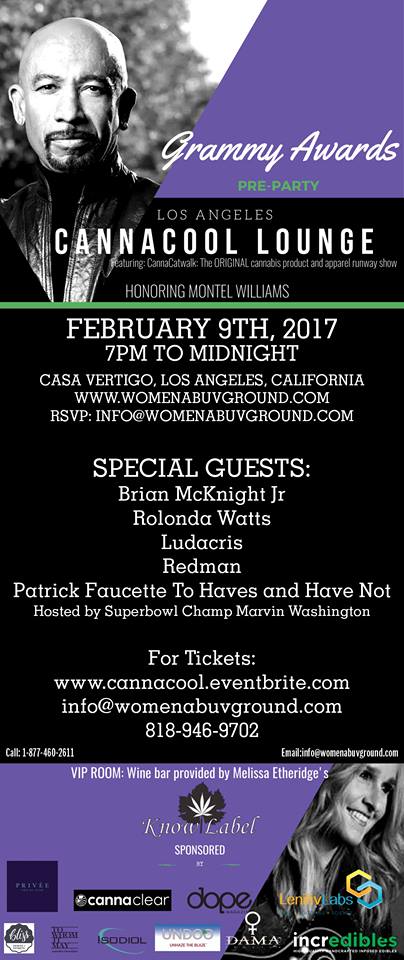 ATTEND A CANNABIS PRE PARTY FOR THE 2017 GRAMMY AWARDS IN LOS ANGELES, CALIFORNIA
WITH A STAR STUDDED LINE UP:
BRIAN MCKNIGHT JR.
CARMEN BARTON
MARVIN WASHINGTON
MONTEL WILLIAMS
MELISSA ETHERIDGE
Special Guests:
Ludacris
Redman
Method Man
------------------------------------------------------------------
FOOD PREPARED BY:
CANNABIS CHEF: ANDREA DRUMMER
ROCKSTAR CHEFZ: CHEF MILLIE
Join us on Thursday February 9, 2017 from 8 p.m. to 12 a.m for the launch party of Women Abuv Ground (WAG) and Men Abuv Ground (MAG) at the historic Casa Vertigo in Los Angeles.
The CannaCool Lounge will feature cannabis-infused food and drinks from renowned chefs and tastemakers, a fashionable CannaCatwalk runway show, live performances, and vendors, showcasing the latest in cannabis-related products. Also, leading activists will be speaking throughout the evening to give attendees a first look at what it will mean for legal marijuana use in California and how to best benefit from the new law.
The launch of CannaCool Lounge is sponsored by LenitivLabs, Know Label, Isodiol, Dama Tequila, incrEdibles, Dope Magazine, To Whom It May Chocolates, Undoo, CannaClear Extracts, Privee Social Club presenting Bliss Edibles.
About the CannaCool Lounge
The CannaCool Lounge is a signature, lifestyle gifting suite, offering cannabis connoisseurs a chance to explore new lifestyle, beauty and food products in the world of cannabis. Produced by cannapreneur Bonita "Bo" Money, the founder of WAG, the CannaCool Lounge is a high-end, celebrity-driven event, giving cannabis lovers an opportunity to enjoy the various offerings of marijuana.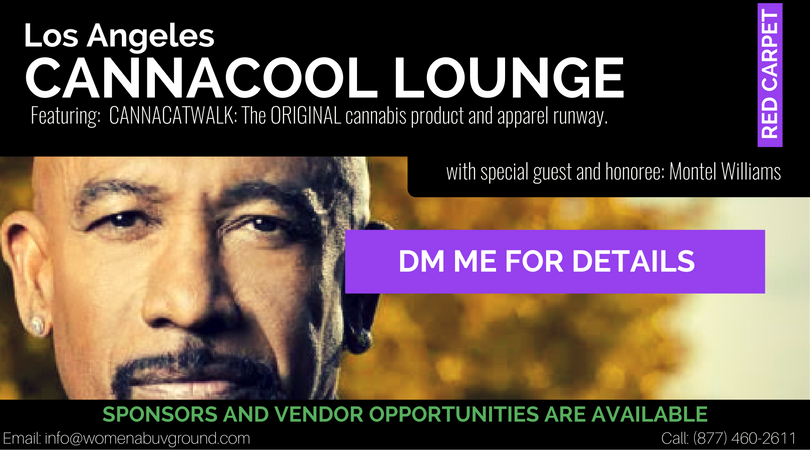 Carmen Barton







Melissa Etheridge







Morgan Freeman







Ludacris







Method Man







Redman







Marvin Washington







Honoree: Montel Williams