Description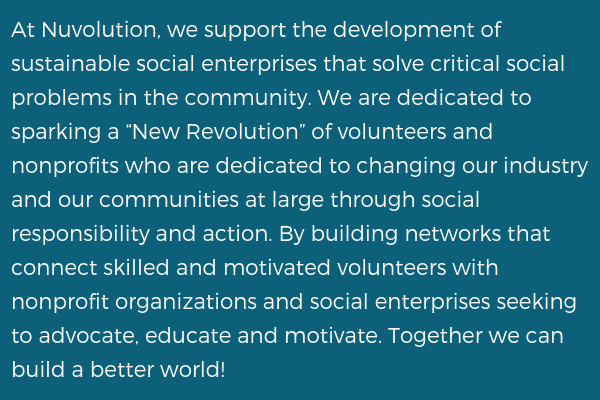 ---

---
Agenda:
---
Goal:
Draw upon the collective expertise of thought leaders who align with Nuvolution's mission, vision, and values to provide community-facing education about the ways cannabis may integrate with a wellness lifestyle. Ideally, we would like to see committees overlapping and working together. At Nuvolution we respect the diversity of people and the Cannabis plant. We value Industrial Hemp, Medical Cannabis, and Recreation Cannabis. While we all strive to make our mark on the world, we know that where there are points of intersection we should be working together. Together we may shine a spotlight on people and organizations that are lifting our industry and communities. After all, we are #BetterTogether!
---
FAQs
Please contact us at hello@nuvoluton for speaking & sponsorship opportunities.
---
Who should attend?
Nuvolution open committee meetings are open to the community. Which committee would you like to be on this year?
Nuvolution Cannabis & Wellness Advisory Committee meetings are for volunteers ready to engage the community and build their leadership skills. Please contact hello@nuvolution.org to nominate a candidate or for additional information.

---
How much does it cost?

Cannabis & Wellness Advisory Committee Meetings are free to attend.
We believe that community facing education should be accessible and affordable. We are able to provide opportunities by pulling together as a community! Nuvolution is grateful for the volunteers, speakers, and sponsors that make this possible!

---
How can YOU help? We are grateful for your time, talent, or treasure!

• TIME: We need volunteers for our events to run smoothly - set-up tables & chairs, check-in, greeter, and hospitality, live streaming, media coverage, photography...

• TALENT: We are accepting applications and nominations for speakers.

• TREASURE: The truth is putting on quality events costs money. We received a grant for the community center itself but we still need to cover utilities, marketing, hospitality incidentals, operational and programming costs. Member and sponsor dollars go right back into the community center so we may continue to support our community through quality events and programming.

Nuvolution is a 501c3 nonprofit and contributions are tax-deductible to the extent allowed by law.
---
What are my transportation/parking options for getting to and from the event?
There is plenty of street parking. Please avoid parking in the dispensary parking lot. ADA parking and entrance is at the back of the building.
RTD Options:
** Closest stop to Nuvolution, Park & Ride **
31st Ave & Downing St
(#34707)
Board the
Central Park via MLK Blvd
towards
MLK Blvd & Fairfax St
(#15230)
Walk to Destination - 14 minutes , 0.7 miles
---
What can I bring into the event?
Events at the Nuvolution Community Center are non-consumption.
---
How can I contact the organizer with any questions?
hello@nuvolution.org