Cannabis Leadership Expo Las Vegas Sunday September 15th : Executive & Mana...
Description
UPGRADE your cannabis sales skills, leadership, & knowledge!


Executives, Owners, & Those Seeking Leadership & Sales Positions In The Cannabis Industy - Are you ready to move ahead or be left behind?
Cannabis Leadership Expo


Sunday 1-6PM September 15th


CLASSES:
B.A.S.I.C.'s Of Sales
Learn key communication skills utilized by the top 10% of sales professionals. Get an overview of the B.A.S.I.C. sales process that has grown companies by $millions! Sell through all your cannabis products today using these techniques.
Navigating Human Behavior
Leadership Principles & Management skills that will allow you to effectively connect and coach employees.
Cultivation & Production Branding, Marketing & Sales
Cultivation & Production branding, marketing, & sales strategies to maximize your cannabis business for increased product sales & market penetration.
Driving a Culture of Accountability
Learn how to balance passion and performance by cultivating a culture of accountability.


Get:


Certificate & Educational Materials


Location:
Acres Dispensary The Underground
2320 Western Ave, Las Vegas, NV


Tickets: CannabisLeadershipExpo.com
Presale: $80 Day Of Event: $100
BONUS GIFT : WE SEND YOU MANAGEMENT & CANNABIS INDUSTRY JOB LEADS VIA EMAIL ALL THE TIME, ONLY TO Cannabis Leadership MEMBERS!


Instructors This Class:


Jason Sturtsman, Sturtsman Consulting, Budtender Fight Club
Balance has been the key to Jason Sturtsman's success, a serial entrepreneur who is presently the owner of Budtender Fight Club : Cannabis Education and Cannabis Dispensary Education (CDE), a cannabis business consultant managing wholesale sales teams, a manager of SSF Consulting, which is a member of a NV cannabis cultivation and production facility, and a previous owner of a popular downtown Las Vegas music venue, Beauty Bar. As a cannabis consultant, he has written numerous cannabis business applications and standard operating procedures, in addition to consulting on cannabis product creation, branding, marketing, & sales. He was chosen by the Nevada Division of Public of Behavior Health, now under the Nevada Department of Taxation, over three years ago to be on the Independent Lab Advisory Committee, to provide regulation recommendations to assist with the rollout of the Nevada marijuana industry. He has been a cannabis advocate and has had a leadership position in many cannabis advocacy organizations for over a decade in Nevada; also assisting with the Regulating Marijuana Like Alcohol recreational cannabis campaign in Nevada. Currently writing for many national and local cannabis publications, along with speaking at multiple Cannabis events such as High Times Cannabis Cup, to educate the public about the benefits of cannabis.




Mark's passion and skill for consulting started off with a position with Lifestyle Lift cosmetic facial rejuvenation, first as an outside Sales Consultant and later as a Regional Sales Trainer, which was a consultative position that enabled Mark to train teams across three different states.


Mark's capacity as a sales trainer was recognized by Clearchoice. There, he worked from 2014 to 2017 to grow their Midwest Region as a Regional Development Manager. During his tenure, Mark held training sessions with every kind of professional imaginable, including doctors, sales teams, and managers to instill the passion that a Sales Ecosystem is reliant upon.


As an expert in the field with a dynamic set of experiences to call upon, in 2017, Mark took his knowledge and skills to launch his own consulting company called Elevate Consulting LLC. Inspired by an 'Elevated' vision for sales training, Mark focuses on sales development informed by psychology and essential communication skills. These fundamentals are incorporated into his B.A.S.I.C sale process




Denise is a Clinical Mental Health Counseling student and received her Bachelor's of Arts in Psychology from Nevada State College. As a native of New York, Denise has been a Las Vegas local since her youth and has dedicated her professional endeavors to giving back to the Las Vegas community. Her experience working in the mental health field in Nevada along with her commitment to improving mental health services on a local and legislative level enable her to develop the foundation of her knowledge and skills in therapeutic practice. As a leader and advocate within the Nevada community, she continues to be involved in an advisory role with the Black Student Organization at Nevada State. Her mission is to lead and empower black youth within the educational setting by working closely with the Diversity and Inclusion Task Force to ensure that every student of color has a voice on campus.


Denise is also the owner of a consulting business, Elevate Consulting. Her role partners with her husband, Mark in developing the psychological foundation for Elevates' sales training programs & Cultural Development Initiatives. With her expertise, Denise is fundamental to the creation of more nuanced content, training, and selling approaches to the consultative sales process that specifically emphasize the importance of authentic connection. Along with being CEO of her consulting business, Denise is actively involved in the community through the non-profit organization, Rights Society.


Benefits Of Attending Cannabis Leadership Expo
Certificate of Attendance
Exclusive Job Offers
Cutting Edge Cannabis Information To Help You Get A Manager, Sales, Or Executive position
Networking
Budtender Fight Club: Cannabis Education Attendees Are Employed At Mulitple Cannabis Busineses throughout Nevada & Southern California - Shango, Exhale, Las Vegas Releaf, The Dispensary, Acres, Blum, Taproot, Blossum, Matrix, Inviticus Security, Omega Hemp, Nuwu, Oasis, Kana, AMA, Vader, Redwood, Cannacopia, & so many more busineses.
Why: Many people already in the cannabis industry need to upgrade their existing knowledge or want to make a switch into the executive level of the cannabis industry. Also because you deserve an inexpensive way to get into the cannabis industry and working in the cannabis industry has many perks your friends will be envious of. Leave with a certificate, networking with owners, & information to change your life.

Testimonials:
I enjoyed the class. Look forward to more! - A. L.
I had an incredible time today. I learned more about terpenes that I didn't know and a ton about cultivation! - T.M.
Good class. Very informative. Thank you. - D. C.
I'm so humbled and honored to be in the same room with such amazing, knowledgeable beautiful people - M.I.
Great class! So glad I was able to attend!!! :) Thanks for all the great information - S. S.
Awesome class. So much valuable information. I feel so much more confident in my cannabis knowledge. Can't wait to share with all my new patients. Thanks guys… - M.M.
I just wanted to take this time to send you a little thank you email. I have attended all the "fight Club" meetings so far and have found the information and connections made through them to be invaluable - A.M.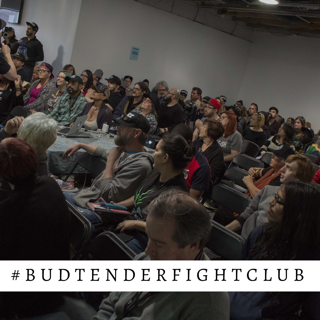 Does the event sell out?
The event often sells out due to the value that is being delivered. We highly encourage you to get your tickets before they sell out. If you show up because it is sold out online, the day of the show price will be $100 instead of $80.
Are there ID or minimum age requirements to enter the event?
18 and over please
How can I contact the organizer with any questions?
Please send an email to JasonSturtsman@gmail.com
Can I get a refund if I miss the event?
Unfortuately this event is unique and a refund is not provided if event is missed.
Is this a consumption event?
This is an education event that does not have any public consumption of cannabis, only education.
PER Eventbrite's user agreement : THERE IS NO GIVING AWAY OR SALE OF CANNABIS AND NO CANNABIS IS INCLUDED WITH EVENT. THERE IS NO SHARING OF CANNABIS. THIS IS AN EDUCATIONAL EVENT ONLY. THIS IS A NON CONSUMPTION EDUCATIONAL EVENT. There is no giveaways of anything cannabis. There is no teaching how to do anything illegal such as growing or extracting cannabis. THIS IS A JOB TRAINING on how to work in the legal in the state of Nevada industry & EDUCATIONAL ONLY EVENT. There are no giveways or free food or drink with cannabis in it. It is compliant with the eventbrite user agreement. It is compliant by eventbrite standards and per the agreement.