About this Event
Brady Cobb, is one of the newest CEO's amongst cannabis license holding companies. As with all cannabis related CEO's, it was not too long ago Brady was doing something else. Whether anticipated, planned or sheer happenstance the compelling part of the journey is the road itself that lead to cannabis and the lessons learned while transitioning. We invite you to join us for an open forum discussion at yet another amazing venue. Listen to the interesting and informative journey into cannabis with CLAB and Brady Cobb.
About:
Brady J. Cobb, Esq., CEO, SOL Global Investments Corp.
Brady Cobb is the CEO of SOL Global Investments Corp., one of the leading cannabis investment companies in the nascent global cannabis marketplace. Brady has emerged as a leading voice in the U.S. cannabis industry and has been instrumental to the marketplace's transition from legal and regulatory uncertainty to sensible and long-overdue federal legislative policy reform. Brady played a key role in the legislative process to implement Florida's medical marijuana regulatory system, and also served as Chief Legal Officer at Liberty Health Sciences from its inception until July 2018, when he accepted a position on the board of directors at SOL Global. Brady holds a law degree from Barry University School of Law and has been named to Florida's "Super Lawyers Rising Stars" since 2015.
As always, guests will be provided 2 drinks and lite fare. We really appreciate you getting involved with cannabis industry and making an effort to stay educated and network with your peers. Please help us to grow by sharing the good word with your friends, family and co-workers.
The best way to keep up with us is on LinkedIN, Facebook or Instagram.
https://www.facebook.com/groups/joinclab/
https://www.linkedin.com/groups/12008442/
@thecannabislab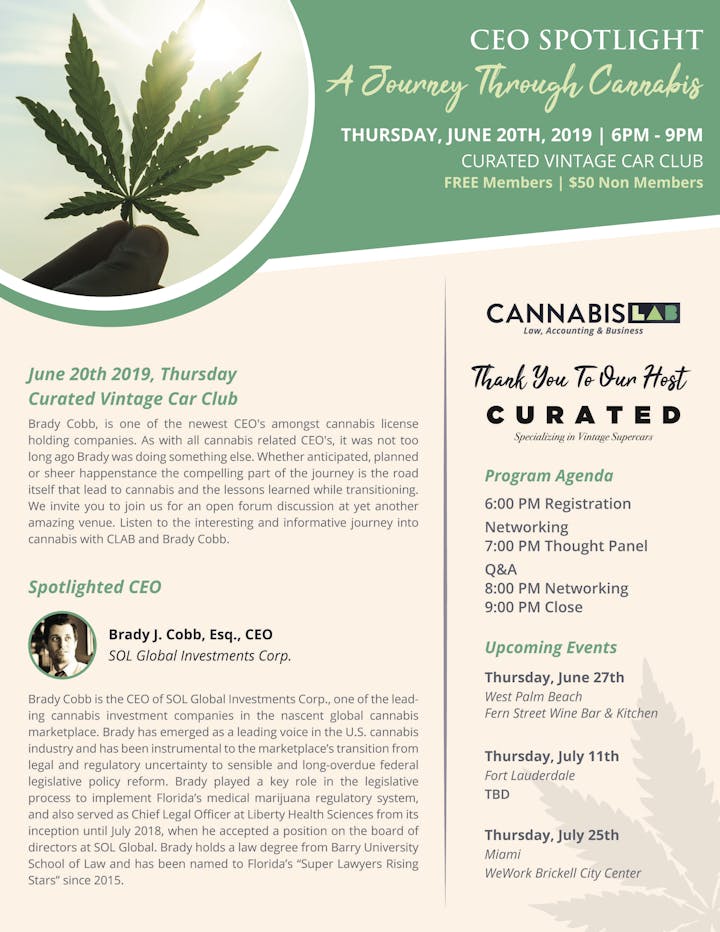 Thank you to our Corporate Partners!