Not since the Dot Com Era has investment been so fast and furious in an emerging industry. Join us and learn what you need to know to grow!
About this Event
There are both great opportunities and perilous dangers in the cannabis industry. Investors and those seeking investment are flocking to cannabis to get in though not necessarily understanding the landscape and how the industry is changing and evolving. Whether it is a plant touching business or the entire ecosystem of opportunities within the cannabis space we invite you to join us and a panel of experts to discuss, answer questions and enlighten us all as to what we need to know about Investing in Cannabis.
As always, Cannabis LAB members and guests will receive two cocktails and lite fare with entry. If you are not a member, you really really should. Not only are all of these events included, but so is our conference, holiday party and more.
Sign up here - www.joinclab.com/membership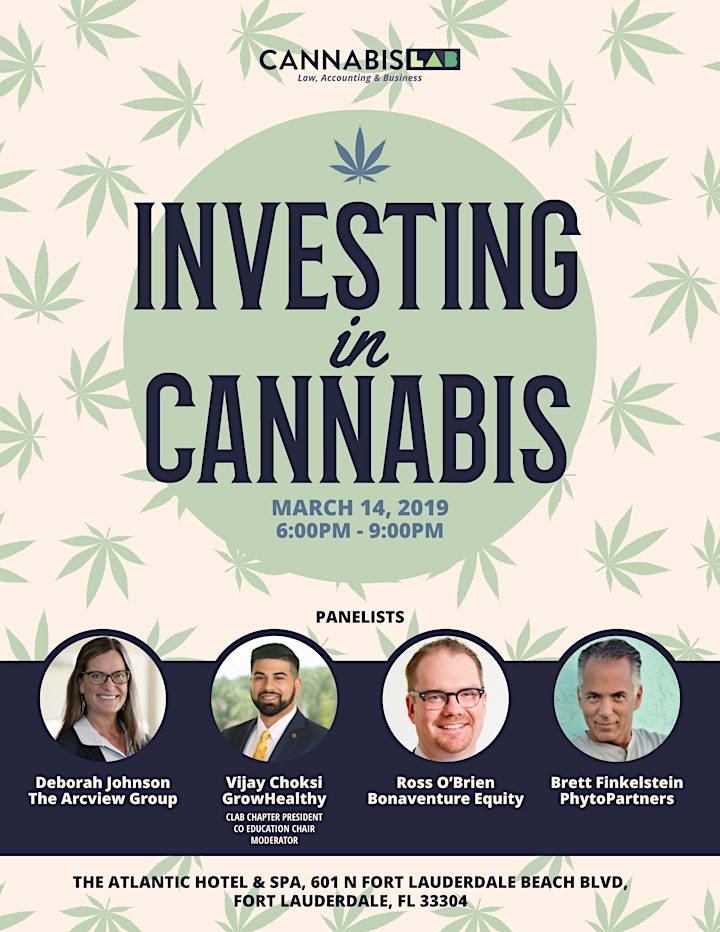 CLAB Chapter President / Co Education Chair / Moderator – Vijay Choksi, Compliance Manager, GrowHealthy
Vijay serves as the Compliance Manager of GrowHealthy, overseeing all compliance related efforts regarding GrowHealthy's operations throughout Florida. Prior to joining GrowHealthy, Mr. Choksi was the lead attorney for Kelley Kronenberg's Regulated Substances Practice Group and has advised companies seeking to enter the East Coast cannabis, CBD, and hemp markets. He has advised companies on medical marijuana business licensing requirements and Medical Marijuana Treatment Centers on regulatory audit compliance issues and counseled physicians on regulatory and healthcare implications associated with incorporating medical marijuana into either their existing or newly formed healthcare practice. Mr. Choksi also worked with middle market cannabis-based and auxiliary companies seeking to secure funding, strategic horizontal/vertical B2B partnerships and sourcing of financial and strategic buyers. He frequently speaks and presents on cannabis issues at seminars throughout Florida. Mr. Choksi received his dual B.A. and B.S. degrees in Legal Studies from the University of Central Florida, Orlando, Florida and earned his J.D. degree from Nova Southeastern University College of Law, Fort Lauderdale, Florida.
Panelist – Brett Finkelstein, Managing Director, Phyto Partners
Brett is an experienced executive, venture capital and private equity investor and advisor. He has partnered with and developed key relationships with numerous premier private equity firms, investment banks, and venture capital funds. As a transactional entrepreneur and a relationship focused advisor, he has been involved in founding, funding, and operational roles at both startups and established companies. Brett has significant experience working with private and public companies, where he brings extensive knowledge and leadership skills to in every facet of the organization. Brett has 20 years of investment banking performance and has been involved in close to a billion dollars of transactions involving a wide variety of mergers and acquisitions, debt and equity financing, turnarounds, licensing, branding and investor relations for many prestigious corporations, and private equity firms. During his career he has been involved in and has focused his professional journey on driving profitability and shareholder returns. Brett has also served on or been an advisor to numerous boards of directors of companies, private equity firms, and advisory organizations. Brett has been involved in providing business strategy and is greatly experienced with developing and implementing business growth strategies. In this role, he leverages his passion for preparation, motivation and developing companies and people to realize their potential as they evolve from an idea to a startup, to a relevant and successful business enterprise.
Panelist – Ross O'Brien, CEO, Bonaventure Equity
Ross is the Founder of Bonaventure Equity, LLC ("BVE") a boutique fully integrated Direct Investing platform and advisory firm serving the family office investment community. Ross has over a decade of experience in investment banking, private equity and advising family offices and operating companies. Throughout his career Ross has advised on over $120 million in transactions including debt and equity as an operator, advisor, investor, board member and intermediary.
BVE is founded on the principal philosophy that building and extracting value through direct investing requires deep expertise, investment rigor and an operational perspective. We believe that private equity investing has the potential to create outsized returns and exponential wealth, however is a highly complex and risky endeavor and positive outcomes can be achieved by applying best practices, new innovations and automation and experience and business acumen.
Ross brings a variety of expertise ranging from starting and operating high growth companies, to direct investing in Venture Capital, & Private Equity transactions, advising portfolio companies on Mergers & Acquisitions advisory and capital introductions. He has taught entrepreneurship and finance, has held board positions and has spent the better part of the last decade working with, and advising family offices and their direct investing strategies.
Prior to relocating to Florida, Ross worked on Wall Street with a boutique New York investment banking firm and was a Manager at Geller & Company and an Assistant Vice President at JPMorgan Chase. His experience also encompasses many entrepreneurial ventures ranging from being the first employee of a UK based Digital Media Technology firm responsible for launching their North American business. He was a founder of a digital technology company, which he and his partners exited in 2006. He began his career at Sony BMG and has international experience working in the UK, Europe, Hong Kong and Canada.
Ross holds an MBA from Fordham University and obtained a BS in Business Marketing & Management from Ferris State University. He also holds his Series 79 and 63 securities licenses.
Panelist - Deborah Johnson, Investor Engagement & Breeze Investment Team, The Arcview Group
Ms. Deborah Johnson represents The Arcview Group to investors and entrepreneurs who offer the best private equity investment opportunities in the world.
Since 2011 Ms. Johnson has been engaged in early stage angel investment and the startup entrepreneurial ecosystem. She previously led various angel groups including the Gulf Coast Venture Forum in Naples / Sarasota and Keiretsu Forum in Miami and well as special event coordination for the Tamiami Angel Funds and the Enterprise Development Corporation. For two years Deborah managed an entrepreneurial mentoring program at Fusion Pointe where she facilitated over 40 mentors and 16 companies.
Deborah welcomes opportunities to help (1) high potential entrepreneurs, especially women and minority representatives, successfully launch; and (2) accredited investors, seeking opportunities in the ballooning cannabis sector.
Living in the tropical paradise of Naples, FL, Deborah enjoys triathlons, half marathons, golf, snorkeling, cooking vegetarian meals and traveling.