Cannabis Job, Career, and Resource Fair (@CannMed2019)
Description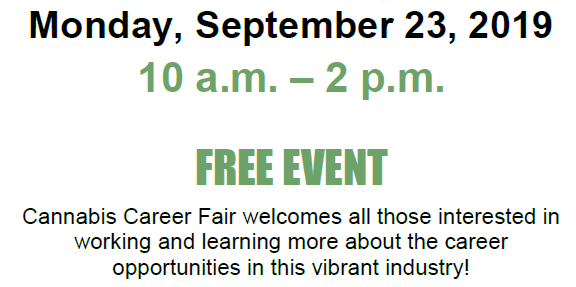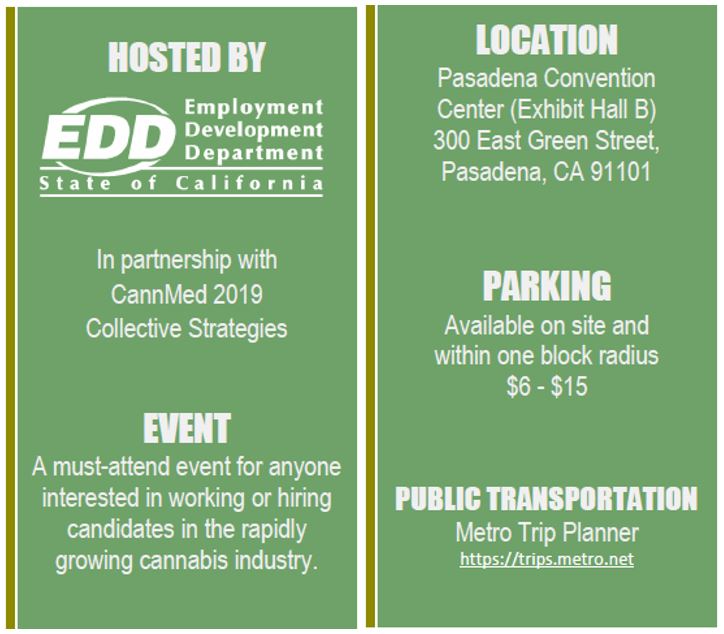 The Employment Development Department (EDD) Los Angeles/Coastal Workforce Services Division will host a Cannabis Career Fair on Monday, September 23, 2019 from 10 a.m. to 2 p.m. at the Exhibit Hall B of the Pasadena Convention Center (PCC), located at 300 East Green Street, Pasadena, CA 91104. This free event is coordinated in partnership with the CannMed 2019 and Collective Strategies. We welcome all the job seekers who are interested in working and learning more about the career opportunities in this vibrant industry. It is also a must-attend event for businesses who are hiring candidates in the rapidly growing cannabis industry. For more information, please contact (626) 814-8234.
Employers registering to this CannMed Career Fair may also be interested in the CannMed 2019 Conference. CannMed 2019 is a gathering of the greatest minds in medical cannabis, where they will further the convergence of medical cannabis research, treatment and product development. The world's top cannabis cultivators, lab safety specialists, medical professionals, and scientists will present their latest finds with regards to the efficacy of treating a variety of conditions with cannabis. Companies referred through the Employment Development Department (EDD) and CannMed Career Fair will receive a 10% discount on all turn-key CannMed 2019 exhibiting packages. For more information, please visit: http://www.cannmedevents.com or contact Sam Hindmarsh at sam.hindmarsh@medicinalgenomics.com
Non-United States Citizens who work in the cannabis industry may suffer negative immigration consequences. More information is available from the Immigrant Legal Resource Center. If you have additional questions, the California Department of Social Services has a list of organizations that may be able to provide further assistance.