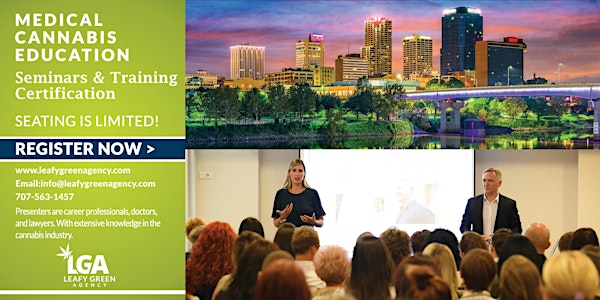 Cannabis Infusion Training Webinar zoom
The Cannabis Infused Product Business Training from Leafy Green Agency
Refund Policy
Refunds up to 7 days before event
About this event
Cannabis Infused Product Business Training
The Cannabis Infused Product Business Training from Leafy Green Agency gives you the knowledge you need to operate a successful infused product business in the legal marijuana industry or land a job at an infused-products company.
Note: No cannabis plants, plant materials, or products will be used, demonstrated, or allowed in the seminar.
What You'll Learn
This is a comprehensive business seminar developed specifically for the infused product market for anyone interested in manufacturing and selling edibles, tinctures, oils, topicals, beverages, and other cannabis infused products. Attendees will learn about:
Cannabis Infused-Product Business Topics
• Industry growth and revenue trends
• Business opportunities
• Obtaining cannabis licenses if currently available in the state
• Business planning basics
• Funding options
• Marketing your cannabis business
• Federal, state, and local laws
Cannabis Topics
• Cannabis strains and genetics
• Endocannabinoid system
• Cannabinoid distribution in infusion methods
• Bioavailability and reliability
• Isolate, full spectrum, and broad spectrum extraction
Infusion Topics
• Methods to infusion
• Best oils for infusion
• Types of edibles (Gastrointestinal, oral, and hybrid uptake)
• Infusion products and their benefits for specific ailments (sublinguals, smoking, edibles, tinctures, oils, pain salves)
• Product trends
• Calculating dosage
Safety and Quality Topics
• Food safety and state requirements
• How to read and interpret testing reports
• Proper product packaging
• Proper labeling requirements
What You'll Get
This is a deep-dive course focused on cannabis infusion business, career, and product education designed to give you an edge when you start an infused products business or apply for a job to work at an infused products company.
You'll receive expert instruction and materials, including:
• Verifiable certificate of course completion documenting your new credential and establishing you as a highly knowledgeable and trained cannabis infuser
• Resumé-boosting knowledge and skills to prove you're the best candidate for a job at an infused-products company
• Face-to-face instruction from a highly-qualified cannabis industry educator
• Access to complete study guides, resources, and tools for deeper understanding and retention
• Leafy Green Agency monthly educational newsletter
Who is This Course For?
This course is for anyone who wants to start an infused-cannabis product business or land a job working for an infused-products company.
You should take this course if you want to:
• Start a cannabis infused-products business
• Land a job at an infused-products company
• Learn more about legal cannabis product infusion in the cannabis industry
Seminar Registration Information
Registration ends 12 hours before the seminar start time, and all tickets must be purchased through Eventbrite prior to that time.
Call, Text or Email: 707-563-1457/dreambig@leafygreenagency.com
General registration: $199
FAQs
How do I join the webinar and take the course?
This course will be delivered in webinar format using Zoom, a popular video and web-based conferencing tool. You'll be able to join the webinar via your desktop computer or mobile device.
Before the webinar, please be sure to visit Zoom.us to familiarize yourself with the online tool or download the mobile app from the Apple app store or Google Play.
Additional information about joining a Zoom webinar can be found on Zoom's website here: https://support.zoom.us/hc/en-us/articles/115004954946-Joining-and-participating-in-a-webinar-attendee-.
Do I get a certificate?
Yes, if you pass the end of course test with a 70% or higher, you'll receive a certificate of completion from Leafy Green Agency verifying your new industry credential. You'll get 2-3 attempts to pass the test. The number of attempts allowed depends on the course you're taking and will be displayed to you before you start the test.
Does my certification work in other states?
Yes, Leafy Green Agency certifications are accepted as professional achievements/technical training in medical and recreational states. Some states may require additional certification.
Are there ID requirements or an age limit to enter the event?
You must be 18 years of age
Where can I contact the organizer with any questions?
info@leafygreenagency.com or 707-563-1457
Is my registration/ticket transferrable?
Your ticket can be transferred to another date.
Can I update my registration information?
Yes, either through the Eventbrite website or by contacting Leafy Green Agency
REFUND POLICY: Attendees can receive refunds up to 7 days before the event start date
Leafy Green Agency In-Person Seminars, Live Webinar and Online Course Terms of Use and Disclosure
By registering for and participating in an in-person seminar, live webinar or online course offered by Leafy Green Agency, you acknowledge and agree to the following:
1) All information presented and discussed during the in-person seminar, live webinar or online course is for informational and educational purposes only and is not nor should it be used as a substitute or replacement for medical advice, medical therapy, or medical counseling.
2) At no time is Leafy Green Agency providing healthcare or medical services or forming a healthcare provider-patient or pharmacist-patient relationship by virtue of your participation in a Leafy Green Agency in-person seminar, live webinar or online course.
3) You agree not to hold Leafy Green Agency liable for any information provided during or through the in-person seminar, live webinar or online course or for any action you take based on the information presented in the in-person seminar, live webinar or online course.
4) You have read and fully understand the above terms of use and disclaimer.