Description
We're pleased to bring you the latest on California Cannabis regulation, connections
& information regarding California commercial cannabis activity.
You'll learn of important updates to California State cannabis regulation, explore solutions to industry & community challenges and discover products and services available to operators.
Meet and hear from business professionals using cannabis, what are their secrets?
Be sure to swap contact info with potential customers, growers, investors, investees, referrals and more.
Thank you for participating, let's get started!
Program:
5:00PM Doors open for networking.
5:30PM Program begins with a big thank you to our sponsors & Introductions!
5:45PM Featured Panel of Professionals
7:15PM Buffet dinner, table discussion & collaboration
8:00PM Networking
8:30PM Conclude

Panel: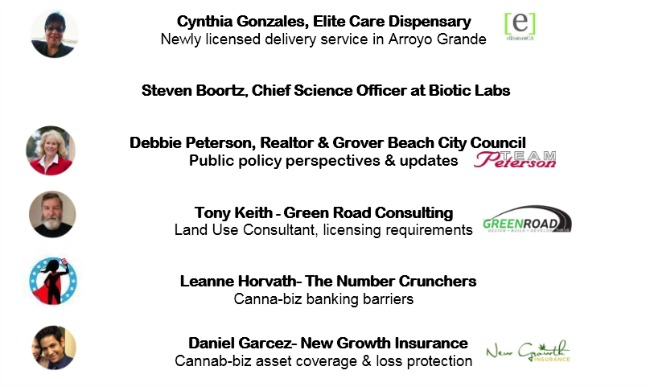 If you are interested in representing your business by sponsoring a table, please contact Marie ASAP, (805)712-5963. Table Sponsors should be individuals who are familiar with the cannabis industry or are community business leaders supportiave of legal cannabis business integration into the regulated market.
Join us to dispell myths, reveal truths (even the unpleasant ones) and discuss solutions to cannabis industry business challenges. Strengthenen our community by coming together with one common goal, "Cultivating relationships, ideas and solutions" for those in need and those who can provide quality, tested cannabis products to the regulated and legal marketplace.