Sales Have Ended
Ticket sales have ended
Registration for this event has ended. If you have any questions, please email info@EmeraldSharks.com.
Sales Have Ended
Ticket sales have ended
Registration for this event has ended. If you have any questions, please email info@EmeraldSharks.com.
Description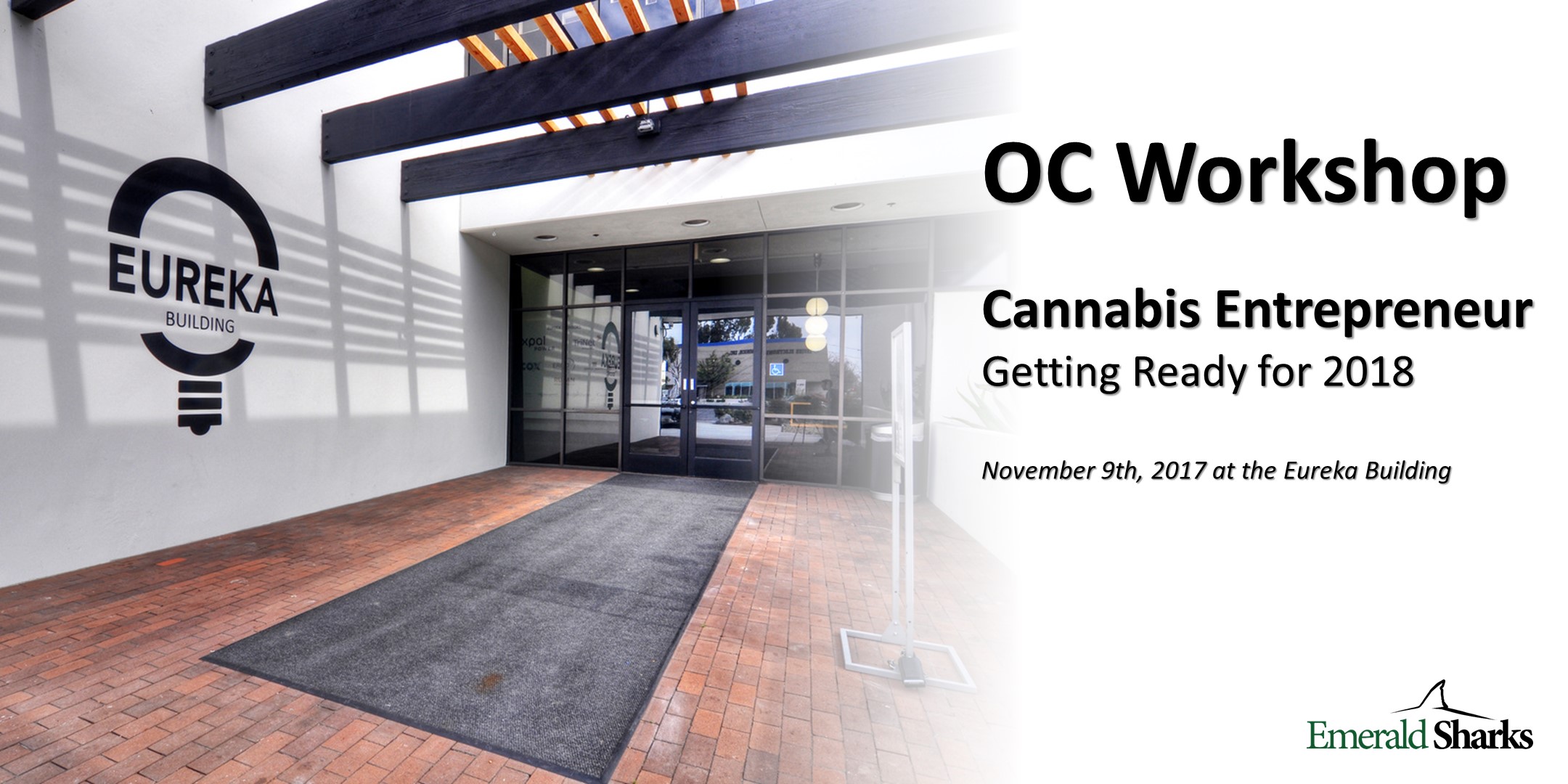 Is Your Cannabis Business Ready for 2018?
California's cannabis market will go through dramatic changes next year. New rules and regulations will completely alter the market landscape as we know it. In order to stay in the game, your business must make the necessary changes to remain compliant. Our mission is to educate you on these new rules and regulations and help make this transition easier. We accomplish this by inviting many industry experts to share insights regarding compliant logo design, packaging, marketing, licensing, and more - all in one convenient event!!
Agenda
6:00PM - Registration and Introductions
7:00PM - Speakers & Discussion Panel
8:00PM - Networking


When: November 9th, 2017 from 6:00PM to 10:00PM
Where: 1621 Alton Parkway, Irvine, CA 92606


Grow Pod Solutions are the fastest and most efficient way to launch or expand your operation. We provide a Plug & Grow solution that streamlines the start-up process and begins generating revenue in as little time as possible. The Grow Pod Solutions system is designed and engineered for easy operation, allowing users of all backgrounds to immediately start growing.

At Baker, we believe the cannabis shopping experience should be as comfortable and personalized as it is in every other retail environment. Unfortunately, because of strict policy and antiquated technology, business owners have been caught in a race to the bottom, forced to slash prices just to stay competitive. With expertise in retail, technology and cannabis we have created an industry-specific tool that allows dispensaries and brands to engage with customers and build brand loyalty through a personalized shopping experience.

Bird Law Group is a boutique law firm in Orange County, California, focused on providing outside general counsel services to small-to-medium sized businesses, emerging companies, startups, and entrepreneurs in highly regulated industries. Before joining BLG, our attorneys worked at "Big Law" firms in the securities litigation, negotiations, federal criminal defense, advertising law, regulatory law, intellectual property, and complex business litigation fields.

AllGreen Funding is your Capital SmartSource, a business funding eco-system and expert consulting firm. Entrepreneurship is the life-blood of America and capital the equivalent to business growth. AGF provides simple as A, B, C (Asset, Biz Rev, Credit) based lending solutions for your business in a straight-forward, streamlined technology utilizing our proprietary AllGreen Funding Machine. "Get the Green Your Business Needs to Grow".

Everything we do is with a conscious and aware mindset in challenging the status quo of the cannabis industry. We believe in thinking differently by using our thoughts and intuition in making the best collective decisions possible. At C2CannaPack, we focus in quality, speed and communication among all stakeholders in projects and services we offer to our clients. With creative design and highest quality packaging solutions, we are able to offer you a customized experience that creates simplicity for you and your brands.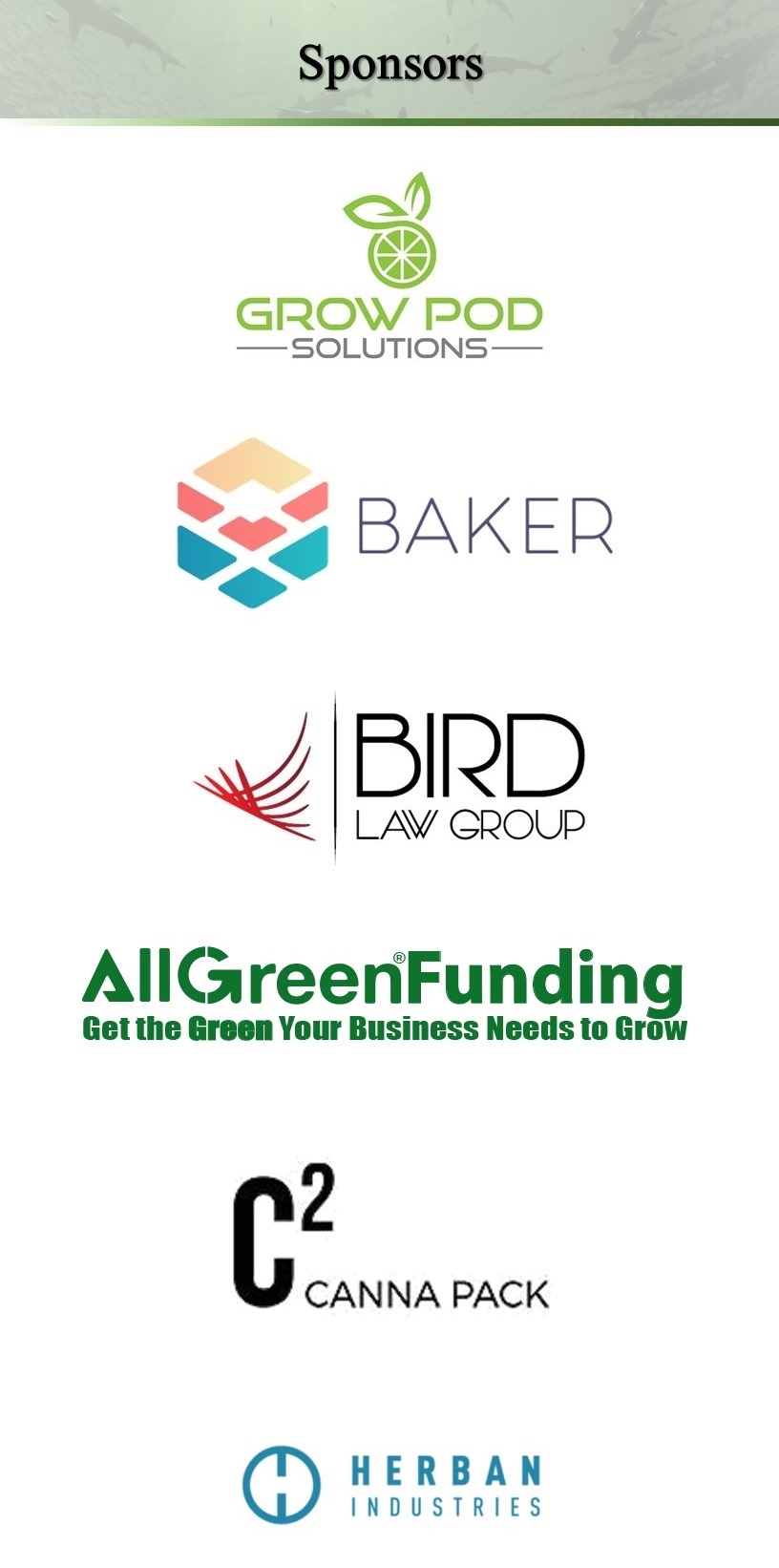 For exhibition inquiries, please contact: info@EmeraldSharks.com

Why Attend?
Complimentary Product Photography
Complimentary Product Video
Complimentary Packaging Consultation
Complimentary Legal Consultation
Complimentary Investment Strategy Consultation
Learn from the Experts
Network with Industry Leaders
Opportunity to Podcast
And Much More...