Cannabis Culture: A Paneled Discussion About Equity In the Cannabis & Hemp Industry
About this Event
(Asheville, NC) - Culture Club will host "Cannabis Culture: A Paneled Discussion About Equity In the Cannabis & Hemp Industry" on Thursday, January 9, at 6 - 8 pm at the Mothlight, 701 Haywood Road. Tickets are $15. The panel will examine the intersection of the hemp/cannabis industry as it relates to criminal justice, capitalism, and race. This industry is becoming more and more normalized on a national level, legally creating billions of dollars in revenue in the emerging market. Criminal justice and equity, however, are often an afterthought. Currently the primary financial beneficiaries from hemp/cannabis reform are predominantly white, while the majority of those in prison or with felonies for marijuana convictions are people of color. In hosting this event, Culture Club hopes to start a conversation in Asheville that will both engage and educate those of us working or spending money in this growing market on how to be responsible allies in efforts to create more equity.
Panelists will be Z. Smith Reynolds "All for NC" fellow Danielle Adams, Honey Simone of Different Wrld, Michael Hayes of Umoja Health Wellness and Justice Collective, and cannabis lawyer Rob Kight. The moderator will be writer Ami Worthen. Rob Thomas, Community Liaison with the Racial Justice Coalition, will also make remarks.
A percentage of proceeds from Cannabis Culture will go to support the Southerners on New Ground (SONG) Black Mamas' Bail Out Action.
Culture Club is a semi-quarterly conversation about a topic we care about brought to you by the people behind Garden Party & Sundries Collective.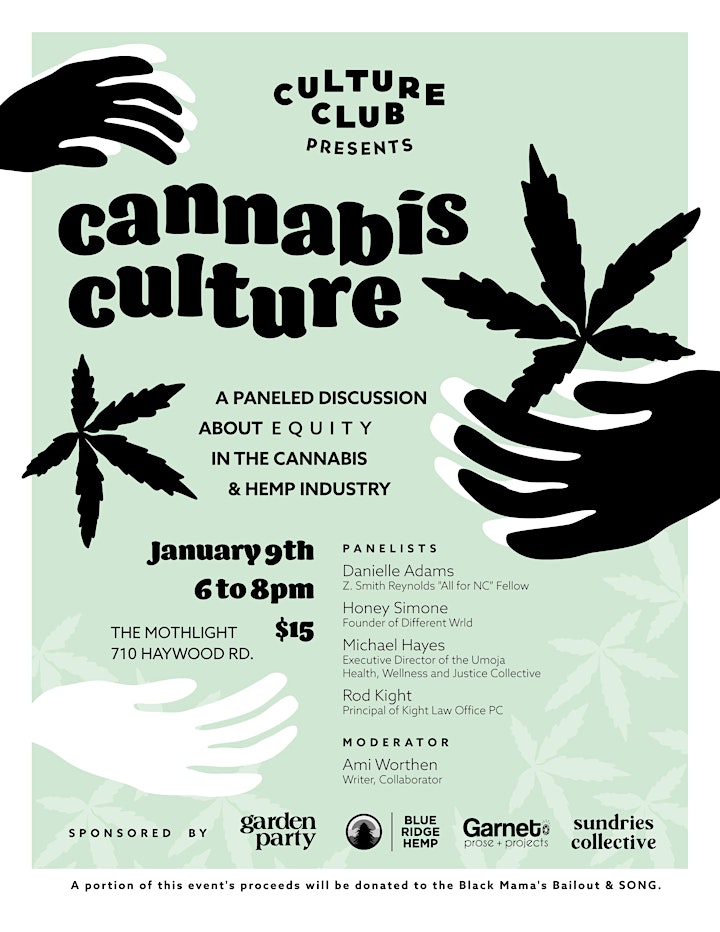 EVENT DETAILS
Panelists:
Danielle Adams - Z. Smith Reynolds "All for NC" fellow working to bring a racial and gender equity lens to the emerging, legalized industrial hemp and cannabis industry throughout North Carolina. Her project serves three main purposes including education; agriculture and farming support; and entrepreneurship. Adams wants to ensure that this emerging market will benefit people of color, especially women of color, so as to not reinforce historical inequities. More: https://www.zsr.org/articles/zsr-announces-first-cohort-all-nc-fellows
Honey Simone - Founder of the Different World, an art-focused lifestyle brand focused on sustainable apparel & immersive event experiences. She will be speaking to lived experiences of the inequities in the criminal justice system. More: @differentwrld on Instagram
Michael Hayes - Executive Director of the Umoja Health Wellness and Justice Collective. He is a NC Peer Support Specialist, trauma and resilience educator, performing/cultural artist, and public speaker. Hayes is also the host of Soul 2 Soul Radio Show on WRES 100.7 FM. He believes African Americans in Asheville "can reclaim our narrative by creating community through connection and culture, giving us the space to start the healing process so we can move toward collaborative-based economic empowerment."
Rod Kight - Principal of Kight Law Office PC, which represents businesses in the cannabis industry, including hemp and CBD, throughout the USA and the world. He edits the popular Kight On Cannabis law blog and wrote "Cannabis Business Law-What You Need to Know," a cannabis law primer for business executives. More: cannabusiness.law
Moderator:
Ami Worthen - Writer, community collaborator and musician. More: amiworthen.com
Sponsors:
Garden Party, Blue Ridge Hemp, Garnet Prose + Projects.
Performers
Date and Time
Location
Refund Policy