Description
ALMOST SOLD OUT!


The "Cannabis Business Boot Camp" is an in-depth, instructional series that prepares any interested person that is jumping into the "green rush" and helps them avoid the expensive learning curves of the industry.
Trainees will finish the Cannabis Business Boot Camp with the confidence and know-how to join this multi-billion dollar industry.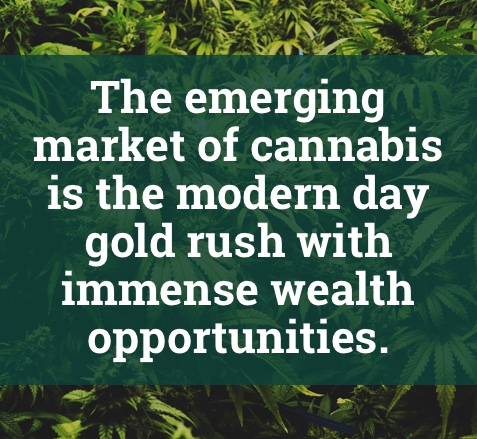 Agenda


Day 1 | Saturday, 9:00 AM - 7:30 PM
Day 1

9:30am - Cannabis Overview / Into to the event

10:00am - 12:00pm: Cannabis Investing and Risk

Investing in the trends of Cannabis-How to Pick a Winner - Michael Waldman

Investing and risk reduction strategies - Michael Chernis

Protecting your investment business Panel: Michael Waldman, Michael Chernis, Ariel Clark, and Bryan Bergman

1:00pm - 2:30pm: Cannabis Regulation and Law

Federal Law- Bryan Bergam

California State Law- Ariel Clark

Panel: Ariel Clark, Bryan Bergman, Toni Forge, and Chris Hoo

3:15pm- 4:30pm Accounting and Cannabis Taxes

Accounting, Taxes, and 280E - Gretel Tortolani

Building in corporate governance- Simone Cimiluca-Radzins




Day 2

9:30am - Morning Overview and Questions

10:00am - 12:00pm: Getting Started with Applications

The basic components you need in your cannabis application - Toni Forge

Steps to making a winning application - from real experience - Ariel Clark

Specific components on manufacturing, lab testing, and business compliance - Chris Hoo

Panel: Ariel Clark, Toni Forge, Chris Hoo

12:30pm - 2:00pm: Quality Assurance

Mitigating Risks for Your Investment and Personnel- Terry Blevins

Quality Control and Lab Testing - Jeffrey Raber

Panel: Jeffrey Raber, Terry Blevins

2:45pm - 3:30pm Sales in the Cannabis Industry and the Do's and Don't of Advertising


Learn From the Experts



ARIEL CLARK, LAW OFFICES OF CLARK-NEUBERT, LLP
Simply speaking, Ariel Clark is a visionary. In 2008, when the idea of a cannabis business attorney was routinely considered an oxymoron, she dedicated her practice to this emerging industry. Since then, she has not only seen but helped guide the historic cultural and legal shift regarding cannabis. Be it protecting her clients' rights or offering key legislative advice to governmental agencies, her intelligence, charisma, and tenacity have earned her a national reputation as one of the cannabis' most fierce and fair-minded advocates.

BRYAN M. BERGMAN, ESQ. ATTORNEY AT BERGMAN LAW GROUP
Bryan started his career practicing law in the music industry in the early 2000's. After a couple of years, Bryan went into business, real estate, and family law. A couple years back, he saw a need for business attorneys in the cannabis industry and started the Hemp Counsel. The Hemp Counsel offers detailed and high-quality business law services including but not limited to, entity formations, transactional and contract services, regulatory compliance and licensing for California medical and recreational cannabis businesses.

TERRY BLEVINS, ARMAPLEX SECURITY
Terry Blevins, MA, is a Los Angeles based American senior security professional, specializing in physical security, executive protection, and investigations. Terry has a broad set of skills and experience that includes security in the following industries: legal cannabis, tech, entertainment, gold mining, transportation (supply chain security) and retail and has led international teams of more than 500 people in locations around the world.

SIMONE CIMILUCA-RADZINS, KALOGIA
Simone's expertise is in business strategy, finance, risk management, and business process improvement. She has improved business operations for hundreds of clients around the world. With a background in Big 4 public accounting and international consulting for Fortune 500 companies, she's lived and worked in Spain and France and has assisted clients throughout Latin America, Western and Northern Europe, and the Asia Pacific region.
She has spoken about cannabis business on National Public Radio (NPR); has lectured on the US cannabis economy in Prague and Costa Rica, created and led the Cannabis Women's Empowerment Summit, and has given multiple talks at industry events.

GRETEL TORTOLANI, CFO, CONTROLLER MJCFO2GO
A visionary bilingual executive with over 20 years experiences identifying core solutions, streamlining financial procedures, reducing expenses, building revenue, and optimizing business relationships. Exemplary leadership results include collaborative joint ventures, market development, energizing businesses, and continuous process improvement. A keen eye for trend-spotting and analysis applied to creative marketing in addition to enhancing financial assets and procedures.

DR. JEFFERY RABER, CEO THE WERC SHOP
Becoming a medical cannabis patient for his own ailments, Dr. Raber recognized a tremendous need for quality control and assurance within California's medical cannabis arena. Dr. Raber formulated a concept for an analytical testing laboratory that provided services to the medical cannabis community. The Werc Shop is leading the identification and classification of cannabis varietals through pioneering terpene fingerprinting and advanced metabolomics approaches.

CHRIS HOO, ATTORNEY/OWNER EVERGREEN LAW, LLC
Chris founded Evergreen Law in 2016,.Evergreen Law is a California-based law firm specializing in canna-business law. We guide individuals and companies through the complex and dynamic rules, laws, and regulations governing the medical and recreational-use marijuana industry. Chris is one of the most foremost experts in cannabis law and regulation in the realms of manufacturing, lab testing, packaging and general business compliance.

AARON HEIMES, MBA CEO CANNA MEDIA NETWORK, INC.
Aaron Heimes is a business and project development adviser and leader that specializes in the cannabis industry. Aaron has led and been involved in multiple products and companies that are either introducing a new product or service or are looking to increase market share and sales. Canna Media Network is a digital media infrastructure that includes e360tv, an on-demand viewing platform that has the smartest tech, top-tier media production, content providers and global distribution channels to deliver exemplary value to cannabis audiences.
TONI FORGE, ESQ, 4 LEAF CONSULTING
For over 25 years, Toni Forge has worked as a litigator, managing attorney, state mediator and associate general counsel. A graduate of Hastings College of the Law and the University of San Francisco, Toni is a leader in compliance and litigation management. She has acted as a chief compliance officer for major Fortune 500 companies and has implemented several compliance programs for global insurance companies. As a former mediator for the State of Nevada, she possesses exceptional negotiation and mediation skills to aid clients in their ventures. Toni brings an extensive history of legal and compliance knowledge that will guide new cannabusinesses along the path to compliance and success.
MICHAEL CHERNIS, CHERNIS LAW GROUP
Michael Chernis is one of California's premier experts on marijuana legal issues whether it's criminal, civil, federal, or business related. His law firm, Chernis Law Group P.C. in Santa Monica California, serves the varied needs of collectives, dispensaries, deliveries, cultivators, manufacturers and other medical cannabis clients, including a number of leading cannabis brands. His experience as a federal criminal defense attorney gives him a unique perspective on federal enforcement issues as they pertain to the cannabis industry. As Policy Director of the Los Angeles Cannabis Task Force, he has been at the forefront of driving ballot issues and working with lawmakers to enact changes in the law that will benefit existing and prospective stakeholders.


Avoid the costs of cannabis non-compliance, by learning from industry experts with a proven track record of success in our 2 day Bootcamp.
Limited Seating! Network with 100s more post-event for even more opportunities. Don't Miss this Opportunity.
ALMOST SOLD OUT! FEW SPOTS LEFT.