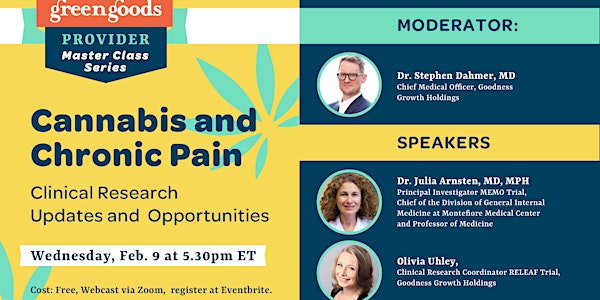 Cannabis and Chronic Pain - Clinical Research Updates & Opportunities
Cannabis and Chronic Pain - Clinical Research Updates & Opportunities
About this event
Dr. Julia Arnsten has been at the forefront of medical cannabis research specifically looking at impact on opioid use and chronic pain.
As Principal Investigator of the MEMO study, Dr. Julia Arnsten leads the ongoing, NIH-funded longitudinal observational research study ongoing since 2017 that just recently completed recruitment. The overarching goal of the study is to understand how medical cannabis use affects opioid analgesic use over time, with particular attention to THC/CBD content, HIV outcomes, and adverse events. This master class will be the first to discuss the findings of this groundbreaking trial.
Olivia Uhley, Clinical Research Coordinator for the ReLeaf Trial will also discuss an additional trial - the unique and groundbreaking ReLeaf-V trial. First of its kind randomized double-blind controlled study of Vireo products currently available and utilized by patients. Providers are incentivized to support recruitment for this pivotal New York trial.