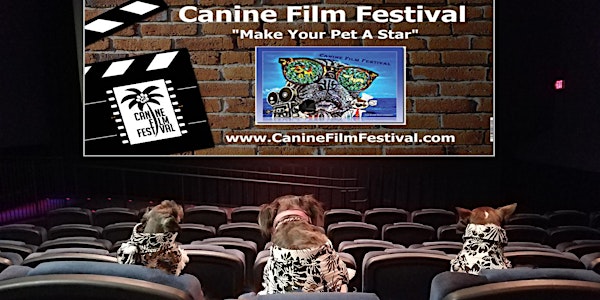 Canine Film Festival 2017
When and where
Location
Cinépolis Coconut Grove Movie Theater 3015 Grand Avenue CocoWalk Mall Coconut Grove Miami, FL 33133
Description
---
---
---
Canine Film Festival 2017 -
July 15th from 11:00 am to 4:00 pm
July 16th from 9:00 am to 1:00 pm
Brings together pet lovers and local business owners to raise funds for local animal rescues & shelters in South Florida!
July 15, 2017 - "A Day at the Movies with your Dog" The Canine Film Festival Screening of Featured Film Entries will be showcased, a Canine Summer Fashion Show and the presentation of the "BARKER" Awards...

Cinépolis Coconut Grove Movie Theater
with an "AFTER PARTY" at Hotel Indigo in Miami Lakes...


July 16, 2017 - Sniff and Greet with Celebrity Guests, the Canine Fashion Show Designer and models, with a delicious poolside Brunch for you and your fur-kid...
Hotel Indigo in Miami Lakes...

7601 Miami Lakes Dr, Miami Lakes, FL
It All began at:
Miami Beach, FL ~ Canine Film Festival "Bark-Off Event" on January 6th, 2017, was a magical evening complete with a "Canine Spot-Light" treatment at the La Gorce Country Club, 5685 Alton Rd, Miami Beach, FL 33140
The Canine Film Festival showcased the screening of fabulous Canine and Wild-Card video/film entries and movie trailers from near and far.
ARE YOU READY FOR THE EVENT OF THE YEAR WITH YOUR DOG???
"It's A Dog's Life"
Saturday, July 15th, 2017
The RED CARPET is calling you and your dog at the Cinepolis Movie Theater in Coconut Grove for the Private Screening of the Inaugural Canine Film Festival 2017.
The Red Carpet rolls out at 11:00 am…where pet lovers and their furry companions step into the World of Canine Films: the People who create the films and the People who love their animals…
Canine Spotlight Photos on the Red Carpet…

Interviews by Kaios Productions for VIP ticket holders

Sniff and Greet with Local Celebrities and Directors

Raffles and Silent Auctions to benefit local animal rescues
12:00 Welcome and Introduction of the Celebrity Judges, Sponsors and Special Guests
12:15 PART 1: Film Screenings of Animated and Canine Drama Films
1:00 INTERMISSION 1
1:15 PART 2: Film Screenings of Shelter and Rescue Documentaries and Canine Comedies
2:00 INTERMISSION 2
2:15 Canine Fashion Show with Designer Diane Waring of Designs by Diane
2:45 Presentation of the Canine Film Festival 2017 "BARKER" Awards…
3:45 Canine Film Festival 2017 Film Screening Closing Remarks
Sunday, July 16th, 2017
The "Holly-Woof" morning begins at 9:00 am and concludes at 1:00 pm…
Start your morning with a rejuvenating "DOGA" Yoga experience for you and your dog
with Yoga Instructor Tara Smith...

Enjoy a delicious Poolside Brunch Buffet by Chef Yohanes of Hotel Indigo as your fur-kid feasts on an Organic/Gourmet Bark-Fest by Chef Laly and Chef Eddie of the Doggie Bag Café…

Then it's time for you and your dog to bring back to life the "Holly-Woof" of yester year at the Canine Film Festival "Costume Contest" to celebrate Hollywood and conclude the Inaugural Canine Film Festival and set the stage for the Canine Film Festival 2018!
***This event is not just for pampered pooches as Shelters and Rescues will benefit from these events.*** For Sponsorship information please visit us at:
SPECIAL NOTE: "VIP 1 and 2 Day Passes include: An interview with Kaios Film Producations, Popcorn and Soda, and a Special Sniff and Greet with Local Celebrities and Film Directors..."
"The Social Gatherings of the Year with Your Dog!"
Event Dates are:
July 15th, 2017 - Cinépolis Coconut Grove Movie Theater
July 16th, 2017 - Hotel Indigo Miami Lakes
Purchase your Ticket to one or both event dates which includes a video/film entry.
Enter your video/film here:
https://filmfreeway.com/festival/CanineFilmFestival
The purpose of the Canine Film Festival is to: raise funds for local animal rescues and shelters in South Florida and showcase the unique love and relationships of our beloved pet dogs and their owners. Fifty percent (50%) of ticket sales will benefit the followings groups:
Boston Terrier Rescue of Florida
South Florida Fund for Retired K9 Law Enforcement Officers Fund
Humane Society Greater Miami
Redland Rockpit Abandoned Dog Project
Cattorneys @ Paw Benefit
The Cat Network Spay Day Support
Paw Patrol Rescue and Sanctuary
Miami Veterinary Foundation
Paws4you Rescue