Description
Florin Roebig, P.A. and The Inspire Foundation are excited to present their annual Candy Land event. The game Candy Land will come to life and the children will become the game pieces. As the children make their way through the "board", they will arrive at different destinations in Candy Land that will have treats, prizes, and some surprise special guests, including Elsa and The Gingerbread Man. This fun adventure concludes with a visit alongside Santa and Mrs. Claus, while snow flurries fill the air. After our guests visit with Santa, they may go on to enjoy the different family-friendly activities we have scheduled throughout the day. There will be music, live performances, game trucks, food, craft stations, and more! All the proceeds benefit children with special needs in our community.
​Amenities
Parking for this event will be provided by Palm Harbor University High School and we're happy to announce the Clearwater Jolley Trolley will be providing free rides. Rides will begin at 9:30 am and run throughout the event.Upon entering the event each child will receive a goody bag. All children will be provided with a food card which will allow them a food/beverage item at the applicable event stations at no cost. Food/beverages will also be available for adults at certain stations for purchase at a minimal cost with proceeds going to The Inspire Foundation. Special Accommodations have been made inside the Florin Roebig facility for children with special needs. This includes special (gluten/dairy free treats), a visit with Sensitive Santa, and sensory friendly activities, hosted by The Inspire Foundation and sponsored by Target.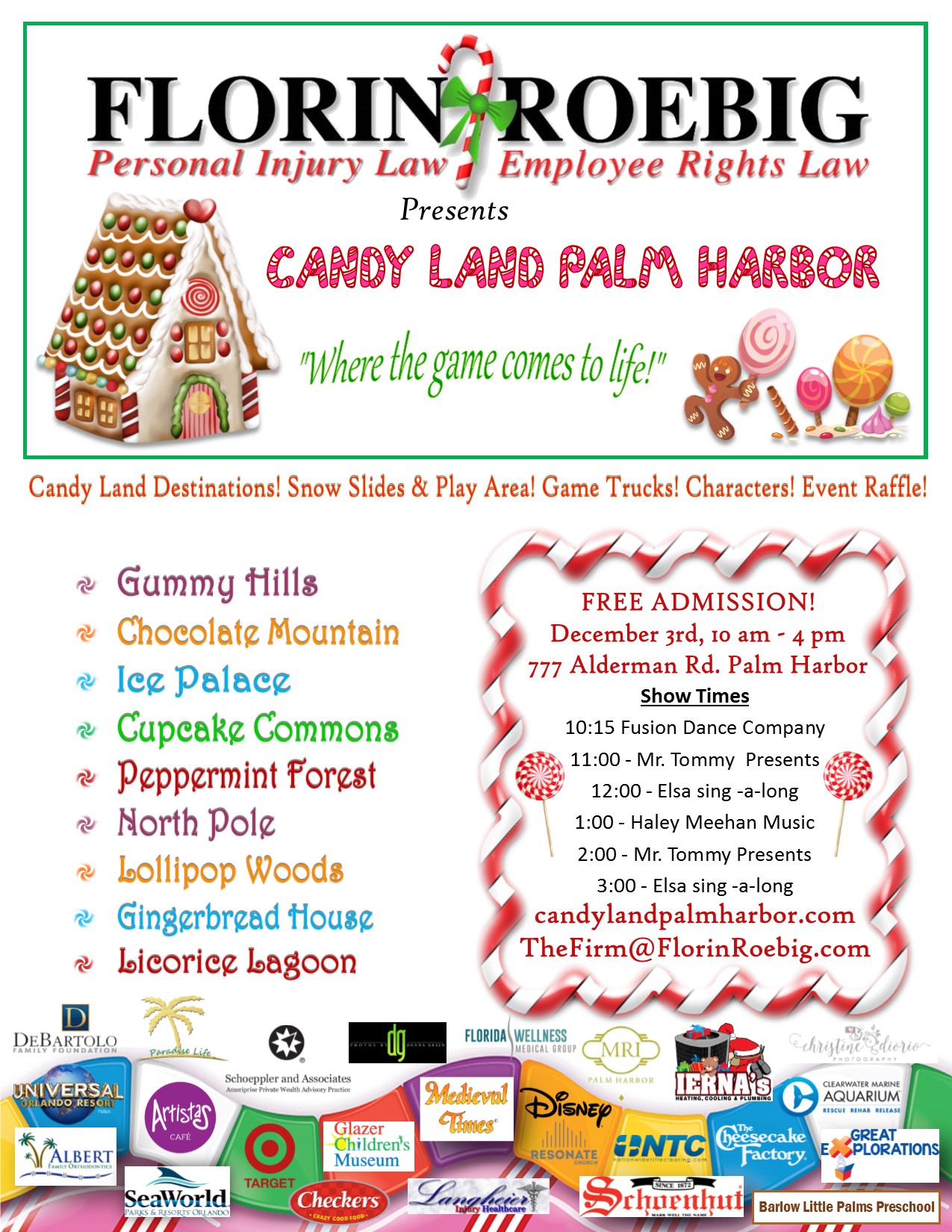 FAQ's.
WHAT DOES THIS EVENT COST?
--Free admission. ALL of the treats and activities are free. There will be raffle tickets, food/beverages, and other items available for purchase. We have some amazing raffle items that we will announce soon. All monies raised at this fundraiser will benefit The Inspire Foundation whose mission is to bring music and the arts to those with special needs. Through fundraising and partnerships, they provide opportunities for children to participate in music and art programs and give young adults the knowledge and experience necessary for a future in the arts.
HOW MUCH ARE THE RAFFLES AND PHOTOS WITH SANTA?
--You're free to take your own photos with Santa and Miss Claus.
Raffle tickets: 1 for $5 or three for $10 or 10 for $20.
WHERE AND HOW MUCH IS THE PARKING?
--Parking for this event is free. Offsite parking will be provided by Palm Harbor University High. The Pinellas County Sheriff's Department will be onsite directing people of where to go. The Clearwater Jolley Trolley will be providing free rides. Rides will begin at 9 am and run throughout the event.
HOW SHOULD I DRESS MY CHILDREN FOR THE SNOW?
--There will be four, six foot snow slides and a snow play area as well as snow flurries filling the air at the ice palace destination. Dress accordingly to the weather. Dress your child in tennis shoes you don't mind maybe getting wet.
CAN THIS EVENT ACCOMMODATE THE NUMBER OF PEOPLE INTERESTED IN ATTENDING?
--We have no limits to the number of people that may attend this event. As it is a go at your own pace type of event, not all attendees will be arriving at the same time. Activities and entertainment will go on throughout the day. You might want to plan on coming around one or two. The crowds were lighter last year at these times. We were able to accommodate over 6,000 attendees last year and were prepared for even more.
WHAT IS THE SENSITIVE SANTA?
--We have a separate Santa indoors for children with special needs who would rather have their photos taken with Santa away from the crowds and noise. We also have sensory friendly activities indoors and a quiet area. There will be gluten free/dairy free/sugar free foods/treats available.You can register your child(ren) at http://www.candylandpalmharbor.com/sensitive-santa.html
DO I NEED TICKETS?
--No. We ask that you register with the total number in your party so we have an idea of how many to expect. When you arrive we will greet you and give your child or children a goody bag for their treats that they collect from the different destinations.
HOW LONG WILL THIS EVENT TAKE?
--This is a take it at your own pace type of event. There is no particular order you must go in. It's up to you. There are many activities and live entertainment going on all day. You are welcome to stay as long as you like.